Staff say physical and verbal abuse is unacceptably common, and many now feel unsafe at work.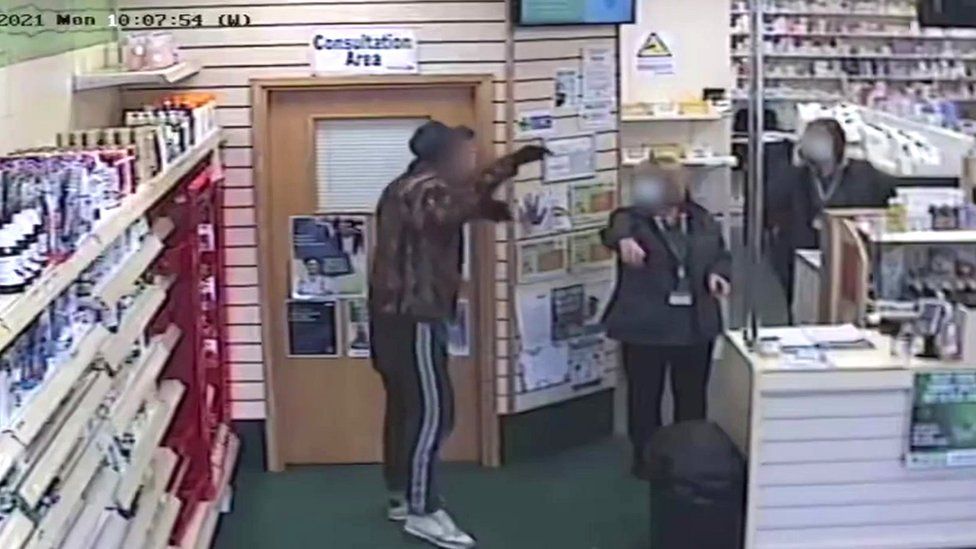 Pharmacists say physical and verbal abuse against them has become unacceptably common and many now feel unsafe when at work.
Police forces say they are being called out to handle pharmacy-based crimes.
A union for UK pharmacists says more needs to be done to enforce the NHS's zero tolerance policy on worker abuse.
The Pharmacists' Defence Association (PDA) says there have been reports of a stabbing and physical attacks in pharmacies around the UK.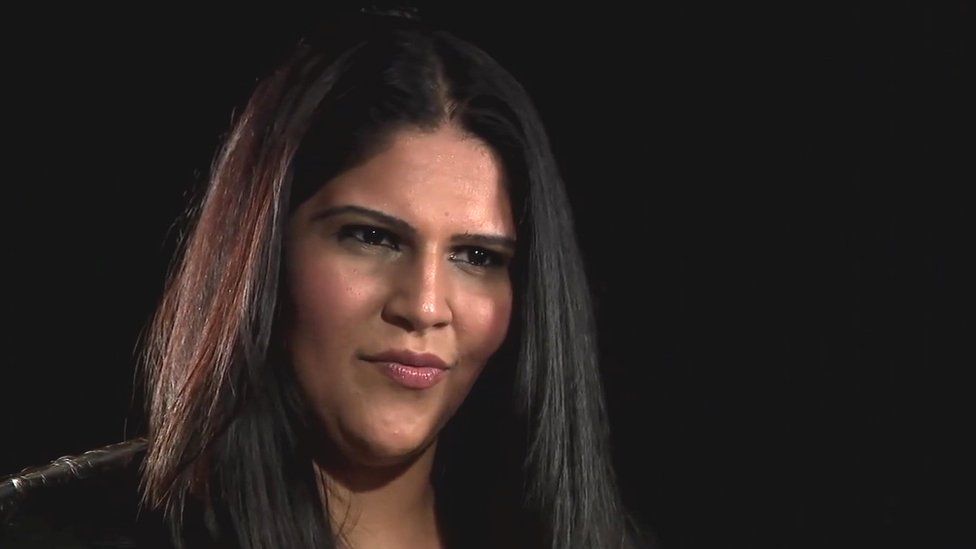 Glasgow pharmacist Chand Kausar was threatened with a knife by an agitated patient, who – after demanding non-prescribed medication – produced a six-inch knife and cornered her against a wall.
"I just froze," explains Ms Kausar. "My hands were above my head and I could hear all the noise around me, but I actually felt very calm. In my head all was quiet. I remember thinking it was like a movie scene. I'd never seen a knife like that, and I never imagined I'd have one held to my throat."
The police were alerted quickly and arrested her attacker, saving Ms Kausar from any physical injuries, but she is still haunted by the mental scars.
"I struggle now when a patient raises their voice to me. I have a little internal panic attack and then have to make sure I control it."
Ms Kausar says she used to face an abusive patient once a month before the pandemic. Now she says she rarely gets through two shifts without facing one.
'Terrified going to work'
Some 468 of them – 85% – say they, or someone they work with, experienced verbal or racial abuse in the previous month while at work.
One respondent said: "I feel terrified going to work every single day, and yet management are ignoring the issue."
Another said: "I now carry a rape alarm and a dye spray because of threats."
Others said they were considering leaving the profession.
According to some pharmacists, the majority of violent or abusive incidents are triggered by:
addiction services failing to provide support for recovering addicts
overwhelmed GP surgeries being unable to give a patient an appointment
supply chain issues leaving a pharmacy without stocks of prescribed drugs
Earlier this year, a lack of lateral flow testing kits resulted in a spike of aggression from patients. Staff shortages continue to add more pressure, and increase waiting times and frustration, in community pharmacies.
In recent weeks, a shortage of Hormone Replacement Therapy has been an added pressure.
Alison Jones, from the PDA, said: "Staff shortages are already bad.. and they are only going to get worse.
"More patients are accessing the pharmacy than ever before and there is only a finite amount of staffing and hours. We are now in a situation where more and more pharmacists are considering whether they want to work in community pharmacy because of the working conditions and violence."
Supt Patrick Holdaway, head of the National Business Crime Centre, said: "Police forces around the country are aware of this new spike in pharmacy crime.
"We also know that the numbers we currently have are only a fraction of the actual crime taking place in pharmacies. Pharmacists feel a duty to their patients and so don't want to report them, but we would say please report these crimes to help the police map hotspot areas and offer the correct support."
Supt Holdaway recommends pharmacies install more safety measures – including panic buttons, CCTV, bodycams. But as to who pays for these measures, that will fall on the pharmacy owners.
As part of the GP Winter Access Fund, doctors' surgeries can access a £5m fund for security enhancements. However, this fund is not accessible to community pharmacies.
NHS England says community pharmacy can access health and wellbeing offers, such as coaching services and conflict resolution training.
When asked if community pharmacies would receive further support after the rise in violence, a Department for Health and Social Care spokesperson told the BBC: "This kind of behaviour is inexcusable and will not be tolerated.
"The NHS has set up a violence reduction programme to protect its workforce, and we have doubled the maximum prison sentence for common assault against NHS workers.
"We work closely with the pharmaceutical industry and the NHS to minimise disruption caused by medicine shortages on the rare occasions they arise."
As for Ms Kausar, her sympathies still lie with the patients: "These are desperate people driven to desperate acts. They just need help," she said.