Lord Harrington insists "raised voices" at meetings reflect a shared desire to help Ukrainians.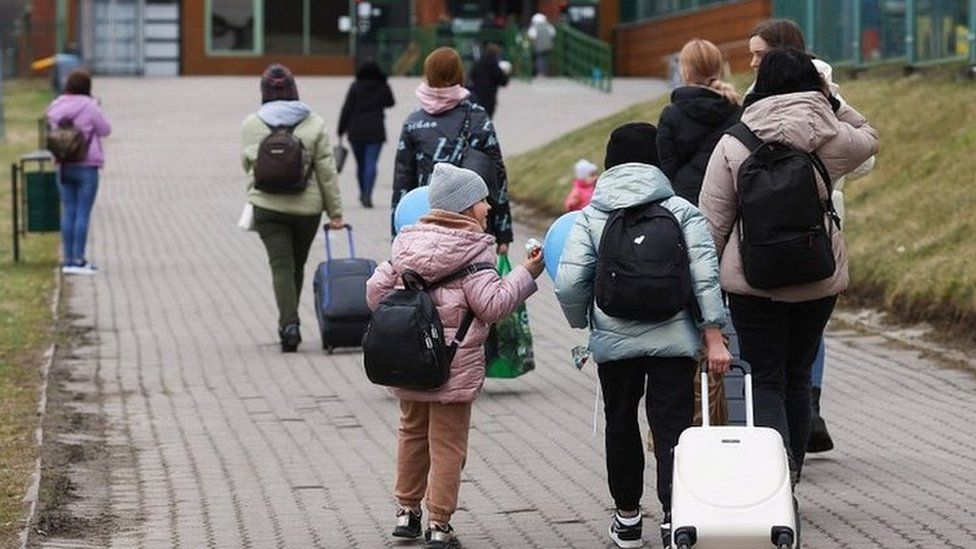 A Home Office minister has said he "has not seen any feuding" between government departments over how to deal with Ukrainian refugees.
Lord Harrington insisted "raised voices" in meetings were the result of a desire shared by all ministers to "do the same thing" and help people.
He also revealed that 29,000 visas had been issued to Ukrainians, with around 65,000 applications received so far.
But Labour said the government had to "step up to the plate".
Several newspapers have reported that Home Secretary Priti Patel and Foreign Secretary Liz Truss have argued over how to clear a backlog of Ukrainian refugees, amid reports that only "hundreds" have so far made it to the UK.
The BBC understands that HM Revenue and Customs and Department for Work and Pensions staff are now helping with the processing of Ukrainian refugees.
A Home Office source said a "cross-government effort" was under way.
Lord Harrington, making his maiden speech since becoming a minister, said during a Lords debate: "I've not seen this feuding between departments that's reported."
He told peers he had attended meetings with Home Secretary Priti Patel and Levelling Up Secretary Michael Gove, among others, adding: "I've seen raised voices because we are all trying to do the same thing, but not [because we are angry] with each other…
"What happens behind closed doors, I couldn't possibly know… I've not experienced [feuding] myself."
Lord Harrington said the immediate vetting of refugees should, at most, include passport checks, verifying whether people are on criminal watch lists, checking whether children travelling with adults are actually theirs, and checking whether sponsors have criminal records – the last two designed to prevent people trafficking.
"That's really it," he added, saying that "it's taken too long to do it" so far.
The government is operating two schemes to help Ukrainians displaced by Russia's invasion to come to the UK – involving living with family members already in the country or sponsorship by other hosts.
For Labour, shadow Home Office minister Lord Coaker said: "There's a bureaucratic mess here and a bureaucratic quagmire and it needs to be sorted out.
"The British people want better from their government… They want their government to step up to the plate."
The United Nations says 4.28 million people have fled Ukraine since Russia invaded in late February.
Of these, neighbouring Poland has taken almost 2.5 million.