Voters approve tighter laws on tobacco advertising, years after most European countries.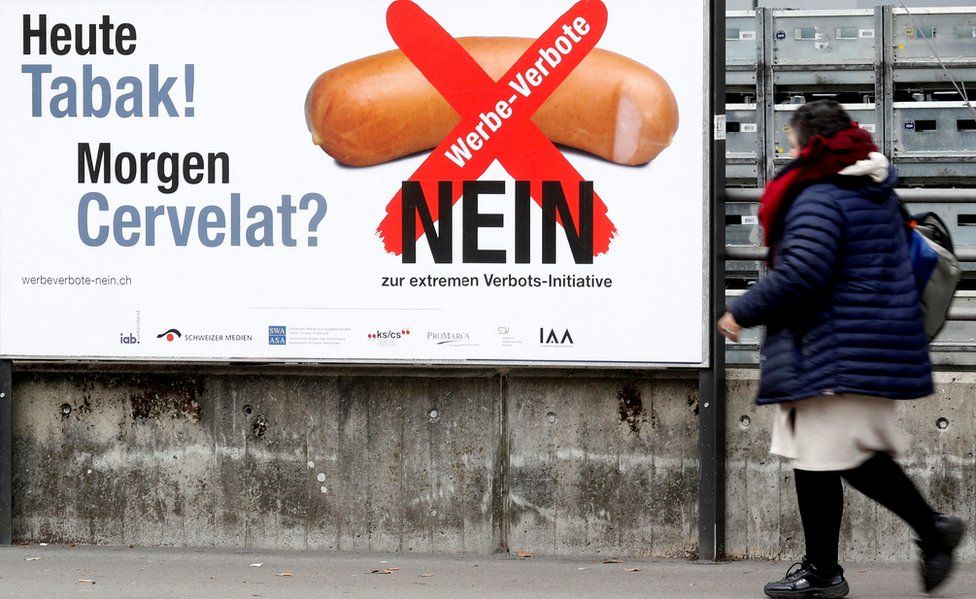 Swiss voters go to the polls on Sunday to decide on a raft of measures, including a ban on tobacco advertising anywhere young people might see it.
In effect it would be a complete ban.
That might cause some raised eyebrows among Switzerland's European neighbours, most of whom adopted strict rules on tobacco advertising years ago.
But Switzerland, despite its healthy, environmentally friendly image, has the most lax regulations on tobacco in Europe.
Long after smoking in pubs and restaurants was outlawed in the UK, France, or Germany, the Swiss were still puffing away.
Supermarket shoppers would be regularly approached by smiling young women giving away free samples of the latest cigarette brand. And while those things have now been banned, tobacco advertising remains.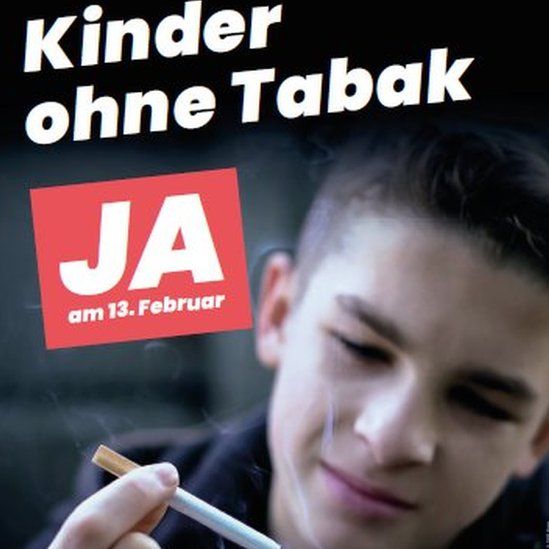 The World Health Organization's historic Framework Convention on Tobacco Control was negotiated in Geneva almost 20 years ago.
Switzerland signed it, but still hasn't ratified it – the only country in Europe not to – because its legislation on advertising is not compliant.
Compared with much of Europe, cigarettes here are cheap and 27% of Swiss adults smoke – higher than the European average.
Time and again legislation aimed at introducing tighter restrictions has been rejected in parliament. Even now, after campaigners gathered enough signatures to force a referendum demanding a ban, the Swiss government has recommended a No vote.
Sunday's referendum is one of several votes under Switzerland's system of direct democracy. Voters will also decide on proposals for restrictions on animal testing and new money for the media.
Those backing the advertising ban say the government's opposition is down to the presence of the world's major tobacco companies here. Philip Morris, British American Tobacco and Japan Tobacco all have their headquarters in Switzerland.
The tobacco industry is estimated to contribute more than $6bn (£4.5bn; €5bn) a year to the Swiss economy, and employs over 11,000 people.
"It really raises a lot of questions," says Andy Rowell, a researcher at the University of Bath's Tobacco Control Research Group, which worked on the study. "You really have to wonder about undue influence."
This week it became clear, as many had suspected, that the tobacco companies had been funding the No campaign.
Opponents argue a ban on advertising a legal product is unacceptable, and that it would open the door to restrictions on other things, like sugar or alcohol, judged to be harmful to health.
Posters featuring some of Switzerland's favourite foods – cake and sausages – have appeared with the bleak warning "these will be next".
But voters appear unimpressed by the campaign. Switzerland has 9,000 tobacco-related deaths each year and the cost of treating tobacco-related illnesses is a drain on the health system. It also pushes up the cost of health insurance, which everyone has to pay, whether they are a smoker or not.
They are expected to reject the government's advice to say No to the ban and instead allow parliament to pass new, stricter regulations. The government's draft legislation still won't bring Switzerland into line with the WHO convention, and critics say this is yet another example of Swiss political leaders turning a blind eye to harmful business practices.
Latest opinion polls suggest 63% of voters will back the ban, but to come into law it needs a majority of Switzerland's 26 cantons as well.
It could fall at that hurdle, but that seems unlikely. If the ban is passed on Sunday, campaigners, who include doctors and teachers, believe it will be a timely reminder to politicians and big business that ordinary Swiss voters always get the final say.