The PM is accused of "dirty tricks" by Labour over his surprise proposals for banning some roles for MPs.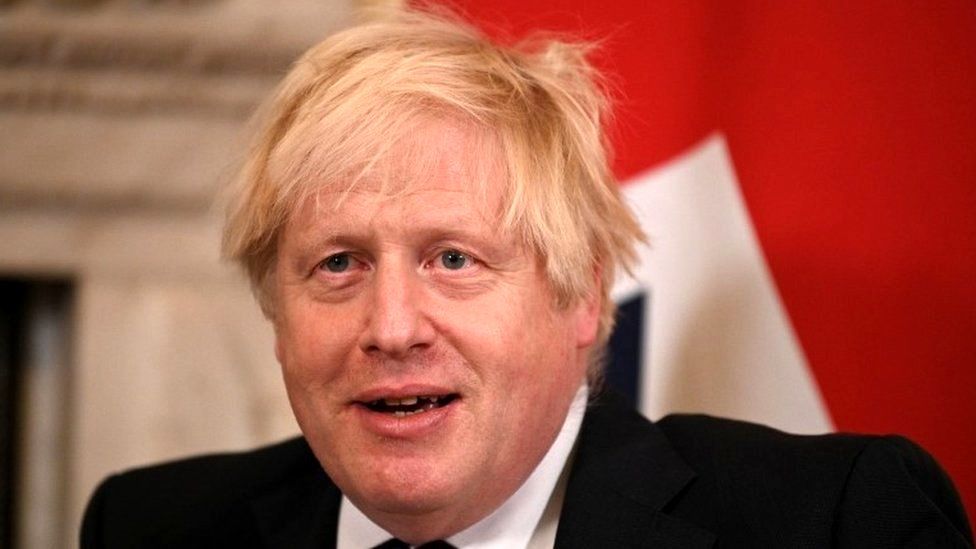 Boris Johnson will face a raft of questions across Parliament later as a row about MPs' second jobs continues to engulf Westminster.
The spotlight has been shone on the additional roles held by MPs since Tory Owen Paterson was found to have broken lobbying rules as a paid consultant.
The PM announced plans on Tuesday to ban MPs from holding that type of job.
But Labour claimed the government was "watering down" its own proposals, due to be debated on Wednesday.
BBC Newsnight's Nick Watt said there was a "growing and angry backlash" from Tory MPs about a lack of consultation over his plan and the extent of the restrictions.
As well as facing MPs during his weekly appearance at Prime Minister's Questions from 12:00 GMT, Mr Johnson will also appear before the Liaison Committee at 15:30 and is expected speak to a gathering of his own backbench MPs in the evening.
Arguments over second jobs held by MPs outside of Westminster have erupted in recent weeks in the wake of the scandal involving Mr Paterson.
The Tory MP was found to have made an "egregious" breach of the MPs code of conduct when working as a paid consultant for two firms.
But some of his colleagues – backed by No 10 – pushed for an overhaul of of the system so he could attempt to clear his name, which in turn blocked his suspension.
After a furious backlash from MPs on all sides, Downing Street U-turned on its plan.
And still denying any wrongdoing, Mr Paterson resigned as an MP.
Labour announced it would hold a press conference on Tuesday to outline how it planned to tackle the issue of sleaze and second jobs ahead of its opposition day debate later.
Moments before its leader, Sir Keir Starmer, began his speech, the PM published a letter on Twitter detailing his own plans.
In it, Mr Johnson echoed Labour's call to ban paid consultancies and directorships, saying it would stop MPs "exploiting their positions".
And he said he wanted changes to the code of conduct to "command the confidence of the public".
Sir Keir – who said he would go further by banning nearly all second jobs if he won power – still called it a "significant victory for the Labour Party".
He told reporters: "Be under no illusion, the prime minister has only done this U-turn because his back was against the wall."
However, rather than voting for Labour's motion later, ministers have tabled their own amendment, saying a ban would be a "viable approach".
Shadow Commons leader Thangam Debbonaire accused the government of playing "dirty tricks" by using less specific language to water down the power of the original motion.
"Boris Johnson has been backed into a corner and one minute accepts our motion… then comes forward with an amendment that will remove the central part that guarantees that action will be taken," she said."We don't need warm words from the Tories but concrete steps to clear up this mess made in Downing Street."


Ouch. Politics is a harsh old business.
On Tuesday, Sir Keir Starmer's team had decided to put him out in public to make a decisive statement, positioning him as the sleaze-buster in chief.
There had been some mutterings on his own side about why he wasn't doing more to punch the metaphorical bruise of Tory agony on the issue – perhaps, in part, because of his own legal work before he became leader, but was already an MP.
Labour has been extremely vocal in its criticism of Tory behaviour, but it had not made a dramatic move thus far.
Yet, just as the moment arrived, even during the introduction by his deputy, Angela Rayner, someone else decided to intervene before Sir Keir was able to open his mouth.
Yes, you guessed it, one Boris Johnson.

Tory MP Andrew Rosindell said he felt "cautious" about the government's plan, telling BBC Newsnight: "I know some of my colleagues have jobs and outside work that they do and it means them having to give up [roles] and changing their lifestyle.
"We have to be careful about this and realise we are dealing with human beings who have families and responsibilities so whilst the first duty must be to Parliament, the constituency and the work we do for our country, any changes should be evolutionary."
The SNP's Alison Thewliss told the same programme that voters "should treat this with the same cynicism that many of us in [the Commons] treat it with, because nothing is changing. It is just deflection by this government, trying to cover up and hide this scandal".