After ground-breaking surgery 20 years ago, Janet Craven says the results have been life-changing.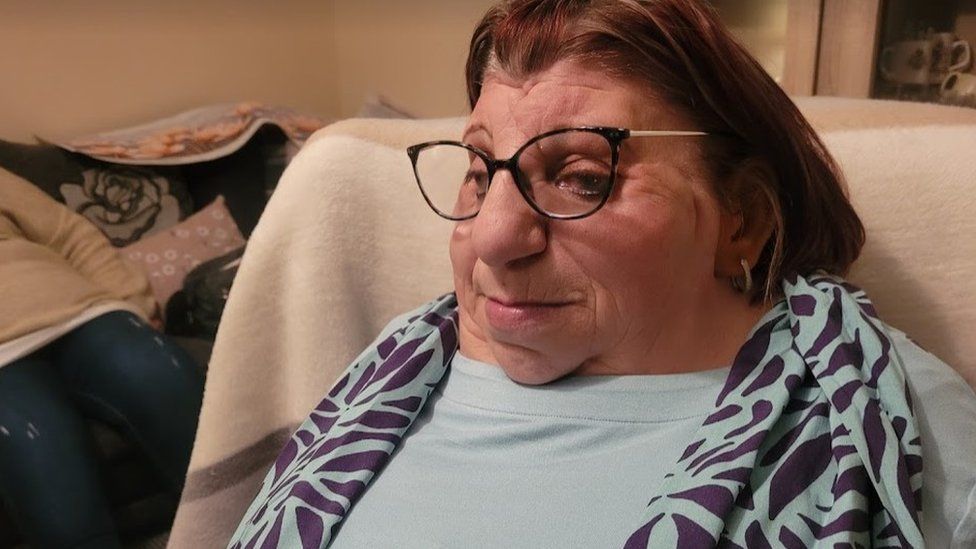 A woman who was born with no ears and who underwent ground-breaking surgery 20 years ago to have prosthetic ones fitted has described how it changed her life.
Up until the age of 47, Janet Craven could barely hear and would cover her face with her long hair because she was so self-conscious about her appearance.
Janet, from Wakefield, was born with rare genetic disorder Treacher Collins syndrome, which affects the way the face develops, especially the cheekbones, jaws, ears and eyelids.
When she was young, she underwent several pioneering operations to rebuild her facial structure.
But the most life-changing surgery was carried out much later when prosthetic ears made out of silicone were magnetically attached to her head via titanium implants in the bone.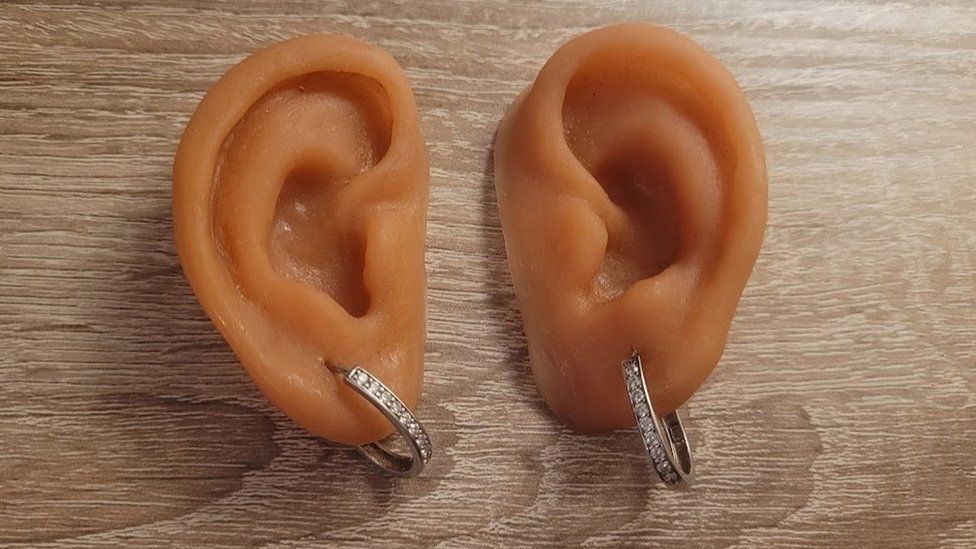 She also had a bone-anchored hearing aid put into her skull which meant she could hear properly for the first time.
Janet, who is now 67, said before her operations her hearing aid was very poor and her experience of sounds was like being in a "tunnel".
She explained: "I'd be talking to people and they could tell me something, but I wouldn't hear until 10 minutes after, so I was always behind on conversations."
Janet's sister, Jackie Blackall, said: "Because of her condition, mum was very protective of her. So all Janet's life she was covered up and that's how it used to be."
Janet added that she always felt "closed in and shy", but physically having ears meant she was finally able to cut her long hair, "feel more normal" and wear earrings.
She admitted that now she "never stops talking".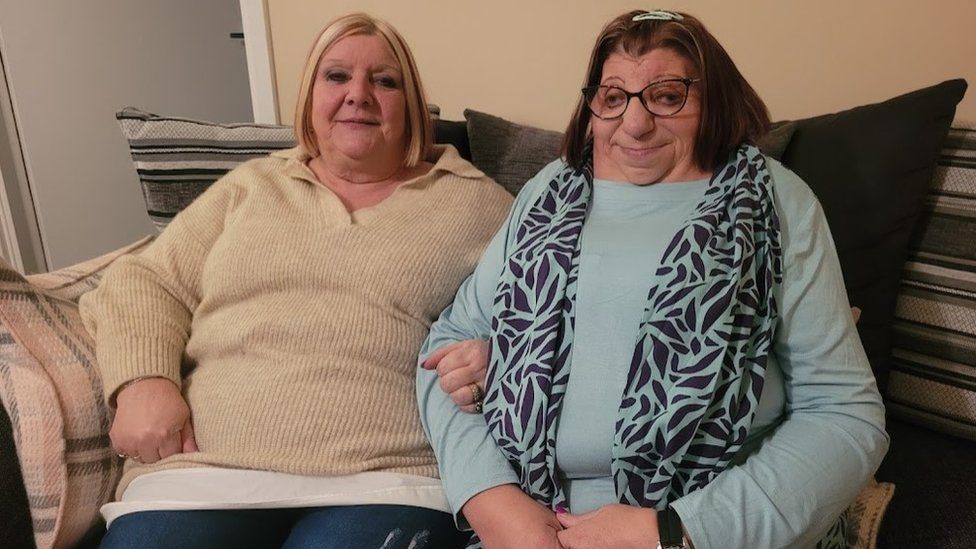 When the surgery was carried out in 2002, Janet was thought to be one of only a few people in the country to have undergone the prosthetic ear procedure, which was carried out by surgeon Richard Lakouta at Pinderfields Hospital in Wakefield.
Mr Lakouta, who has since retired, said fitting Janet's ears – which were based on a mould of her niece's ears – was "from a surgical point of view, very easy", with them being clipped on via strong magnets.
"Surgery is really just a bit of high class carpentry," he said.
"The really clever people in my opinion are the technicians who spend hours carving out the ears which is what everyone sees."
After the surgery, Janet said she remembered being on "cloud nine", although she was suddenly thrust into a world of noise which she at first found overwhelming.
"There were all these noises around me and I didn't know where they were coming from.
"I was stood at the traffic lights and I just froze because there was the sound of the traffic and things like the wind, which I'd never heard before," she said.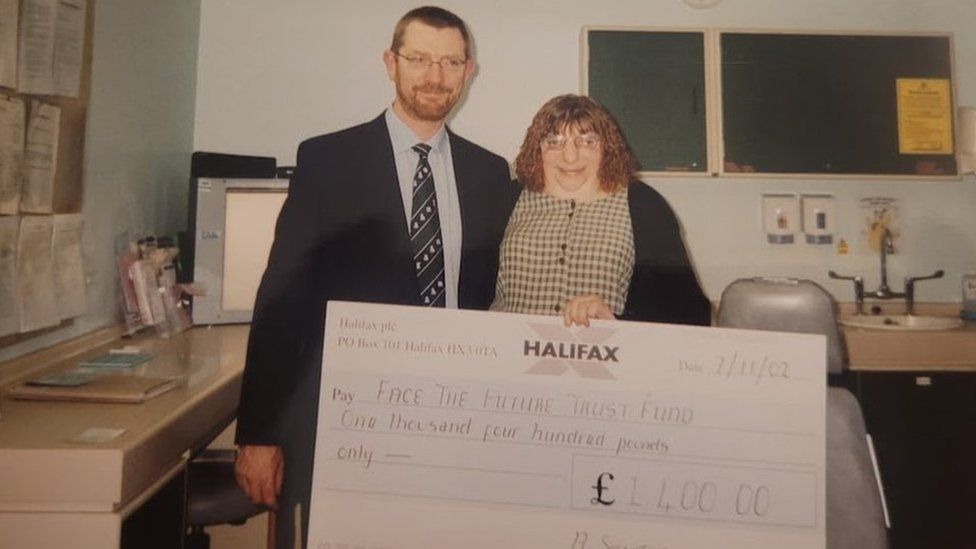 Janet said it took her a bit of time to adjust and her prosthetic ears did not come without problems.
She recalled one incident when her Yorkshire terrier, Kirby, ate them.
"I'd had a few drinks and went to bed and forgot to take my ears off. The dog must have jumped up on the bed in the middle of the night and had a good chew on one of them.
"I woke up the next morning and there were all these bits of silicone everywhere. My earring was still there but the magnets had gone. I just looked at Kirby and said, 'you haven't'."
Worried about how her pet would react to the magnets she took him to the vets, but much to her relief he was unharmed.
Janet said another memorable moment was when she went on her first holiday abroad and the magnets and implants triggered the alarm on the airport security scanner.
She recalled: "The security lady said to me, 'why's your head bleeping?' and I said, 'do you really want to know?'
"I told her about my ears and took them off. She was so shocked she fainted."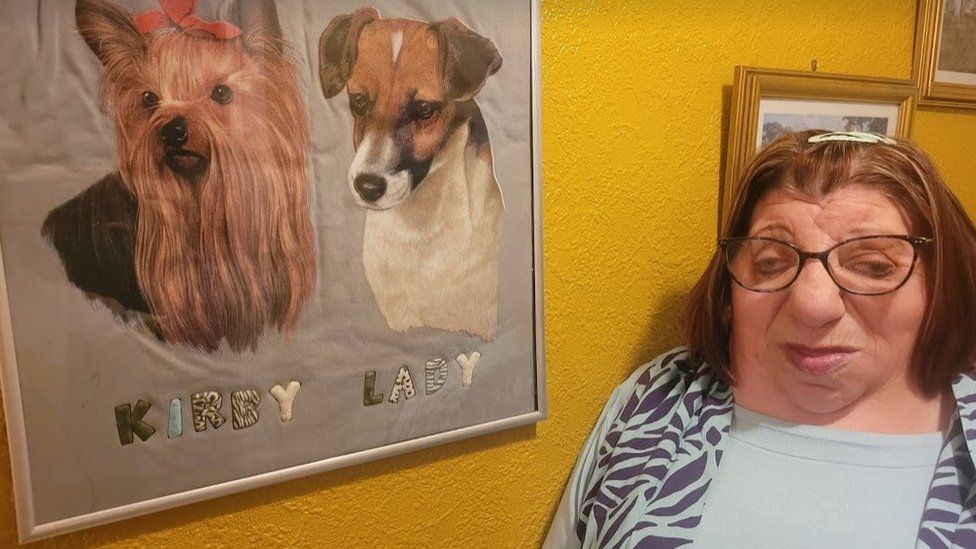 The first 12 months after having her ears fitted were "a bit of a nightmare", she said.
Depending on wear and tear, new ears are made for Janet every two to three years.
She said she planned on getting her next set to come complete with double piercings so she can wear more earrings.
She has also had several upgrades to her hearing implant, with the current device linked up to and controlled via her mobile phone.
Janet said her hope now was to raise money for a charity, the Institute of Maxillofacial Facial Prosthetics and Technologists, as well as Bradford Teaching Hospitals, which she is under the care of.
She said: "I really want to help and give something back to those who have helped me so much."

Related Internet Links
The BBC is not responsible for the content of external sites.