Wales' case rate soars to a record 1,004 – but the full impact of Christmas gatherings is yet to be seen.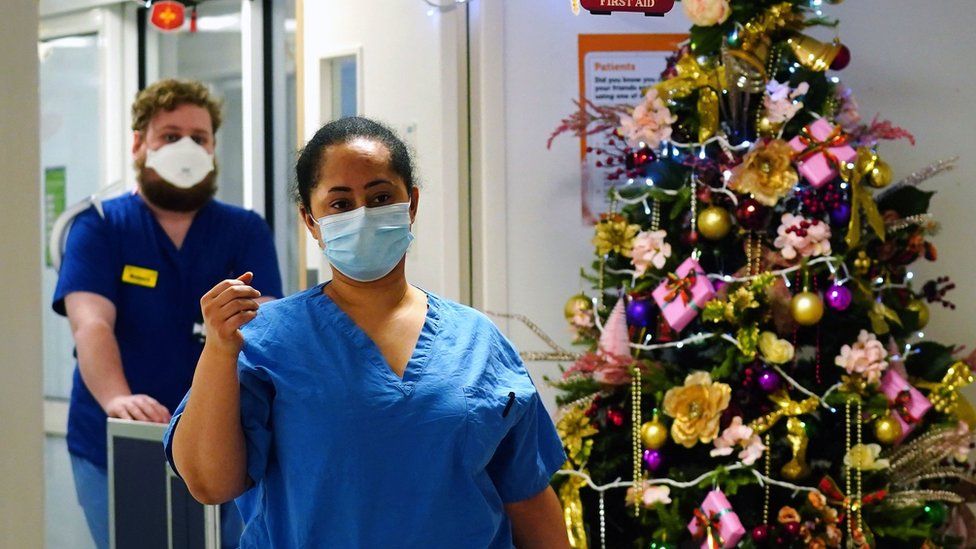 The days before Christmas saw a steep increase in Covid cases in Wales, latest figures show.
There were 12,378 confirmed cases in the 48 hours up to 26 December, Public Health Wales (PHW) said.
However Dr Giri Shankar warned it was still too early to see the full impact on case rates of people mixing with family and friends on Christmas Day.
Wales' case rate has risen to 1,004 cases per 100,000 – the highest recorded.
The Welsh government said the rise was largely due to the Omicron variant spreading among young people mixing before Christmas.
"Our rates were quite stable around the 500 per 100,000 mark until a week or 10 days ago.
"It's now heading towards the 1,000 per 100,00 mark."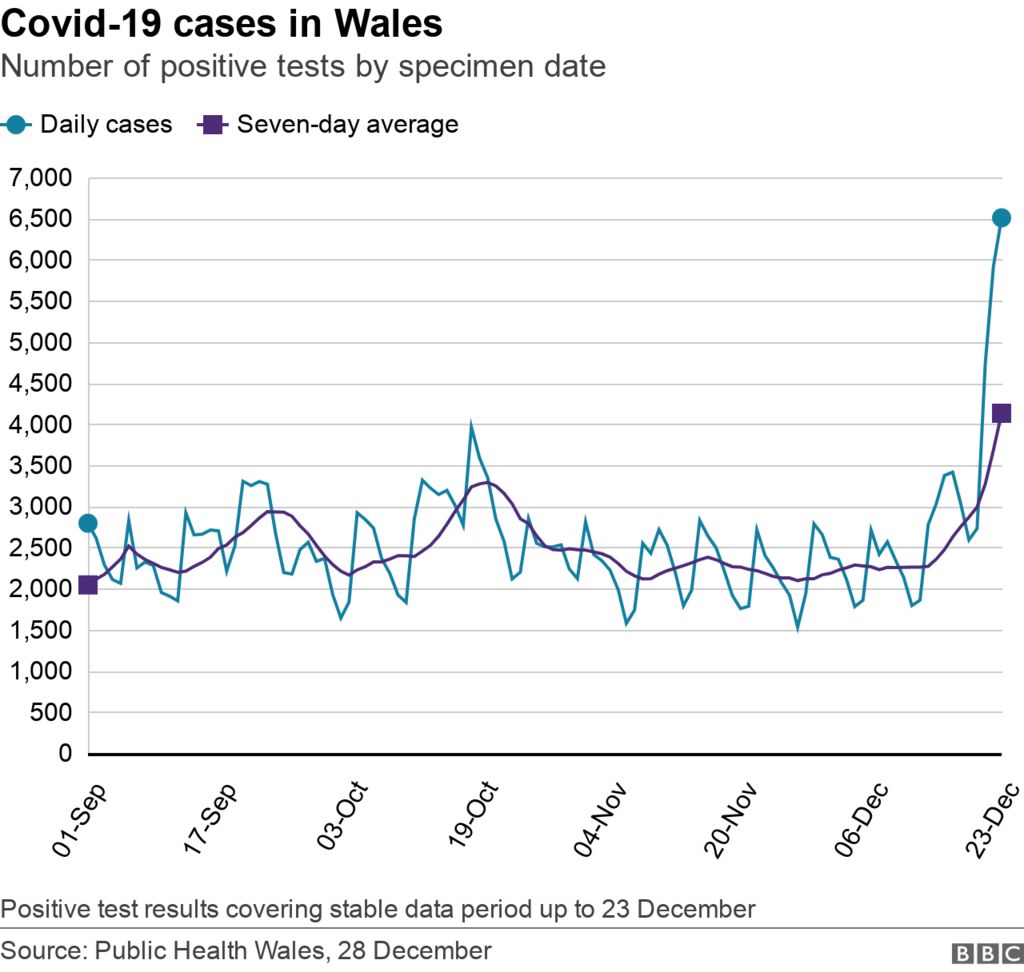 According to the latest comparable figures, the daily average number of cases had risen by 67% in a week, up to 23 December.
Cardiff saw the biggest spike after its case rate almost doubled in the space of seven days to 23 December.
However, nearly half of all communities across Wales now have case rates above 1,000 per 100,000 people.
While the number of coronavirus patients in hospital remains far lower than this time last year – Dr Shankar warned this would likely rise.
He added that the "sheer number of people getting infected" meant a "significant number of our people who become sick will end up in hospital."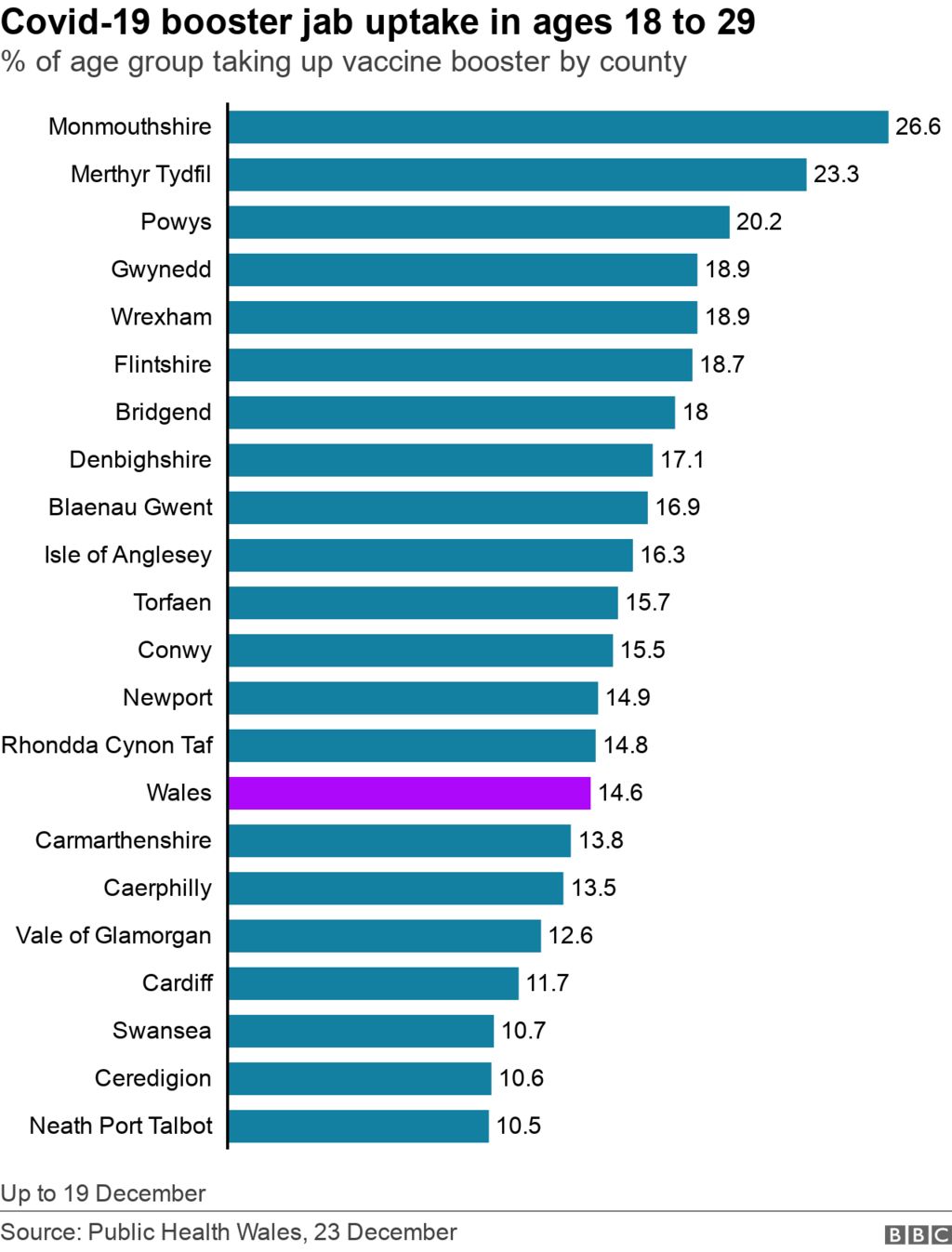 New restrictions came into force on 26 December in Wales, including two-metre social distancing, limits on numbers of people meeting indoors and outdoors and nightclubs closing, as part of Welsh government moves to stem the spread of the Omicron variant.
The Welsh government said: "Already, people are off work sick, putting essential services under strain and we expect this situation to get worse."
Transport for Wales reported some rail services in south Wales had been cancelled due to staff sickness.
More than 54% of adults have had their booster vaccine, but on Tuesday a top doctor urged more people to take steps to protect themselves.
Deputy chief medical officer Dr Chris Jones said: "This is a worrying time, but if we all work together and look out for each other, we can keep Wales safe.
"This new variant is very transmissible – it spreads very quickly wherever people come together.
"Please take steps to protect yourself and your loved ones [by] wearing a face covering, keeping your distance and if you can, reducing the number of people you meet regularly."
Related Internet Links
The BBC is not responsible for the content of external sites.