About 20 staff drank alcohol and ate pizzas after a press conference in May 2020, newspapers say.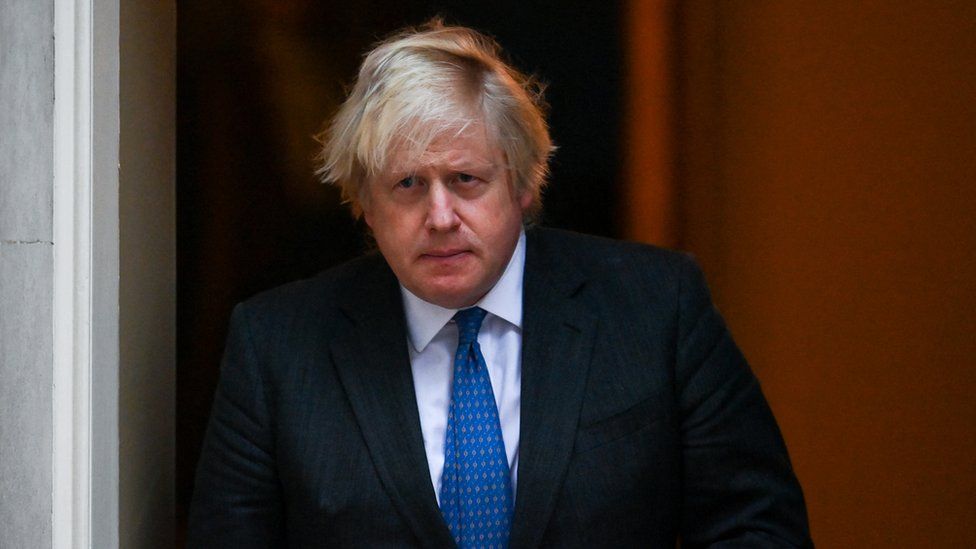 Downing Street has denied reports that Boris Johnson attended a "party" in No 10 during spring last year.
The Guardian and the Independent have reported around 20 staff drank alcohol and ate pizzas at a gathering after a government press conference in May.
Sources told the newspapers the prime minister joined the officials and advisers for around 15 minutes.
They added that the then-Health Secretary Matt Hancock was also seen at the event.
But a spokesman for Mr Hancock said he did not attend a party and only stayed in No 10 after the press conference to debrief his team and the PM.
Covid rules in place at the time allowed only two people from different households to socialise outside in public places.
Mr Johnson – who was pictured on screen at a Christmas quiz in No 10, but insisted he "broke no rules" – ordered an inquiry, led by Cabinet Secretary Simon Case, into some of the events.
The Metropolitan Police said on Thursday that it was in touch with the Cabinet Office, adding: "If any evidence emerges of behaviour that is potentially a criminal offence it will be passed to the Met for further consideration."
The latest report claims there was an event in No 10 on Friday 15 May 2020, when the UK was still in the first lockdown.
The newspapers said some staff had drinks at their desks, with others drinking in the Downing Street garden.
They reported some staff drank late into the evening – but added there was no suggestion Mr Johnson or Mr Hancock drank themselves or stayed late.
Mr Hancock led the government press conference from Downing Street on that day.
The BBC understands staff in Downing Street regularly had drinks at their desks on a Friday in their Covid-secure office.
Garden meetings
In response to the reports, a Downing Street spokesperson said that staff "regularly use the garden for some meetings" during summer months.
They added that on 15 May, Mr Johnson had held a "series of meetings throughout the afternoon, including briefly with the then health and care secretary and his team in the garden following a press conference".
"The prime minister went to his residence shortly after 19:00," the spokesperson added.
"A small number of staff required to be in work remained in the Downing Street garden for part of the afternoon and evening."
A spokesperson for the former health secretary also told the BBC: "There is no suggestion that Mr Hancock did anything wrong.
"He arrived in Downing Street that day at around 16:40 to give a press conference, which took place between 17:00 and 17:53.
"After that he debriefed his team, then went to the Downing Street garden to debrief the prime minister.
"He left Downing Street at 18:30 and went back to his department."

The government Christmas parties of 2020
13 November 2020: Sources have told the BBC there were impromptu drinks to mark the exit of the former director of communications at No 10, Lee Cain – but it was staff having drinks at their desks and was over by 20:30 GMT.
13 November 2020: Also the date Dominic Cummings left as chief adviser to the PM. Sources told the BBC that several Downing Street staff members attended a gathering with Carrie Johnson in the flat where the prime minister and his wife live above No 11 after exits. A source said music was blaring and could be heard elsewhere in the building. But others said to be at the party denied it took place, as did a spokeswoman for Mrs Johnson.
25 November 2020: The Times reported Treasury officials held a drinks party in their office to celebrate Chancellor Rishi Sunak's spending review during the lockdown. The newspaper said two dozen civil servants were understood to have attended the event. But a spokesman for the department insisted it was an "impromptu" event, with a "small number" of staff who celebrated around their desks.
27 November 2020: Another No 10 aide, Cleo Watson, left Downing Street marked by an event. Again, sources said it was not formally organised, but people were having drinks and Mr Johnson made a speech.
December 10 2020: The Department for Education has confirmed it had a gathering in the office to thank staff for their work during the pandemic. Drinks and snacks were brought by those who attended and no outside guests or support staff were invited.
14 December 2020: The Conservatives have confirmed a report in the Times that there was an "unauthorised social gathering" in the basement of their party's building, held by the team of the London mayoral candidate at the time, Shaun Bailey. It was described as "raucous", with No 10 aides
15 December 2020: Multiple sources told the BBC there was a Christmas quiz for No 10 staff in the Cabinet Office, with invites sent out in advance via email, telling people to form teams of six. Downing Street have said it was a "virtual gathering" but while some joined in that way, sources said there were groups in the room sat in their teams. This is the event the Sunday Mirror released a picture of the PM attending virtually.
18 December 2020: A Downing Street Christmas party took place on this date, as first reported by the Mirror. A source told the BBC there was food, drinks and games at the gathering that went on past midnight.
DWP gatherings: The Department for Work and Pensions confirmed a "core team" of staff drank alcohol and ate takeaways "on a number of occasions" whilst working late in the office while Covid restrictions were in place. It followed a report in the Sunday Mirror alleging political staff and officials working for minister Therese Coffey frequently drank after work until the early hours of the morning.