Energy companies said they had reconnected 97% of homes but faced challenges in remote areas.
Some homes that lost power due to Storm Arwen will have to wait two more days to be reconnected, electricity companies have said.
About 30,000 households have spent five nights without power so far since gusts of nearly 100mph hit parts of the UK.
The energy companies said they had reconnected about a million homes.
Business Secretary Kwasi Kwarteng said it was the biggest disruption since 2005 and the scale of the restoration was "enormous".
The Energy Networks Association said 97% of homes that had lost power in the storm had been reconnected, with companies working at 4,500 damaged sites.
ENA director Ross Easton said they had continued to make progress overnight and restored power to 12,000 more homes across the UK, "against some challenging conditions".
"While this number is increasing all the time, the remaining 30,000 homes are in some of the worst-hit and often remote areas of the country," he said.
Some homes – mainly isolated rural homes or groups of houses – will not be reconnected until at least the end of the week, the energy companies said.
They said the damage had been "catastrophic", with 100 poles snapped in half at one site.
In the Commons, Business Secretary Kwasi Kwarteng said he had been reassured the "overwhelming majority" of people without power would be reconnected in the "next day or two".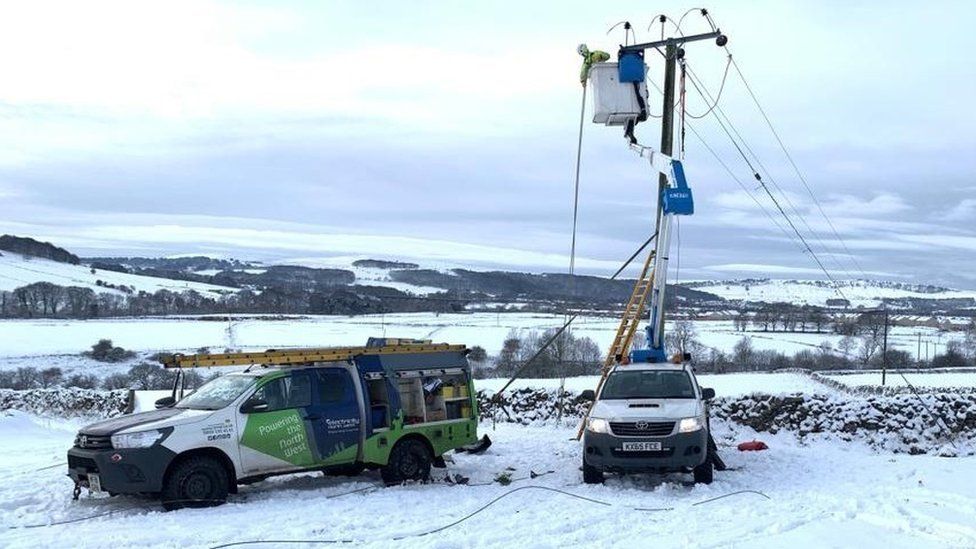 It was an event "the like of which we haven't seen for 60 years", Mr Kwarteng said, adding that the Department of Business, Energy and Industrial Strategy would be looking at the lessons of the storm to improve the resilience of power system.
He said he wanted to reassure people "who are exhausted, who are worried and who are angry" that energy companies and the government are working hard to restore power.
Welfare centres and hot food are being provided in some affected places, with energy companies working with emergency services, local councils and the British Red Cross.
But Dr Lily Fulton-Humble, who was at home near Alnwick in Northumberland with a seven-week-old baby and a sick toddler, said her family was "losing the stamina" to endure further nights without power.
"It's pretty cold – and when you're feeding a baby every two hours it's even colder," she said.
She said communication from Northern Powergrid during the outage had been "pretty appalling".
Kenny Anderson in Castle Fraser, Aberdeenshire, said he was getting texts from Scottish Power Energy Networks "every day" saying they will be reconnected, but "it's always tomorrow".
Customers are eligible for compensation, with payments of £70 for the first 24 hours of power loss – or 48 hours if conditions were severe – plus a further £70 for each extra 12 hours without electricity.
However, there is a cap of £700 for payouts, so customers can only get that amount even if they end up without power for a full seven days.