New figures show the number of vacancies is 77,500 higher compared to the beginning of last year.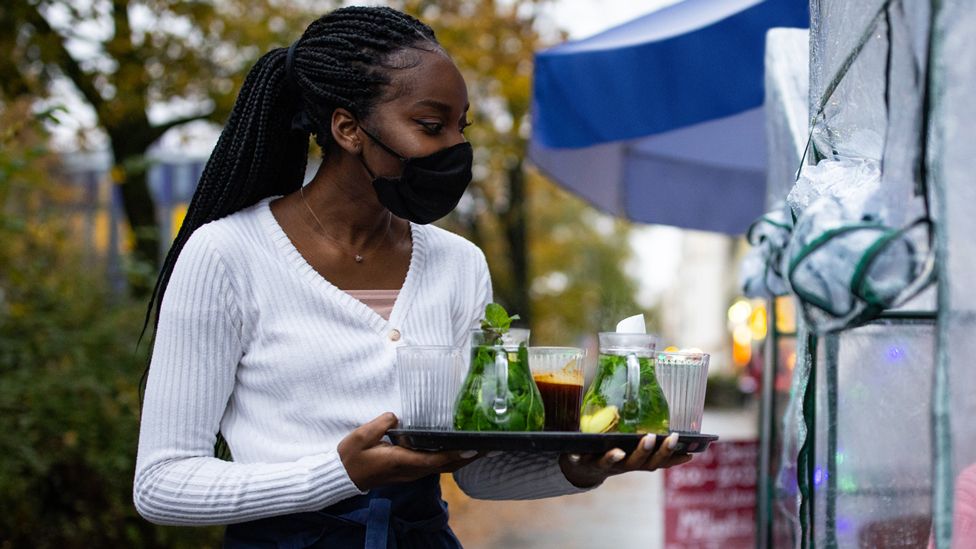 The number of job vacancies in the UK surpassed pre-pandemic levels in the three months to June, according to new data.
The Office for National Statistics said there were 862,000 jobs on offer between April and June, 77,500 higher than the first three months of 2020.
The rise was driven by vacancies in hospitality and retailing.
The number of people on payrolls also grew in June, showing the biggest rise since the start of the pandemic.
It increased by 356,000 in June to 28.9 million.
There was a sharp increase in payrolls in both the food and accommodation sectors as more people returned to work, following a further easing of Covid restrictions in England during May that allowed the hospitality industry to reopen.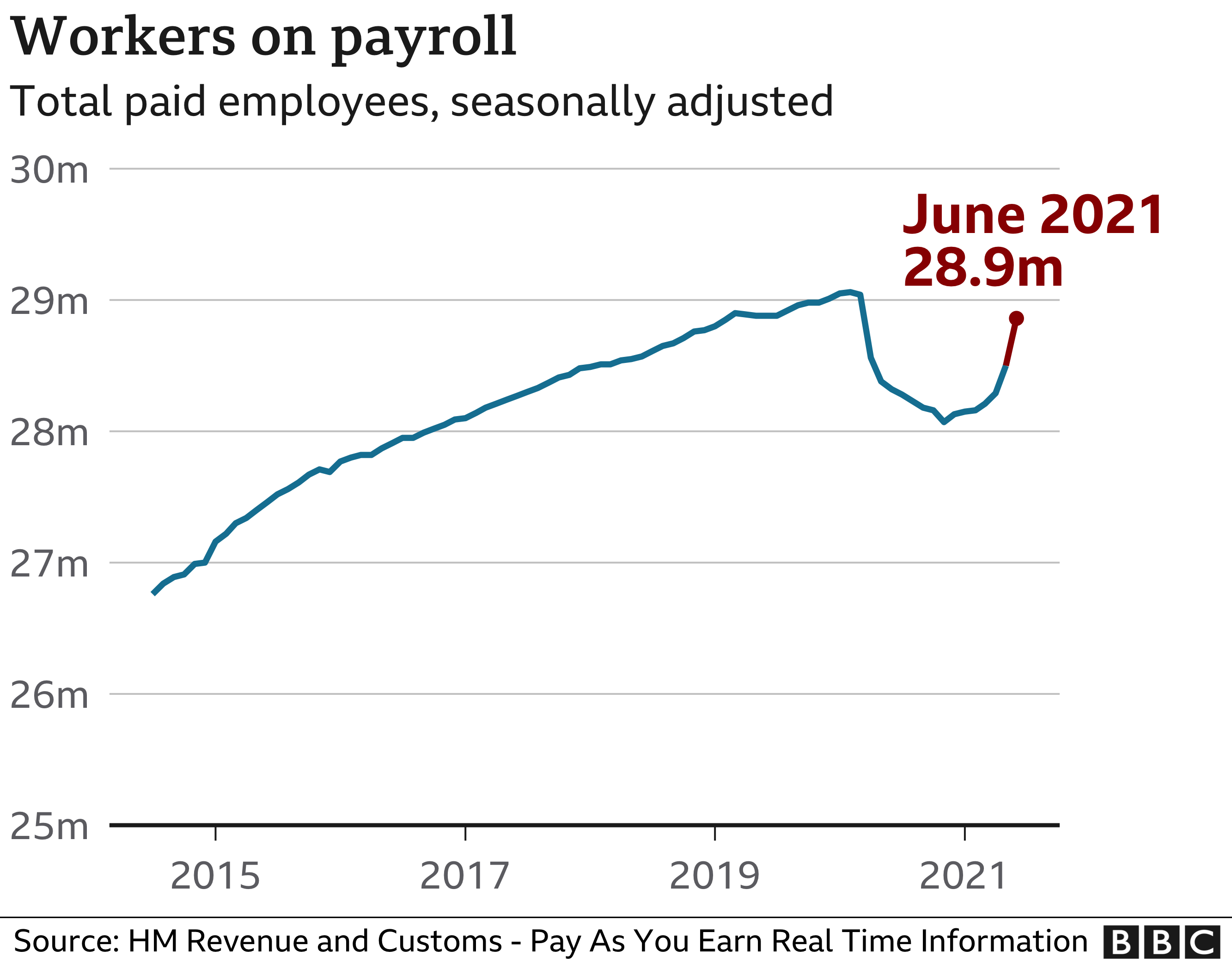 Some regions of the UK saw payroll numbers rise past levels seen before Covid forced the country into lockdown, including the North East, the North West, the East Midlands and Northern Ireland.
However, the ONS said the number of payroll workers remained 206,000 below pre-pandemic levels.
"The labour market is continuing to recover, with the number of employees on payroll up again strongly in June," said Darren Morgan, director of economic statistics at the ONS.
"However, it is still over 200,000 down on pre-pandemic levels, while a large number of workers remain on furlough."
The ONS also said that the unemployment rate was 4.8% between March and May, representing a fall from 5% between December and February.
Commenting on the sharp rise in vacancies, Chris Gray, director at recruitment firm Manpower UK, said: "I think what we're seeing is that we're already in a tight labour market. Employers are already having to be very creative.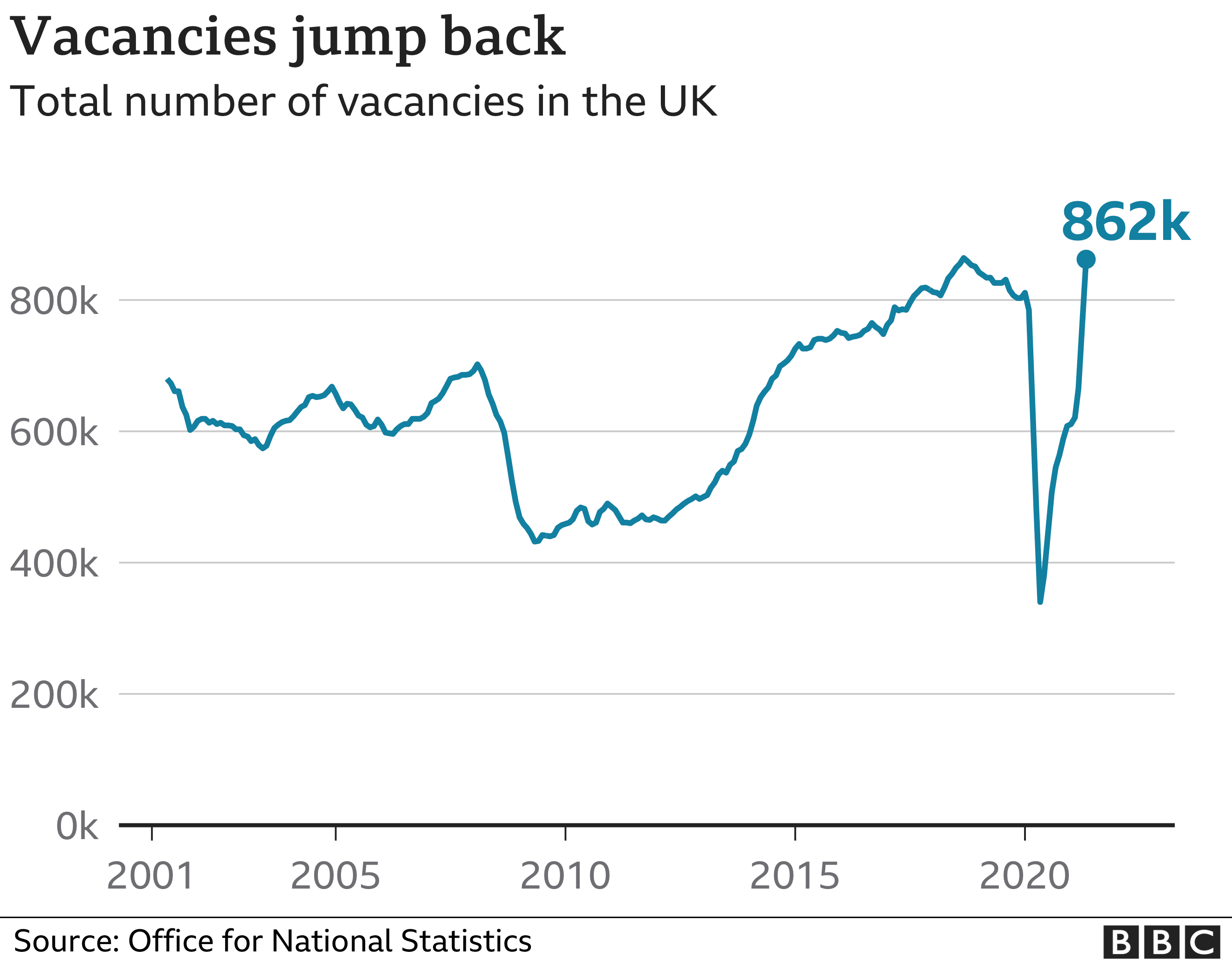 "But some are also a little bit anxious, maybe desperate, and advertising the same job more than once, so we've got to be mindful of some of those inflated numbers."
The ONS said arts, entertainment and recreation recorded the sharpest rise in vacancies. It added that in the accommodation and food services sectors, vacancies increased by 73,400 to 102,000.
"In this sector, there is evidence of a shortage of skilled staff and of employees finding alternative areas of employment prior to the sector reopening," it said.


The rise in vacancies above pre-pandemic levels may sound like good news but to businesses it points to a problem: skills shortages.
"The recruitment difficulties faced by firms go well beyond temporary bottlenecks and with many facing an increasing skills gap, staff shortages may drag on any recovery," according to the British Chambers of Commerce.
It combines unpleasantly with other labour market figures released today, showing that the number of UK-born workers in the workforce has dropped by more than a million from the end of 2019 to the first quarter of this year to 26.12 million.
Meanwhile, the number of non-UK-born workers has only risen by about 200,000, according to the ONS, to 6.06 million. And the number of EU-born workers is down from 2.43 million to 2.3 million, although that fall is much smaller than many had predicted last year.
Seeing the number of UK-born workers drop by a million is probably not what most Brexit supporters were hoping for. But, of course, it is almost certainly an effect not so much of Brexit but of the pandemic and successive lockdowns.
Some of those UK-born workers will have re-joined the workforce since March and the reliability of the figures is questioned by some.
But it underlines what businesses say the labour market needs right now: retraining on a big scale to upskill those UK-born workers who've left the workforce and meet some of those skills shortages that could hold the recovery back.

Mark Lee, who runs the Red Lion Country Inn, a B&B in Yorkshire, said before the pandemic he would receive about 50 applications if he advertised a job. However, he is now struggling to fill a number of roles.
A survey of recruitment firms by accountancy firm KPMG and the Recruitment and Employment Confederation found a number of factors contributing to problems in hiring workers, including Brexit, pandemic-related uncertainty and the furlough scheme.
However, Ruth Gregory, senior UK economist at Capital Economics, said: "While there is growing evidence that firms are finding it more difficult to hire workers, we suspect that most of these labour shortages will prove temporary and that they will be confined to a few sectors."

Are you an employer struggling to recruit?
Please include a contact number if you are willing to speak to a BBC journalist. You can also get in touch in the following ways:
If you are reading this page and can't see the form you will need to visit the mobile version of the BBC website to submit your question or comment or you can email us at HaveYourSay@bbc.co.uk. Please include your name, age and location with any submission.