Customers say they've lost out on tickets to the finals because the rules on credit cards weren't made clear.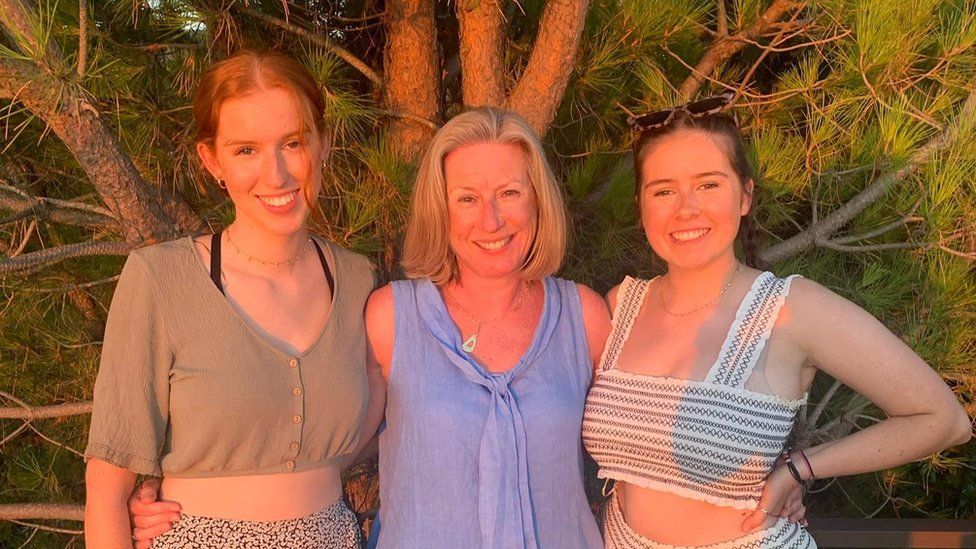 Lucy Rayner was jubilant when she managed to buy tickets to Wimbledon's men's final day, but five days later she received an email from Ticketmaster cancelling her purchase.
"It was gutting," says Lucy.
She and her family had unwittingly breached the sales terms, by using the same credit card on more than one transaction.
They say the rules were unclear, meaning they've missed out on dream tickets for this year's tournament.
They aren't the only ones. Dozens of upset tennis fans have taken to Twitter to complain about tickets that have suddenly been cancelled, several days after they were bought.
As for many popular events, there is a rule against buying more than two tickets. But customers say neither the All England Lawn Tennis Club (AELTC), nor Ticketmaster the platform which operates the ticket sales, made clear that they would crosscheck use of the same credit card. Both organisations say that the terms and conditions were made quite clear at "multiple locations".
Like many other tennis superfans, Lucy, her sister Holly and her mother Marion, gathered round their laptops last Thursday, ready for the moment when tickets went on sale. They'd had tickets for last year's cancelled tournament and were more eager than ever to get to see this year's.
They waited in three separate virtual queues, each using their own MyWimbledon account set up for the purpose.
"They'd released three codes on our individual emails," says Marion.
"They'd asked us to read the pre-purchase ticket information and we had scanned it," she adds. "There was nothing as far as we were aware saying you had to use different credit cards."
When they managed to buy first a rather disappointing pair of tickets for number one court on 8 July, then a much better pair for ladies' finals day, and – the biggest prize – a pair for men's finals day, they were in a hurry to complete each purchase.
So they paid with the same card "just out of convenience, it was handy and we already had it out and because of the time pressure to secure the tickets," says Lucy. If they'd been aware of the rule they wouldn't have.
There is always strong demand for Wimbledon tickets, but the competition is higher than ever this year as Covid rules mean reduced crowds.
And many fans are saying they now feel cheated.
Several tweeted that they had made an initial ticket purchase, but then, after waiting in virtual queues, they managed to secure better tickets, so had cancelled the first purchase.
Their own cancellations went through, but their subsequent purchases were also later revoked by Ticketmaster, they said, leaving them with no tickets.
Others said they had logged in on behalf of relatives, to help them navigate the online system, or because they were out at work, and paid for the tickets as a gift, or because they didn't have access to their relative's credit cards. They later found Ticketmaster had identified the repeated use of their credit card and cancelled the second transaction.
The AELTC said: "Under the AELTC's Conditions of Sale, the purchase of more than two tickets by any one credit card is strictly prohibited.
"Regrettably, people who purchased more than two tickets using one credit card were contacted by Ticketmaster to advise that any transactions beyond the purchase limit would be cancelled.
"We appreciate the disappointment this will have caused to those affected, but these conditions were clearly stated in multiple locations on the website, and at the 'accept and continue' stage of the ticket purchase."
Ticketmaster supplied a screenshot of the terms it said customers were shown during the purchase process, which stated "Please note: There is a ticket limit of two tickets per person and per credit card on this event."
It said the ticket limit of two per person and per credit card had been a long-standing Wimbledon policy in order to ensure that tickets are as fairly distributed as possible.