Senior ministers sign off a decision to pause the lifting of Covid restrictions in England beyond 21 June.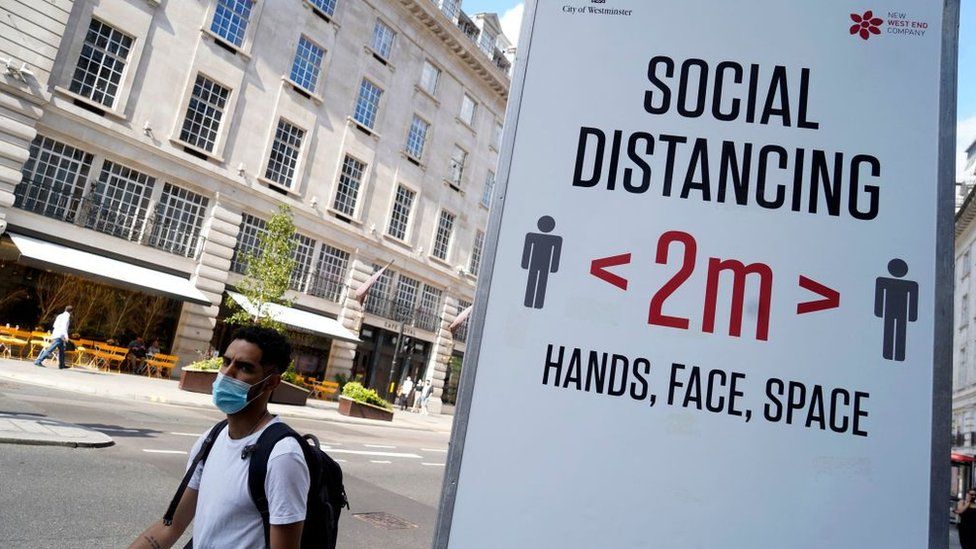 Senior ministers have signed off a decision to delay the lifting of all coronavirus restrictions in England beyond 21 June.
Government sources have told the BBC most current rules will remain for another four weeks after this date.
It means nightclubs will stay closed and people will be encouraged to still work from home where possible.
Prime Minister Boris Johnson is expected to confirm the delay later at a press conference.
The extension will be put to a Commons vote this month and could trigger a sizeable Conservative backbench rebellion.
Stage four of the government's roadmap out of lockdown would see all legal limits on social contact removed.
But many scientists have called for the reopening to be delayed to enable more people to be vaccinated and receive second doses amid rising cases of the Delta variant.
A delay would also allow for more work to be done on whether vaccines are breaking, or simply weakening, the link between infections and hospitalisations.
On Sunday Prime Minister Boris Johnson said a final decision on whether the reopening should be paused had not yet been taken.
Former Conservative cabinet minister Damian Green told the BBC's Westminster Hour that he wanted to see the decision to delay reviewed as more data becomes available.
"I think if it is as long as a month then there should be a break clause after two or maybe three weeks, to say that if we can tell by then that the rise in cases is not leading to a sort of rise in the serious illness that sends people into hospital, then we can unlock earlier," he said.
On Sunday, Foreign Secretary Dominic Raab told the BBC's Andrew Marr Show the government "don't want to yo-yo in and out of measures".
He said the decision on postponing unlocking would depend on whether the link between infections and hospital admissions had been severed.
Under stage four of the roadmap, venues and events would be allowed to operate without capacity limits and the cap on guests at weddings would also be lifted.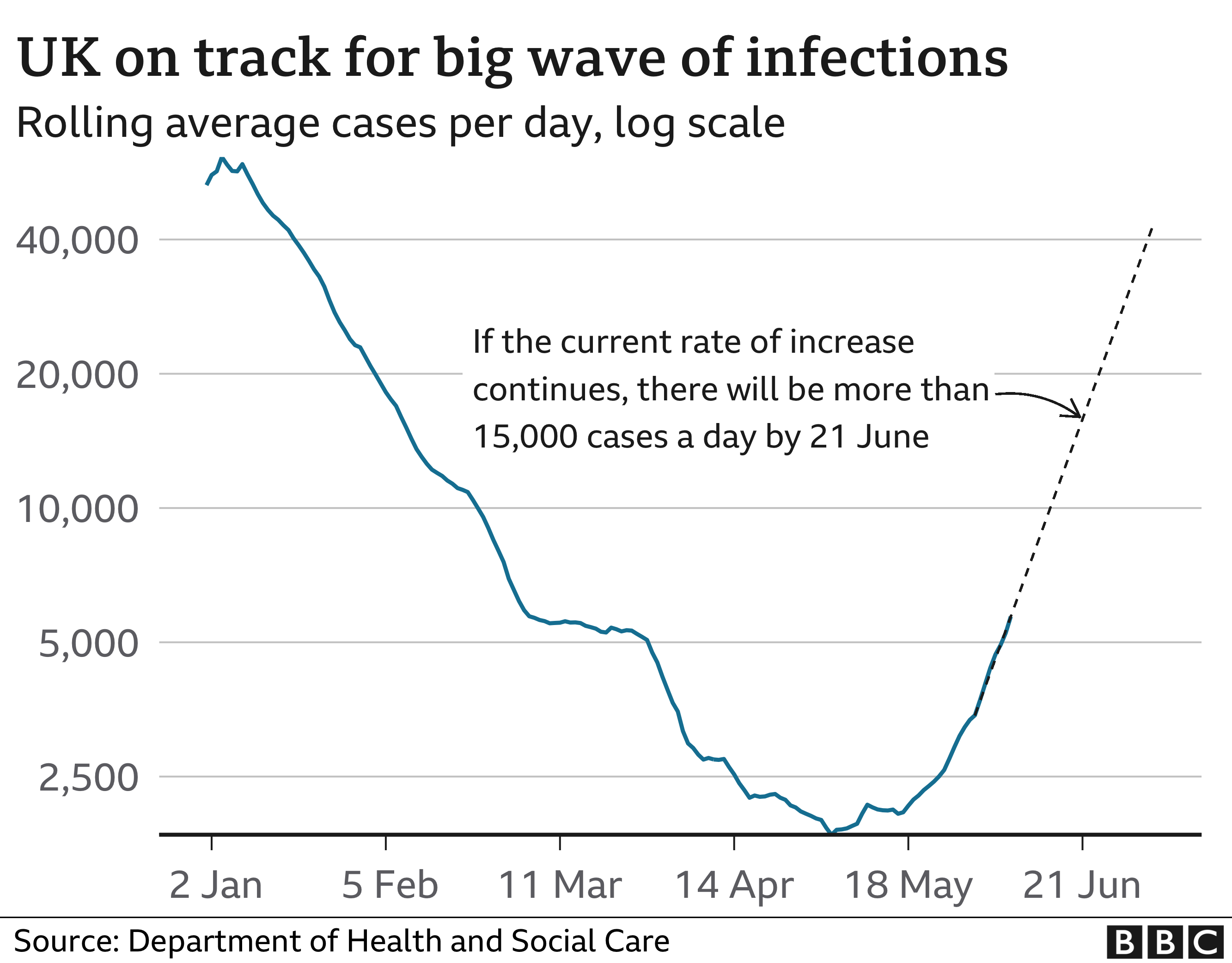 Rising infections in the UK are being driven by the Delta variant, first identified in India, which now accounts for 90% of infections.
It is believed to be around 60% more infectious than the Alpha variant – which was first identified in Kent and was previously dominant in the UK – and twice as likely to result in infected people being hospitalised.
Prof Andrew Hayward from University College London, who is a member of the Sage group which advises the government, said easing more restrictions would "fan the flames" of rising infections.
He told the BBC's Andrew Marr Show it was "clear" the UK would have "a substantial third wave of infections" but the question was how this would translate into hospital admissions.
On Sunday, the UK recorded 7,490 new cases of Covid-19 and eight deaths within 28 days of a positive test.
The seven-day average for cases in the UK is up 49% compared with the seven days before.


If it wasn't for the Delta variant, the government would in all likelihood be announcing the go-ahead for a full unlock.
But a more infectious variant against which one shot of the vaccine works less well has created a problem.
That much can be seen from how quickly infection levels are rising. The trajectory we are on means we could see January levels of infection by the end of July.
Exactly what that means for hospital admissions is less clear. It is already obvious that while the vaccines have weakened the link between cases and serious illness they have not broken it completely – admissions are rising after all.
Early data suggests less than 5% of cases are ending up in hospital – half the rate seen previously.
But that still has the potential to cause 2,000 admissions a day if we did reach January levels of infection – twice what the NHS would see for all respiratory illnesses in a bad winter.
None of that is guaranteed, of course, and so a delay, government scientists are arguing, gives them more time to work out with confidence where we are heading – and it is even possible the immunity built up by the vaccines will have started to halt the growth by then.

The government has set out four tests that must be met for the next stage of easing restrictions to go ahead:
The vaccine deployment programme continues successfully
Evidence shows vaccines are sufficiently effective in reducing hospitalisations and deaths in those vaccinated
Infection rates do not risk a surge in hospitalisations which would put unsustainable pressure on the NHS
Its assessment of the risks is not fundamentally changed by new variants of concern
More than 41 million people in the UK have had a first dose of a coronavirus vaccine, while nearly 30 million have had two doses.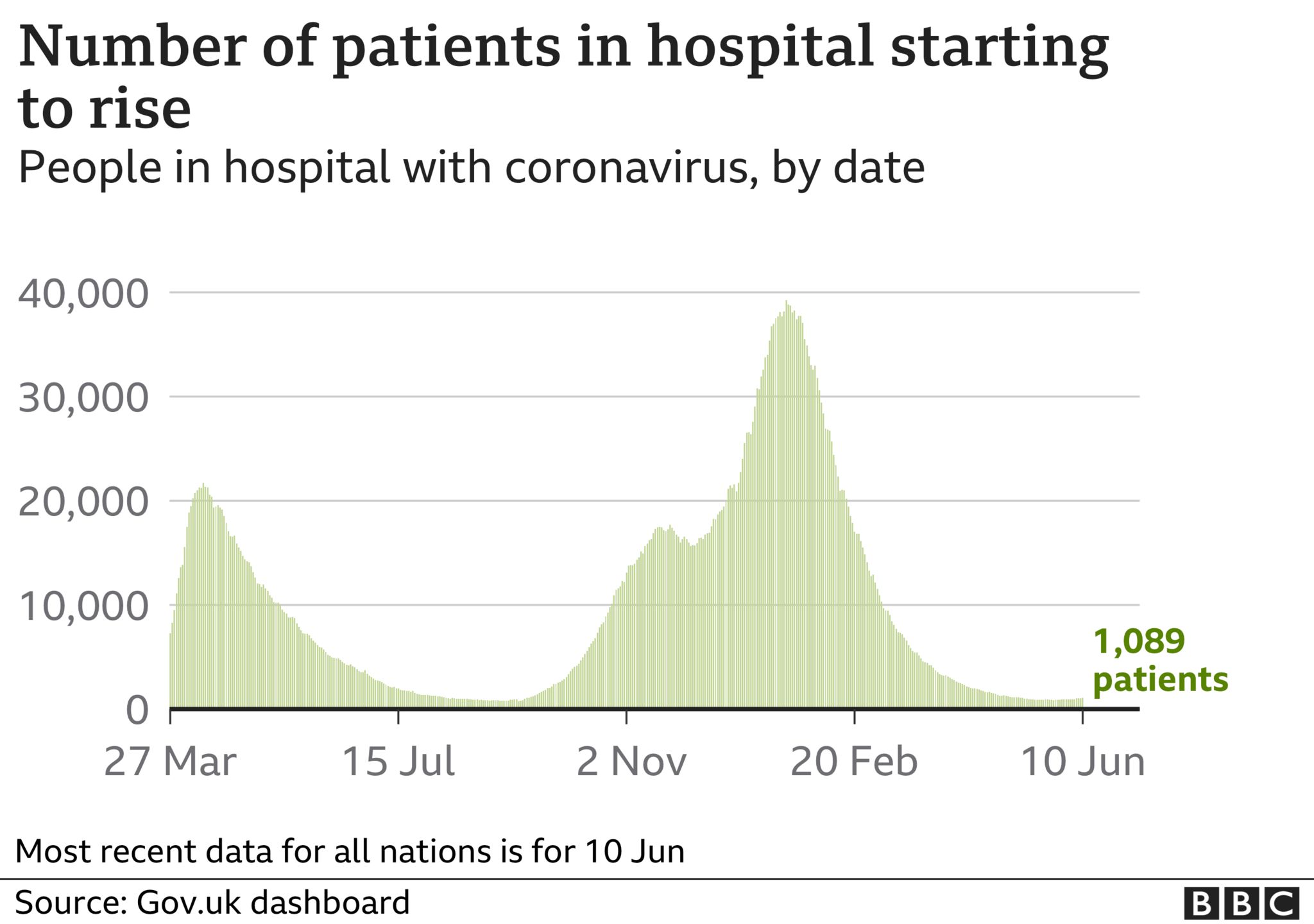 The Night Time Industries Association has warned any delay beyond 21 June would be "catastrophic" for sectors like nightclubs which have been forced to close since March last year.
It said businesses had already spent millions preparing to reopen on that date.
The UK Weddings Taskforce, an industry group, estimates that 50,000 weddings planned in the four weeks from 21 June could be cancelled if the lifting of restrictions is pushed back and that the industry would lose lose £325m for every week of delay.
Currently the number of guests allowed at weddings and other life events is limited to 30.
Some Conservative MPs also oppose a delay to easing restrictions, including members of the Covid Recovery Group of backbenchers.
Labour's Emily Thornberry said the decision over stage four of the roadmap was "the last chance" for the government to follow the science and communicate clearly with the public.