Private Anthony Bartlett was found dead after a suspected overdose in July 2001, it has emerged.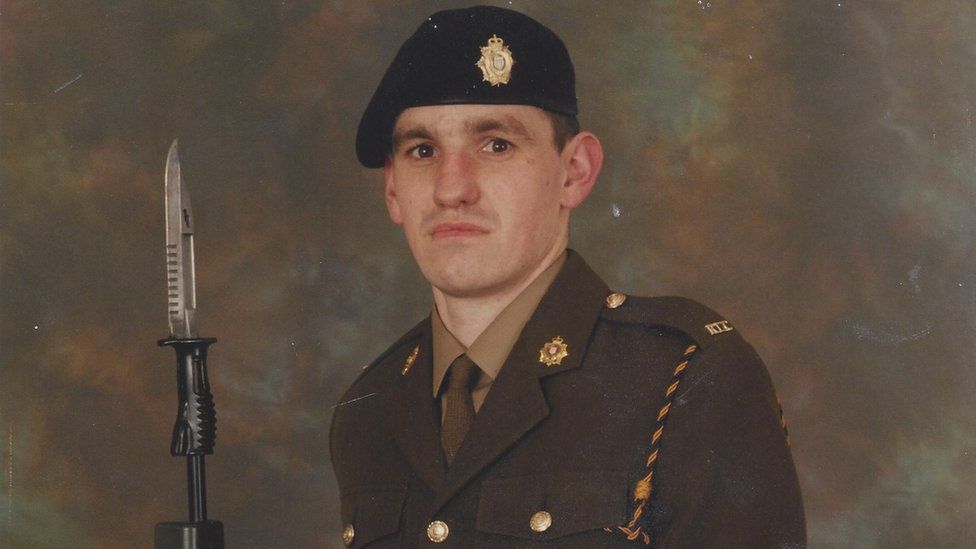 A fifth soldier died at an Army base where four recruits were found dead between 1995 and 2002, it has emerged.
Privates Sean Benton, Cheryl James, Geoff Gray and James Collinson were all discovered with gunshot wounds at Deepcut Barracks, Surrey.
It can now be revealed another private, Anthony Bartlett, was found dead after a suspected overdose in July 2001.
A former detective who investigated the later deaths at Deepcut said it was "staggering" he was not told about it.
Retired Det Ch Insp Colin Sutton, who was the senior investigating officer for Surrey Police, said the death of Pte Bartlett had been hidden from him.
The Ministry of Defence told Newsnight the coroner had found Pte Bartlett's death was an accident and it strongly rejected any suggestion it had covered it up.
Between 1995 and 2002, four young recruits died of gunshot wounds at the Princess Royal Barracks, near the town of Deepcut, Surrey. The Army insisted these were suicides, though the families disagreed.
DCI Colin Sutton was asked to investigate two of the deaths – of Pte Geoff Gray who died of two gunshot wounds in September 2001 and Pte James Collinson who died in March 2002.
However, he says he was not told that just two months before the death of Pte Gray there had been another death at the barracks, although Surrey Police had investigated it at the time.
The circumstances were different. Pte Bartlett, from Newton Stewart, Dumfriesshire, died from an overdose of Co-Proxamol – a strong painkiller that he had been prescribed by Army doctors for acute Achilles tendonitis, an injury he sustained during his five months at Deepcut.
Former DCI Sutton told Newsnight that Pte Bartlett's death had been "kept hidden from me effectively".
"Nobody told me about it," he said. "If you're the senior investigating officer looking at the deaths of two soldiers at Deepcut and there's another death of a soldier that you're not told about, you know, it's just staggering to me.
"I just don't understand how that information can be kept from an investigation team that's looking at this at that barracks."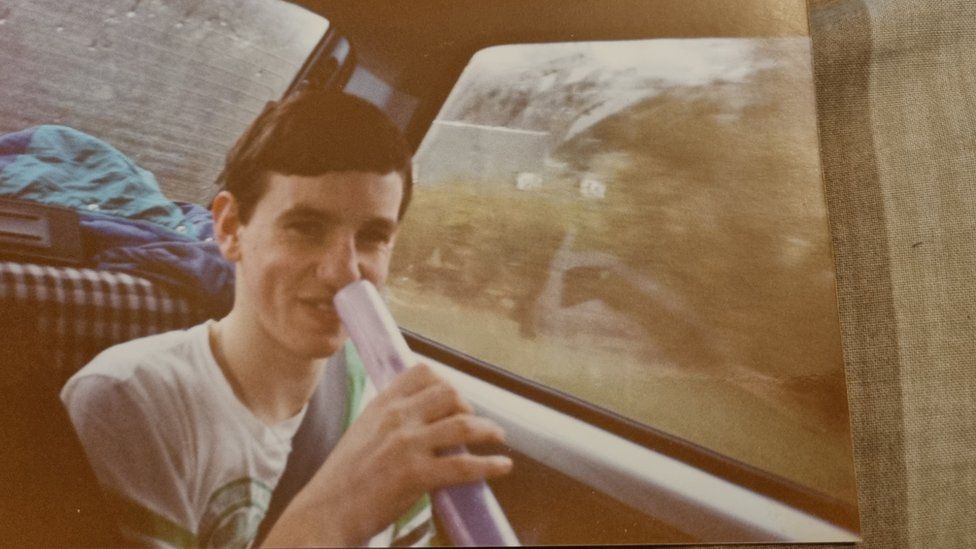 The fifth death is revealed in a new seven-part Audible podcast, Death at Deepcut, which delves into the circumstances surrounding what happened.
In the 19 years since the deaths at Deepcut made headlines, debate has raged over what led to four privates losing their lives in training in peacetime, all in similar circumstances.
There was a review in 2006 led by Sir Nicholas Blake QC. It criticised Army training, citing "harassment, discrimination and oppressive behaviour", but concluded that the deaths were probably self-inflicted.
There was no mention in Sir Nicholas's review of the death of Pte Bartlett.
Most recently, fresh inquests into the deaths of Privates Gray and James recorded suicide verdicts. The second hearing into Pte Benton's death confirmed the original inquest's conclusion that he had taken his own life.
The first inquest into the death of James Collinson ended in an open verdict. His parents dropped their bid for a new inquest in 2019 saying they did not have the strength to see it through.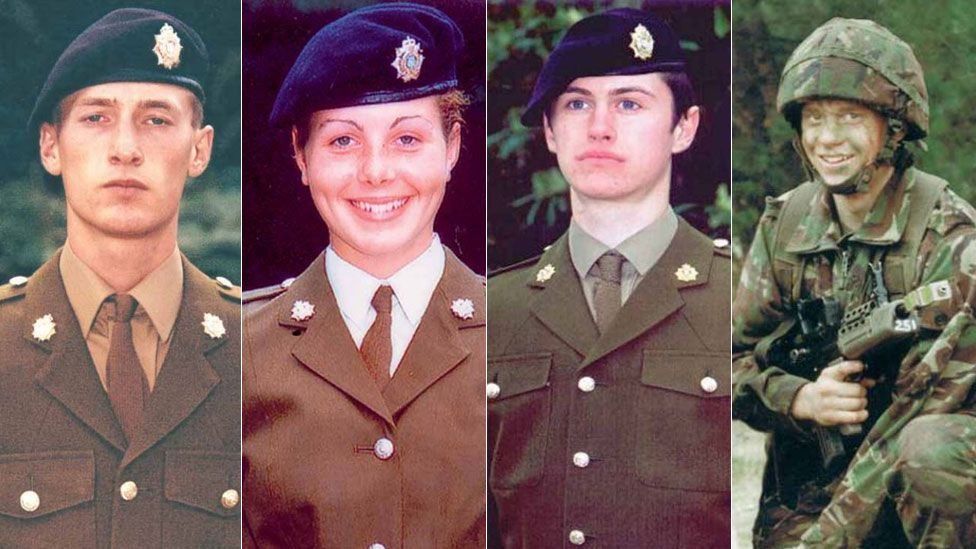 James Collinson's mother, Yvonne, said she was "flabbergasted" that after years of battling for information about what happened to her son she is discovering there was another, up-to-now unpublicised death, just eight months before.
"All these years of experience with the Army and the police, they don't offer any truths and try and hide things from you that they think might cause them a bit of trouble," she told Newsnight.
"I also feel for the family of this young man. I suspect they didn't get very much support from the Army because I know we certainly didn't. Only we understand how it feels. My condolences to them."
The Ministry of Defence strongly rejected claims it tried to hide a fifth death, saying Pte Bartlett's case was investigated by the police and ruled to be an accidental death by the coroner.
In a statement the MoD said its "thoughts remain with Pte Bartlett's family and all those affected by this tragic accident".
It adds that the deaths of the other four recruits were a "tragedy" and it sends its condolences to the families.
The statement continues: "The armed forces take the responsibility for the welfare of service personnel very seriously.
"The Deepcut review of 2006 by Nicholas Blake QC made a number of recommendations, the majority of which were fully accepted.
"We will continue to support the health and wellbeing of all personnel throughout their time in the military and beyond."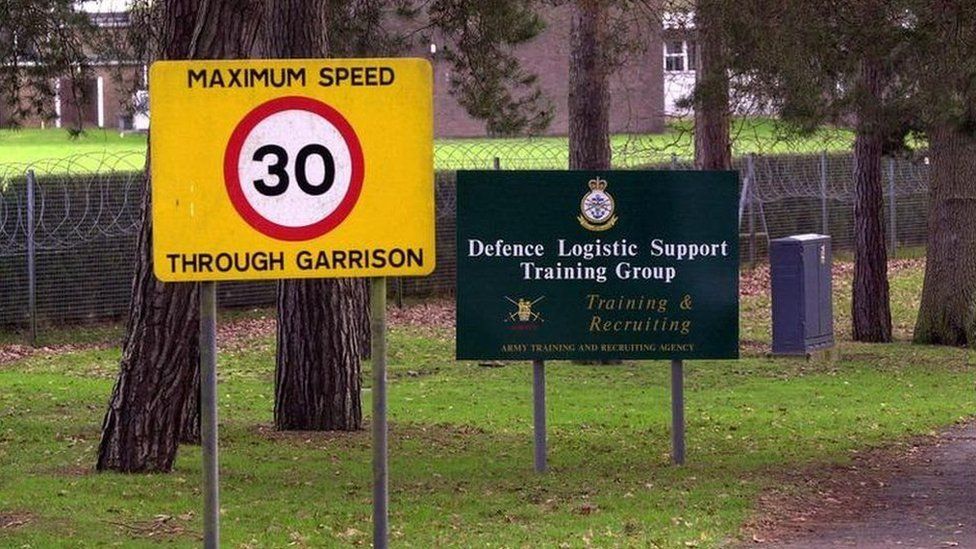 In a statement, Surrey Police said the deaths of Sean Benton, Cheryl James, Geoff Gray and James Collinson were "a tragic loss of life".
"Surrey Police has previously accepted that mistakes were made during the initial stages of investigations into these deaths, including a failure to properly capture forensic evidence and to maintain primacy for the investigations.
"That these errors resulted in further suffering for the families remains a matter of deep regret," the force said.
The statement added that "all the available evidence was examined" at inquests into the four soldiers' deaths.
"The families of Pte Sean Benton, Pte Geoff Gray and Pte Cheryl James have since sought new inquests… We hope that the conclusions of these new inquests provided their families with the clarification they had been seeking."
The statement concludes: "Unless any new evidence comes to light, the investigations remain closed. If any further evidence is forthcoming, it will, of course, be thoroughly explored."

If you have been affected by any of the issues raised in this story, go online to bbc.co.uk/actionline or call the BBC Action Line to hear recorded information on 08000 934 999
Lines are open 24 hours and calls are free from landlines and mobiles