Ange Postecoglou is appointed as Celtic's new manager, with the former Australia boss leaving Yokohama F Marinos in Japan.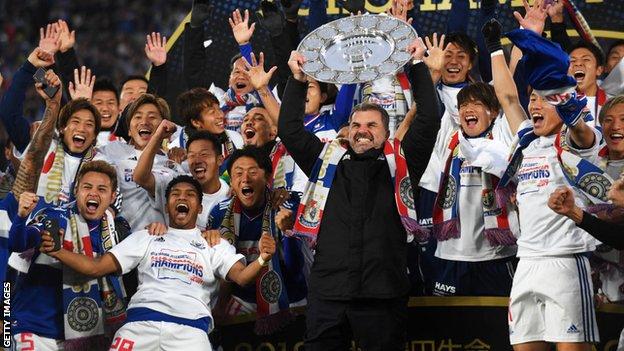 The 55-year-old replaces Neil Lennon, who resigned in February as the club failed in a bid to win a record 10th consecutive Scottish Premiership title.
The former Australia boss joins from Yokohama F Marinos in Japan on a 12-month rolling contract.
"I will be doing everything I can to get our great club back on top," said Greece-born Postecoglou.
"We want to entertain our fans and we want to win, these are the objectives which I always set myself and which I now begin work on.
"The opportunity that has been given to me is one of the greatest honours in football."
Celtic turned to Postecoglou after Eddie Howe rejected the opportunity to move to Glasgow, with the club citing "reasons outwith both his and our control".
A 10-day quarantine period means he will miss the beginning of pre-season training on 17 June, while his opening game will be a Champions League second qualifying round tie in July.
The club say they have received "recognition and endorsement" from Uefa after applying for an exemption on pro licence rules since Postecoglou does not possess the required European coaching badges.
However, Celtic make no mention of a new director of football or the future of coach John Kennedy, who stepped in as interim manager following Lennon's departure.
Who is Postecoglou?
Postecoglou won back-to-back A-League titles with Brisbane Roar and spent a season with Melbourne Victory before becoming manager of Australia in 2013.
He led the national team at the following year's World Cup and earned qualification for the next finals in Russia but left in late 2017 to move to Japan, where he won the J-League with Yokohama in 2019.
His main task will be to regain the Scottish Premiership title after city rivals Rangers halted Celtic's quest for the historic 10 in a row.
The Australian arrives in the midst of a major rebuild, with chief executive Peter Lawwell being replaced by Dominic McKay, Nick Hammond stepping down as head of football operations and long-serving captain Scott Brown leaving to join Aberdeen.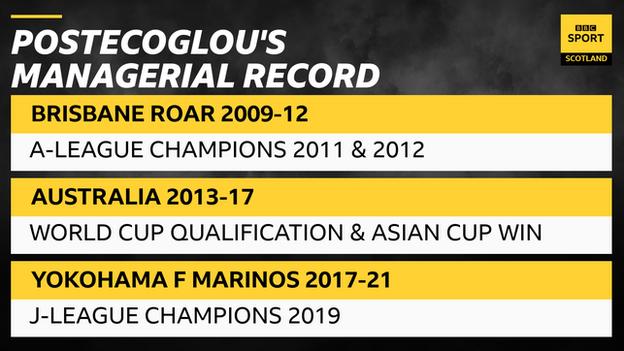 'I had Dalglish posters on my wall'
His last game with Yokohama was a surprise cup loss to lower division opposition and he leaves with Marinos sitting third in the J-League, three points off second place with four games in hand.
"I know Celtic is a true way of life for so many people and I know the demands which come with this position," said Postecoglou.
"We have already begun work on our plans for adding to the squad – we aim to bring players of quality to Celtic to enhance the existing core of great talent."
Speaking to Celtic TV, he added: "There's no magic formula, it's just hard work. I can't wait to meet the staff and the players. That's the exciting bit for me. My job is to make sure they all realise their potential and hopefully produce something special for the club.
"I've had a real passion for the game from a young age and that was thrust upon me by my father. He loved the entertainers. When I was growing up I had Kenny Dalglish posters all over my wall.
"I knew the moment I started my coaching career that I wanted to produce teams my father would like to watch. I have a real idea of how I want my teams to play and that's to make sure our supporters don't sit down for 90 minutes.
"I'm going to set us off in a direction and people need to believe in me. Anything I say and do will be fruitless unless they believe in me as a person. That will be my first task, to make sure they all understand me as quickly as possible."
'Scale of the job is enormous' – analysis
BBC Scotland chief sportswriter Tom English
Welcome to Scottish football, Ange. Strap yourself in. Things tend to get bumpy around here.
The new Celtic manager's experience in Australia and Japan is undeniable. The tributes to him are widespread. No-nonsense, smart, successful. To pull off the rebuild of a team and a coaching staff, he's going to have to be everything his many supporters believe him to be.
The scale of the job at Celtic is enormous, bigger than of his predecessors since Martin O'Neill and possibly before. All eyes are now on big Ange. His signings will be the making, or breaking, of him.
One question has been answered but so many others remain. Is he being afforded the chance to bring in some of his own trusted people? You'd hope so. Postecoglou can't know the football market in this part of the world. He needs help in reshaping the Celtic team. He's in, but who else is coming with him?
In Celtic's statement, one paragraph really stood out. "I have already had great discussions with Peter, Dom and the board about their ideas and strategy for the future of the club," said the new manager. "I know the club's new modern vision aligns very much with mine and we now look to go and deliver on this."
If that means Peter Lawwell will have an on-going say on the "ideas and strategy for the future of the club" then that's news. The club's "new modern vision" is something that needs explaining, too. What exactly does that mean. How modern? How visionary? Nothing will be dull at Celtic Park, that's for sure.