UK tourists will be free to enter the country without a negative Covid-19 PCR test from Monday.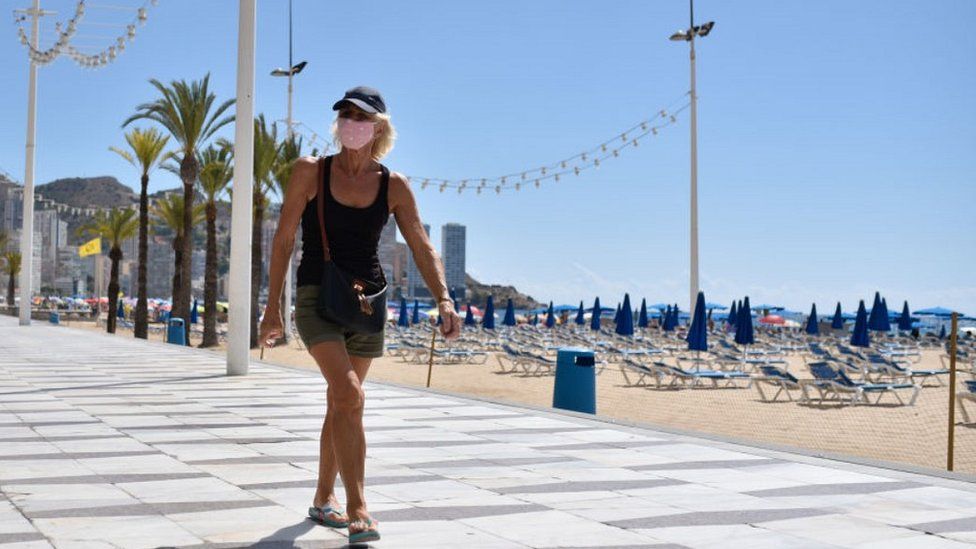 Spain has said it is officially lifting restrictions for UK travellers from Monday, when a decree takes effect.
The government says the UK and Japan will be on a list of countries whose residents are not affected by restrictions on non-essential travel to the EU. They will not need a PCR test.
The EU is currently deciding on an expanded "white list" of countries whose citizens can enter the EU freely.
Only seven, with very low Covid infection rates, are on the list now.
The BBC has been told a final decision has been delayed for another two weeks.
The UK government, however, still strongly advises against non-essential travel to Spain and most other EU countries. British tourists going to Spain will still have to quarantine on their return.
Portugal is the main destination on the UK's short "green" list of countries that are free of the quarantine requirement. Tourism in Portugal and Spain relies heavily on British visitors in the summer, and travellers from England, Scotland and Wales began flying to Portugal last Monday.
Under those terms, UK travellers would be eligible but there are ongoing concerns about the Indian Covid-19 variant.
Some EU countries are hesitating over the UK, as they want to see how the surge of British cases related to the Indian variant plays out.
EU envoys have also recommended that non-essential travel should be allowed from outside the EU for people who have been fully vaccinated. However, they say it should be up to member states to decide on measures they impose, such as Covid tests or quarantine.
On Thursday EU politicians agreed on the technicalities of an EU Digital Covid Certificate – essentially a health passport for EU citizens to travel inside the 27-nation bloc. It will show a traveller's vaccination record.
The EU has been racing to get the certificate ready for summer tourism, as countries emerging from months of lockdown are desperate to revive their hospitality industries.
The EU certificate is now "well on track to be ready end of June, as planned," an official statement said.