Police are investigating a video which shows two men grabbing hold of England's chief medical officer.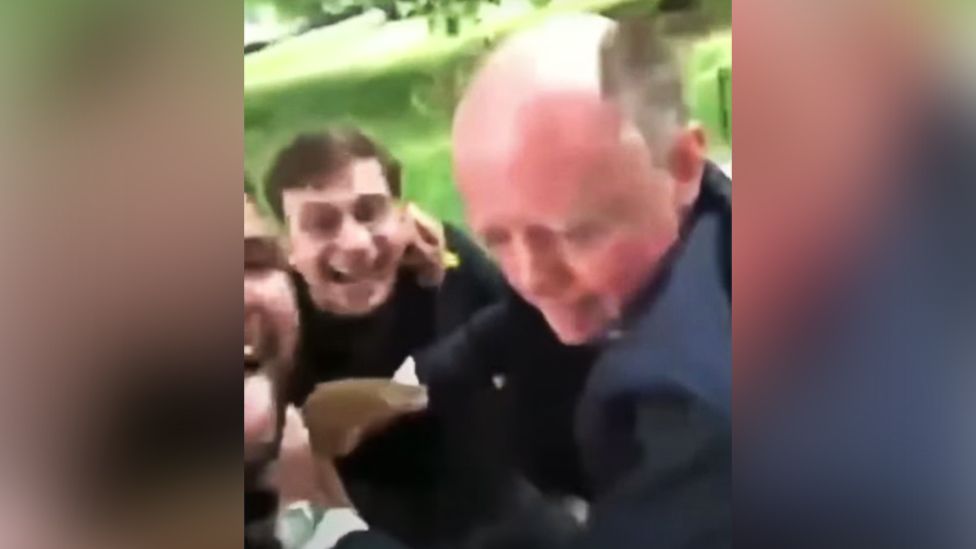 A man has apologised after footage emerged showing England's chief medical officer, Prof Chris Whitty, being accosted in a park.
Lewis Hughes, from Romford, told the Sun he was sorry for "any upset I caused".
The video shows two men laughing and jeering as they grab hold of Prof Whitty, who struggles to free himself.
The Met Police are investigating the footage, which the force said happened in St James's Park in London on Sunday.
Mr Hughes, a 24-year-old estate agent, told the newspaper he had lost his job following the incident.
"If I made [Prof Whitty] feel uncomfortable, which it does look like I did, then I am sorry to him for that," he said.
His friend Jonathan Chew, 24, said: "We just wanted a selfie."
Mr Chew told the Sun he had ADHD and autism, adding: "Sometimes things seem a good idea and really they're not."
Mr Hughes said the pair had been on an anti-vax march in London when they spotted Prof Whitty.
Police said when officers spoke to Prof Whitty, he had not suffered any injuries and told them at the time that he did not wish to make any allegations.
They added that the incident had been recorded as a common assault and continued to be investigated.
Prime Minister Boris Johnson and several other MPs condemned the incident.
In its latest statement on Tuesday evening, the Met said: "We are aware of a video being shared online showing an incident that took place in St James's Park at around 19:20 on the evening of Sunday, 27 June.
"Officers were in the vicinity policing a nearby demonstration and intervened when they saw what was happening.
"They spoke to the victim and checked his welfare. He had not suffered any injuries and informed officers that at that time he did not wish to make any allegations. He then went on his way.
"Officers continued to speak to the two men and recorded their details. They were robustly warned about their behaviour and ordered to leave the area."
It was not the first time Prof Whitty has been filmed being confronted by a member of the public.
Earlier this month, a man in Oxford accused him of lying to the public about coronavirus, while in February a man accosted the chief medical officer outside Westminster.
And a group of people gathered outside what was apparently Prof Whitty's London flat on Saturday, chanting and shouting.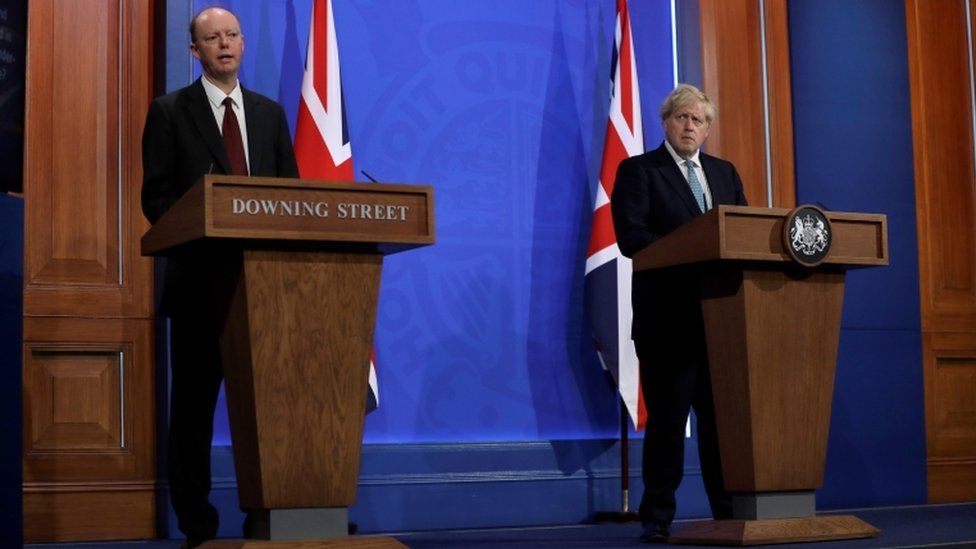 Since the start of the coronavirus crisis, he has been front and centre of the UK's decision-making and communication of messages to the public.
He took on the chief medical officer role in October 2019, and until the coronavirus threat emerged, had never done broadcast interviews or held press briefings or conferences.
One of the country's foremost experts in infectious diseases, he has worked as a doctor in Africa and Asia, as well as the UK.
He continues to practise medicine at University College London Hospitals, where he was spotted doing a shift over Christmas.
His mother was a teacher and his father was a diplomat who was murdered by terrorists in Greece after they flagged him down in his car in 1984.