Nearly half of all older adult care homes do not meet recommended vaccine thresholds, the government says.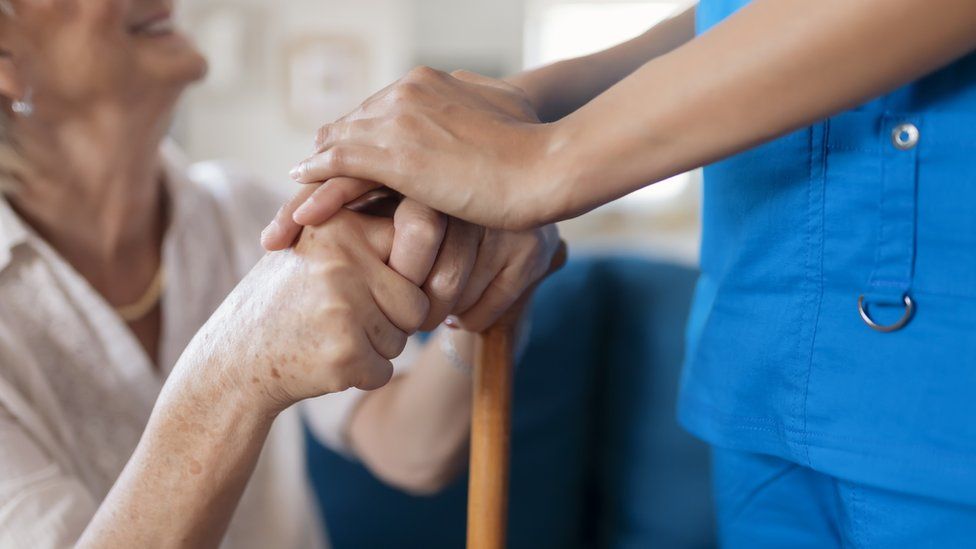 Care home staff in England could be mandated to receive a coronavirus vaccine in new plans under consultation by the government.
Ministers are seeking views on the proposal, which would see the jab requirement introduced this summer.
Health Secretary Matt Hancock said requiring a jab was "something many care homes have called for" and would make care home residents safer.
NHS England figures show 78.9% of older adult care home staff have had a jab.
Across England, on average, 94% of those aged 50 and over in the general population have been vaccinated.
The Department of Health and Social Care said nearly half of all care homes with older adult residents, home to 150,000 vulnerable people, do not meet recommended vaccination thresholds.
Government scientific advisers have estimated that 80% of staff and 90% of residents need to be vaccinated to provide a minimum level of protection against Covid-19 outbreaks.
Currently, the staff vaccination rate is below 80% in 89 out of 150 local authority areas, including all London boroughs. In 27 local authority areas less than 70% of staff have had a jab.
Announcing the five-week consultation, Mr Hancock said "older people living in care homes are most at risk of suffering serious consequences of Covid-19".
He added: "Making vaccines a condition of deployment is something many care homes have called for, to help them provide greater protection for staff and residents in older people's care homes and so save lives.
"The vaccine is already preventing deaths and is our route out of this pandemic. We have a duty of care to those most vulnerable to Covid-19, so it is right we consider all options to keep people safe."


Those working in care are divided over the best way to increase the take-up of Covid vaccines amongst staff.
Residential and nursing homes looking after older people have been particularly hard hit by the virus, with a high number of deaths.
That is why so much is riding on staff having vaccinations which will protect them and the people they work with.
One of the largest care companies, Barchester, has led the discussion by saying it will require its staff to have the vaccine. But others believe it is far better to persuade people by providing them with information to allay their fears.
There is also concern that compulsory vaccination may put people off working in a sector which is already struggling to recruit.
They pose the question: if vaccinations are required for those working with older people, then why would they not be compulsory for all health and care workers? They too look after people vulnerable to the virus.

Adult Social Care Covid-19 Taskforce chairman David Pearson thanked staff for getting vaccinated, and said: "It is absolutely vital those who have not yet taken the opportunity to have their vaccine do so to keep themselves and those they care for safe."
The proposal would not include staff who are exempt from taking the vaccine on medical grounds. Some care providers already have policies in place on mandatory staff vaccination.


NHS England has been running a minimum four-visit schedule for each older adult care home alongside vaccination centres to make accessing a jab as easy as possible.
The "vast majority" of homes have had repeat visits, the Department of Health said. A Covid jab had been offered to every older care home resident at eligible homes in England by 1 February.
Care workers in London previously told the BBC of their concerns about taking up the offer of a Covid jab, including cultural issues and uncertainty around new vaccines.