Alfred Dorris was tried at the Old Bailey over a derailment in Croydon in which seven people died.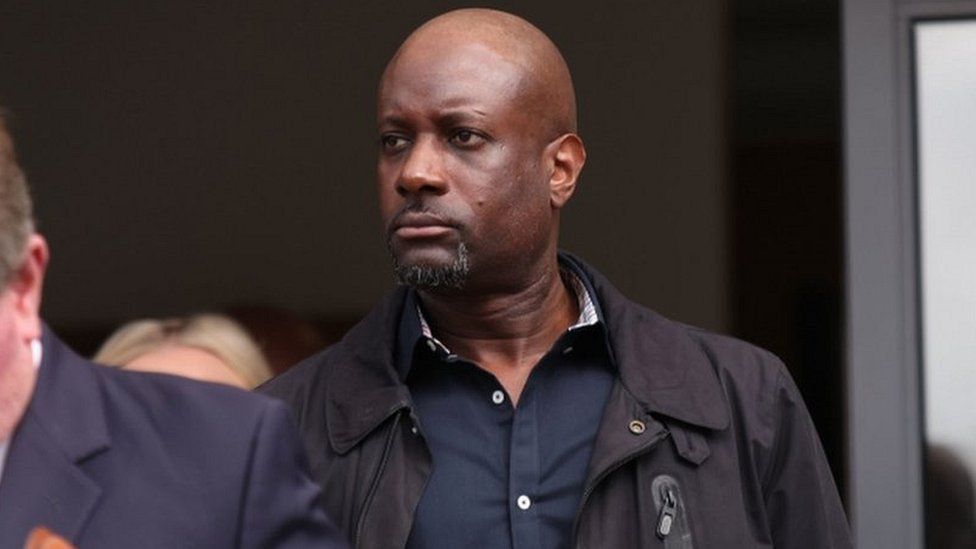 The driver of a tram that crashed in Croydon in November 2016, killing seven people, has been cleared of failing to take reasonable care at work.
Alfred Dorris, 49, was charged under the Health and Safety at Work Act 1974 over the derailment, which left another 19 people seriously injured.
There were 69 passengers on the tram when it toppled over on a sharp bend.
A jury at the Old Bailey on Monday cleared him in less than two hours. Mr Dorris left the dock in tears.
Those who died were Dane Chinnery, Donald Collett, Robert Huxley, Philip Logan, Dorota Rynkiewicz, Philip Seary and Mark Smith.
The jury heard Mr Dorris was driving the tram at over 70km/h (43mph) – more than three times the limit – as he approached the curve near Sandilands.
The prosecution claimed Mr Dorris, from Beckenham, south-east London, may have had a "micro-sleep" while at the controls of the tram. He denied this, saying: "It just went horribly wrong for me."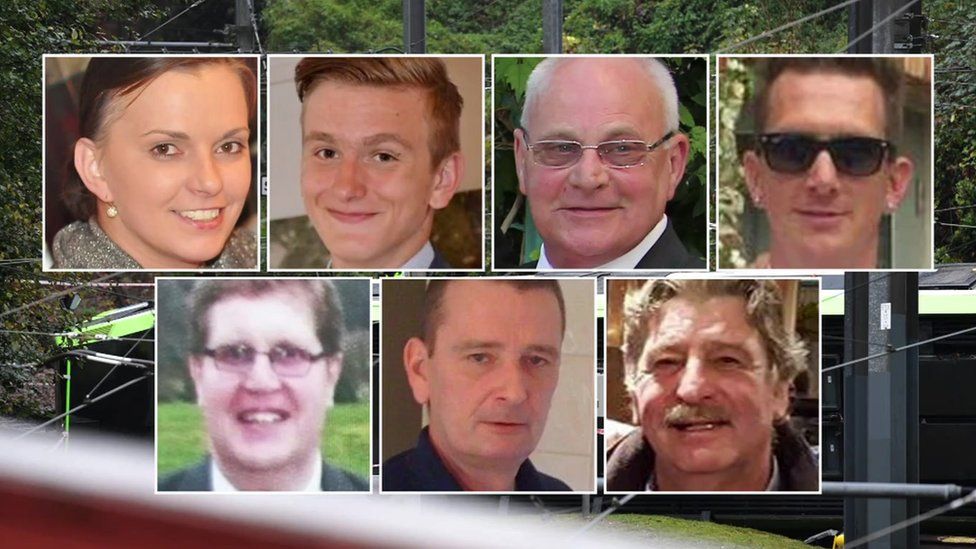 He told the trial that he had become "confused" and "disorientated" before the tram derailed but that he could not explain how it happened.
While giving evidence, Mr Dorris broke down in tears as he described his final journey and told the victims' families he was "deeply sorry" for the crash.
He told them: "I'm a human being and sometimes as a human being things happen to you that you are not in control of."
Mr Dorris blamed his confusion on a combination of external factors including poor lighting and signage in the Sandilands tunnel complex, darkness and bad weather.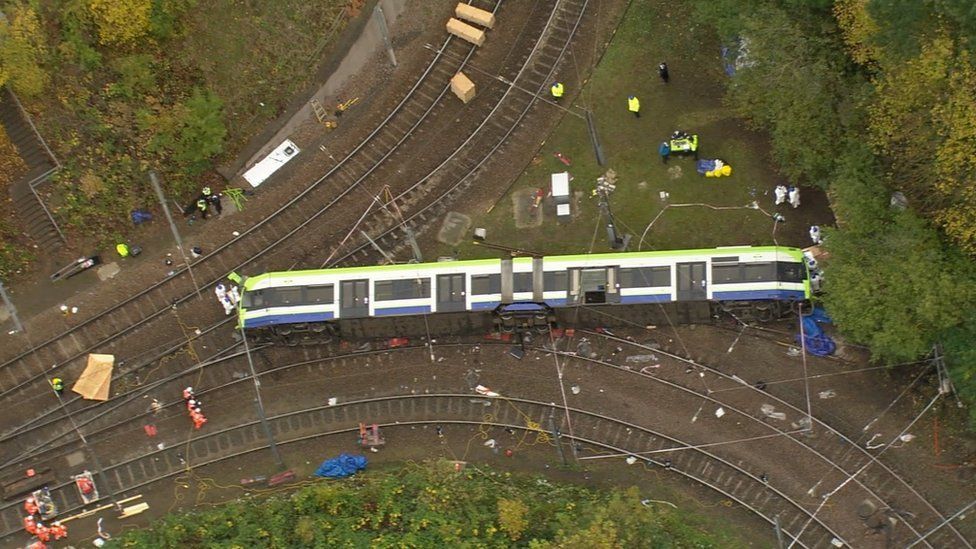 He told the jury he thought he was travelling in the opposite direction, but by the time he realised his mistake the tram was already tipping over and he was thrown from his seat, causing him to hit his head and pass out.
Mr Dorris also said he had suffered from post-traumatic stress disorder since the crash and had become estranged from his wife and daughter.

By Tom Edwards, BBC London transport correspondent
At the crux of this case is where the weight of responsibility lay for the safety of tram passengers. Was it with the driver or was it actually on the tram operator and Transport for London (TfL) and the systems in place?
The defence maintained there were factors outside Alfred Dorris's control that made him disorientated. He denied he had ever fallen asleep at the controls.
There were a lack of visual cues in the tunnel, poorly maintained and broken lighting – many lights didn't work at all – and poor speed limit signage. The court heard there was "an accident waiting to happen" at the corner where the crash took place.
The driver became confused and thought he was going the opposite way and not into a tight corner. The jury decided that system errors were the issue, not the driver.

Speaking after the verdict, Joe Collett, whose brother Donald died in the derailment, said he felt the system had let him down and later broke down in tears.
"I'm very, very disappointed because the only one who knows what happened, the truth, is Mr Dorris," he said.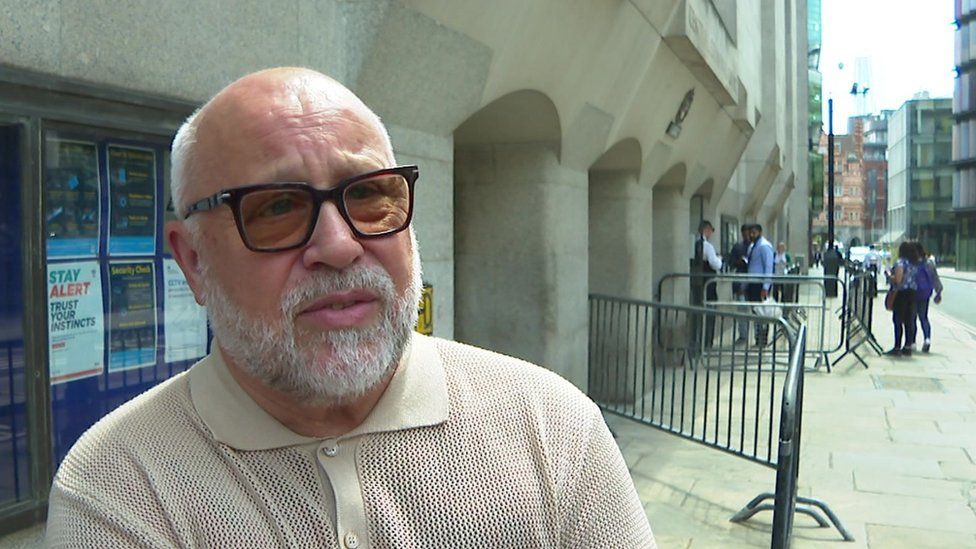 "There's certain elements for example – that he'd done the journey several thousand times and this day said he had a bad day – but seven people had a worse day."
He continued by saying he didn't think justice had been done, adding: "He's got to live with himself, he knows what he's done."
Meanwhile Danielle Wynne, whose grandfather Philip Logan was killed in the crash, said it felt "like someone stabbing me in the chest".
"If I got into my car and I did what he did at the speed that he did, then I would go to prison."
Ms Wynne added: "I don't believe that morning [Mr Dorris] set out to kill anyone. But he did kill people. There has to be some kind of accountability."
'No winners'
Later outside court, Mr Dorris's lawyer Gary Rubin read a statement from his client in which he described the past seven years as "difficult".
He said: "Unfortunately, that morning went horribly wrong and that was because of something I wasn't in control of.
"I am truly and deeply sorry – it's something that I am going to have to live with for the rest of my life, and I would just like to end by saying there are no winners in this case."
The case against Mr Dorris was brought by the Office of Rail and Road (ORR), which said it "conducted an extensive, detailed and thorough investigation" into the derailment.
The ORR also prosecuted TfL and the tram operator Tram Operations Limited under health and safety laws. Both companies previously pleaded guilty to not taking reasonable care and will be sentenced next month.

Related Internet Links
The BBC is not responsible for the content of external sites.