Two-time Grand Slam champion Simona Halep is charged with a second breach of anti-doping rules, over "irregularities in her athlete biological passport".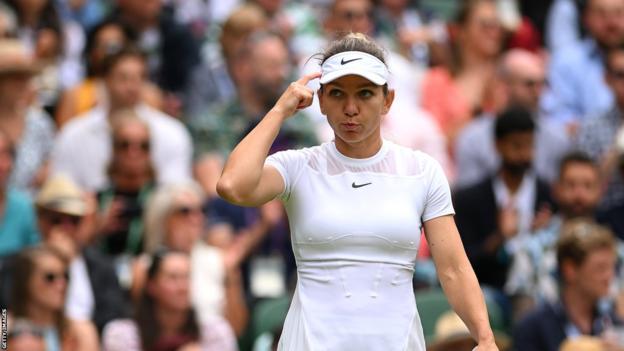 The Romanian, 31, has been suspended since October after testing positive for a banned substance at the US Open.
Her additional charge is separate to the one she is already suspended for.
The athlete biological passport programme collects and compares biological data to spot discrepancies over time that suggest possible doping.
Former world number one Halep's suspension last year was imposed after she tested positive for roxadustat, an anti-anaemia drug which stimulates the production of red blood cells in the body.
The International Tennis Integrity Agency (ITIA), which is responsible for testing within the sport, said it would try to resolve the latest case as quickly as possible, but did not indicate how long it would take.
Nicole Sapstead, the ITIA's senior director for anti-doping, said: "We understand that today's announcement adds complexity to an already high-profile situation.
"From the outset of this process – and indeed any other at the ITIA – we have remained committed to engaging with Ms Halep in an empathetic, efficient, and timely manner."
Halep, the 2019 Wimbledon champion, said last October that "cheating had never crossed" her mind and claims the failed test was down to a "contaminated" supplement.
In April, Halep spoke for the first time since her suspension, saying she was frustrated with the time it was taking for the case to be resolved but the ITIA said "the process is ongoing".
The investigations into failed tests by the ITIA are often a complex process, even more so when a player denies taking a substance knowingly.
It is not uncommon for these cases to take several months to be resolved.
In such cases, a player can produce evidence to either disprove or explain the failed test, which Halep claimed she had done.
This would bring further investigation and testing by the ITIA, leading to the process being further extended.
Halep, who was ranked ninth when the ban came into force, is one of the highest-profile tennis players to fail a drugs test, and the most prominent since Russian five-time major champion Maria Sharapova was banned in 2016.