The woman accepted she stabbed him and his sister on 27 July 2021 but had denied the charges.
A woman has been found guilty of murdering her eight-week old son and attempting to murder his two-year-old sister.
The woman, who cannot be named for legal reasons, accepted she stabbed the children on 27 July 2021 but denied the charges.
But jurors rejected her argument and found her guilty after more than five hours of deliberations.
The woman was convicted at Belfast Crown Court on Thursday.
She will receive an automatic life sentence, with the amount of time she has to serve before being considered for parole to be set at a later date.
The woman placed her head in her hands and sobbed "no, no, no" as the guilty verdict was read out.
The juror who read the verdict also broke down as she read it and had to sit down to compose herself.
Harrowing evidence
When handing down the life sentence, Judge Donna McColgan said "this has been a very difficult and stressful case".
"I will be excusing the jury from jury service for the rest of their lives," she added.
"Counselling will also be made available to all jurors."
Over the last six weeks, Belfast Crown Court has heard harrowing evidence.
After the woman stabbed the children, she made five phone calls, including one to the children's father, telling him that their daughter was "lying slowly bleeding".
It was only after this call that she phoned 999, telling police: "I killed my kid for him."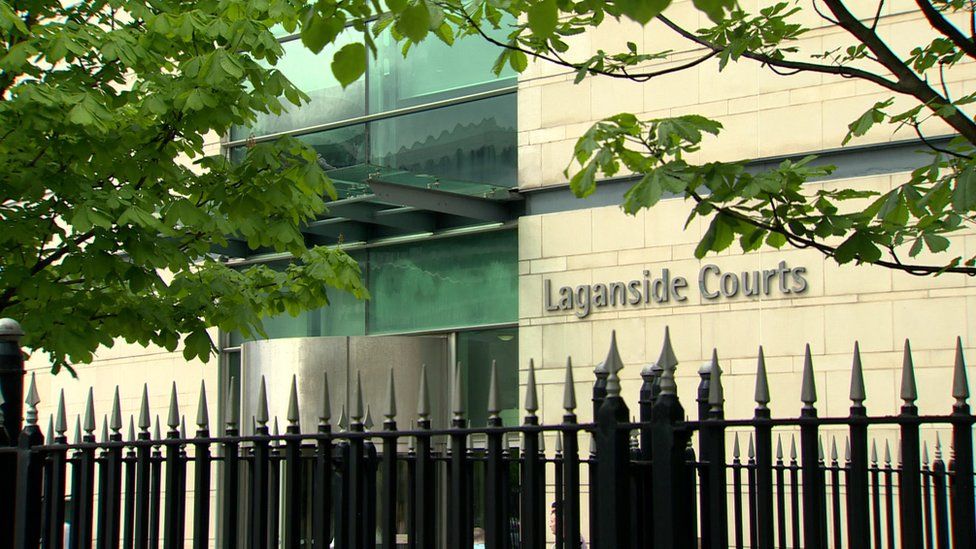 During the trial, prosecuting counsel read a statement from the children's father to the court, as he was deemed too unwell to attend court as a witness.
He said on the evening of the stabbings, he was in England and had missed a call from his then partner as he was sleeping.
He returned her call and she told him she had killed the baby, that the baby's sister was slowly bleeding and that she was going to kill herself.
He then phoned the police.
'Self-inflicted wound'
During the trial, the jury was shown harrowing footage from the body cameras of police officers who responded to a 999 call made by the defendant.
The videos showed the woman sitting on her living room floor in handcuffs and bleeding from a self-inflicted wound to her neck.
The footage also captured a police officer attempting to drive the injured girl to hospital in a PSNI car before handing her over to paramedics.
Both youngsters were taken to the emergency department at the Royal Belfast Hospital for Sick Children and were treated as they lay side-by-side.
Whilst the young girl was successfully treated for a stab wound to her chest, her baby brother was later pronounced dead.
Following her arrest, the defendant made the case that she stabbed her children and then turned the knife on herself as she wanted them all to die together.
The court heard that during subsequent police interviews, she made references to her partner's use of drink and drugs, and also claimed that he beat and sexually abused her.
'Turn back time' wish
When asked by a detective what she was thinking at the time, she said: "I wanted to kill all three, all of us so that [their father], could have a happy life together with his new woman.
"This was the only solution that came to my mind."
The woman also spent four days in the witness box at Belfast Crown Court where she was questioned about the events of 27 July 2021 – and where she denied stabbing her children out of spite and malice towards their father.
Sobbing as she gave evidence, the defendant claimed she tried to resuscitate her baby son after stabbing him in the chest and also told the jury that after knifing her daughter, she then tried to keep her alive by holding her to her chest.
She said she did not know what "was going on in my mind at that time" and told the court she could not forgive herself and wished she could "turn back time".
The defendant sobbed as she was taken from the dock and back into custody.