Property website Rightmove says the £14 increase in average prices is lowest ever seen for the month.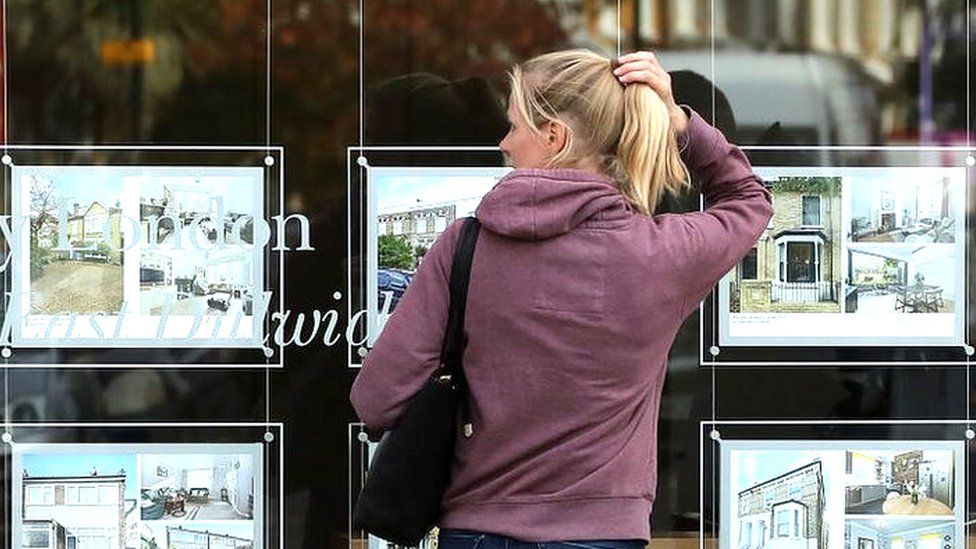 The average asking price for a UK home rose by just £14 between January and February, according to property website Rightmove – the lowest increase since its records began in 2001.
The average asking price for a home is now £362,452, it said.
Asking prices normally rise at the start of the year as sellers gear up for the spring selling season.
But Rightmove said higher mortgage rates and living costs were squeezing what people could afford.
It follows months of falling house prices and predictions of further declines this year and next.
"Many sellers are breaking with tradition and showing unseasonal initial pricing restraint," Tim Bannister, Rightmove's director of property science, said of the latest figures.
He added that buyers were taking more time to "find the right property at the right price" and wanted "greater realism on price".
Meanwhile annual house price growth slowed to 1.1%, down from 2.8% in December.
Part of the reason is higher mortgage rates, which have squeezed purchasing power. Rates have fallen from the 6.65% highs seen after Liz Truss's mini-budget in September but remain far above what they were a year ago.
According to research firm Moneyfacts, average two-year and five-year fixed rate mortgages are still above 5%.
At the same time inflation – the rate at which prices rise – is at its highest level for 40 years, putting pressure on household budgets.
Despite this, Rightmove said buyers were benefiting from "more choice albeit with revised budgets to accommodate higher mortgage rates".
And Tom Bill, head of UK residential research at estate agent Knight Frank, said the housing market had picked up a bit since Christmas.
"Buyers and sellers switched off early for the holidays due to the volatility caused by the mini-budget but have come back surprisingly strongly in 2023," he said.
Knight Frank expects house prices to fall by about 5% this year as household budgets come under pressure.
The Office for Budget Responsibility, the government's official forecaster, has predicted a 9% drop in prices through to Autumn 2024 before prices start to rise again.