Liz Truss faces pressure to drop parts of her mini-budget as the chancellor ends his US trip early.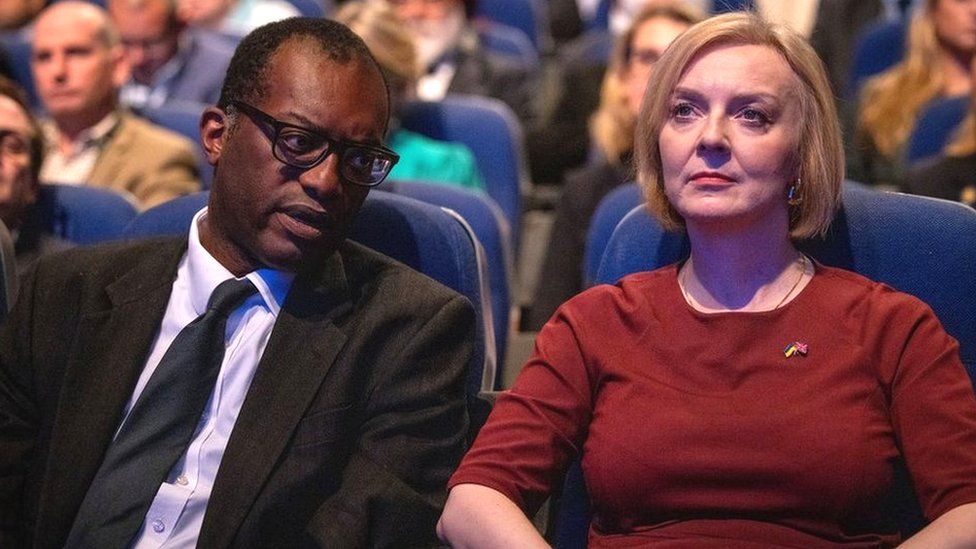 Chancellor Kwasi Kwarteng has cut short his visit to the US for urgent talks in Downing Street, with a U-turn over the mini-budget on the table.
Mr Kwarteng is flying home early from Washington DC after days of open revolt among Tory MPs over his economic plan.
Prime Minister Liz Truss is facing calls to change her plan to calm market turbulence and reassure her party.
No 10 downplayed speculation of imminent changes to the plan after reports suggested parts may be ditched.
A Downing Street source told the BBC the prime minister thinks the chancellor is "doing an excellent job and they are in lockstep".
Many Tory MPs think a further change of plan is inevitable, following a previous U-turn on Ms Truss's plan to scrap the top rate of income tax.
Other scenarios being discussed by some Tory MPs include the chancellor resigning or the prime minister being ousted, with some talking about a joint team of Rishi Sunak and Penny Mordaunt as replacements.
Under this scenario, Tory MPs would propose just one person to succeed the prime minister, with the other individual taking a senior cabinet role, avoiding the need for another leadership contest.
Mr Kwarteng had been in Washington DC for a meeting of global finance ministers at the International Monetary Fund's (IMF) annual meeting.
Speaking about the change in his travel plans, a source close to the chancellor said he "really wants to engage not only with government colleagues, but also MPs" over the financial plans.
His mini-budget last month included £45bn of tax cuts, funded by borrowing, which spooked financial markets and prompted a drop in the value of the pound.
He was forced to scrap plans to cut the top rate of income tax, which made up just £2bn of the package.
But continuing market turmoil prompted an intervention from the Bank of England, which involved buying government bonds to stabilise their value.
The Bank has said it is withdrawing that programme of emergency support as planned on Friday. But the pound has rallied in value following speculation in Westminster that another U-turn was in the offing.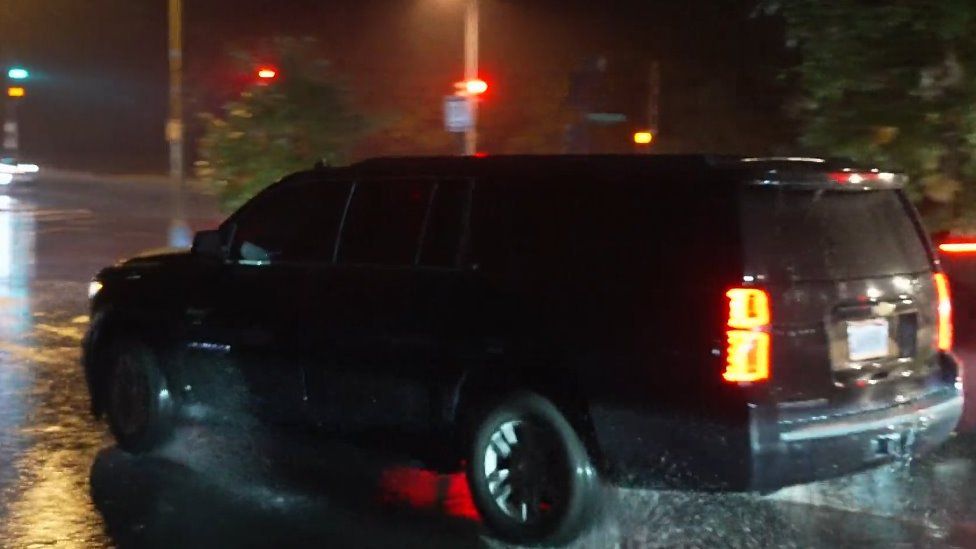 There has been speculation the government could reverse its policy of scrapping a planned rise in corporation tax, which is a tax on the profits of UK limited companies.
A key plank of Mr Truss's Tory leadership pitch was ditching the rise to the tax, which was set to increase from 19% to 25% in 2023.
If the government does announce changes to its plans it is not clear when this might happen.
Mr Kwarteng is due to make a financial statement on 23 October – but he may be forced to act much sooner than that, if the markets and the mood among Tory MPs swings against him.
Ms Truss's supporters are urging her to stick to the course she set just 39 days ago when she became PM.
Sir Christopher Chope told the BBC Two's Newsnight: "If we were to increase corporation tax having said that we're not going to, that would be totally inconsistent with the prime minister's policy of promoting growth, growth and growth."
He added that a U-turn would be a "complete betrayal" of what she believed in.
When asked if changes to the mini-budget were coming on Friday, trade minister Greg Hands told the BBC's Today programme "I'm not expecting that".
Mr Hands said it was now time for the Conservative Party to unite behind the prime minister, who won the Tory leadership contest in the summer.
But other Tory MPs say further U-turns are inevitable and should come immediately to calm market jitters.
Former minister Johnny Mercer called for a "course correction" from No 10, describing the impact of rising mortgage rates on people who want to buy a home as "politically unsurvivable".
Mel Stride, the chairman of the Treasury Select Committee, called on the chancellor to make a "significant" announcement "sooner rather than later".
However, he told BBC Breakfast that he did not back a change in leadership, saying "the last thing we need is more market turbulence".
The tense atmosphere in Westminster was apparent as the BBC spoke to dozens of sources across Parliament and the government on Thursday.
"It's checkmate, we're screwed," one Tory MP remarked.
"There is no question in my mind, they'll have to junk loads of this stuff and U-turn," another said.