For many refugees, the six months British hosts agreed to house them for is up. So what happens now?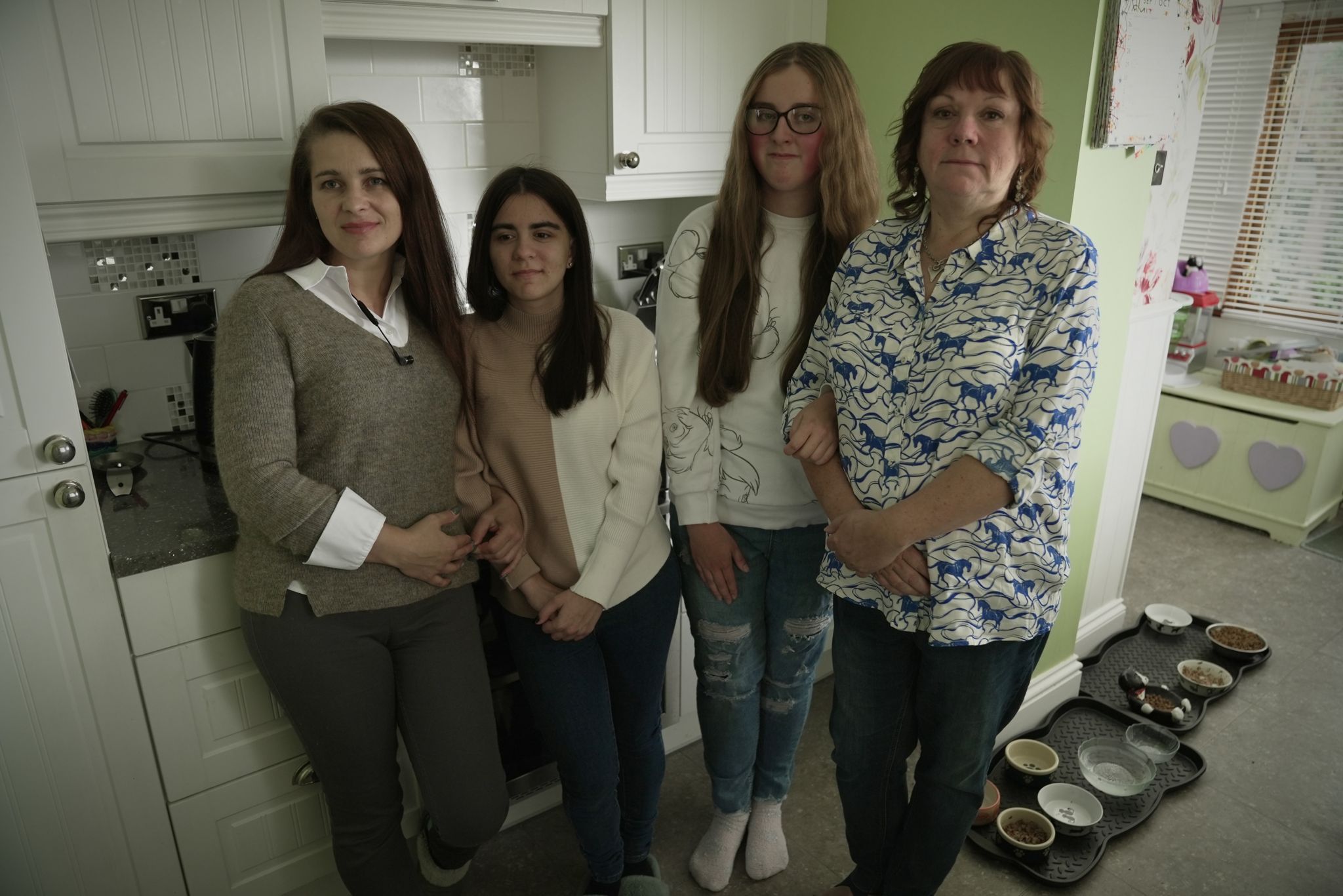 Almost 30,000 Ukrainian refugees have been in the UK for almost six months, analysis by BBC News shows. It means nearly a third of the total arrivals under the Homes for Ukraine scheme are facing the end of their initial hosting arrangements. So what happens to them now?
Clare, Olena and Diana
Six months ago, Olena Sachavo, 44, and her 22-year daughter Diana, arrived at Stansted airport, from war-torn Irpin. In tears, they were welcomed by Clare Maddox and her daughter.
Clare had hosted Diana a decade ago, when she came to the UK with a charity, Chernobyl Children's Lifeline. Now she was offering a refuge to Olena and Diana, who had fled the war with Russia. BBC News was there to witness the reunion. The two families hugged, unable to let go.
As part of the scheme, Ukrainian families escaping the war were offered the chance to come to the UK for up to three years and receive access to healthcare and benefits, provided a named individual agreed to put them up for a minimum of six months.
During the past six months, Olena and Diana have lived in Clare's home, in Billericay, Essex. But the Maddox family suffered a bereavement during that time, and while they are pleased the sponsorship happened, there have been strains.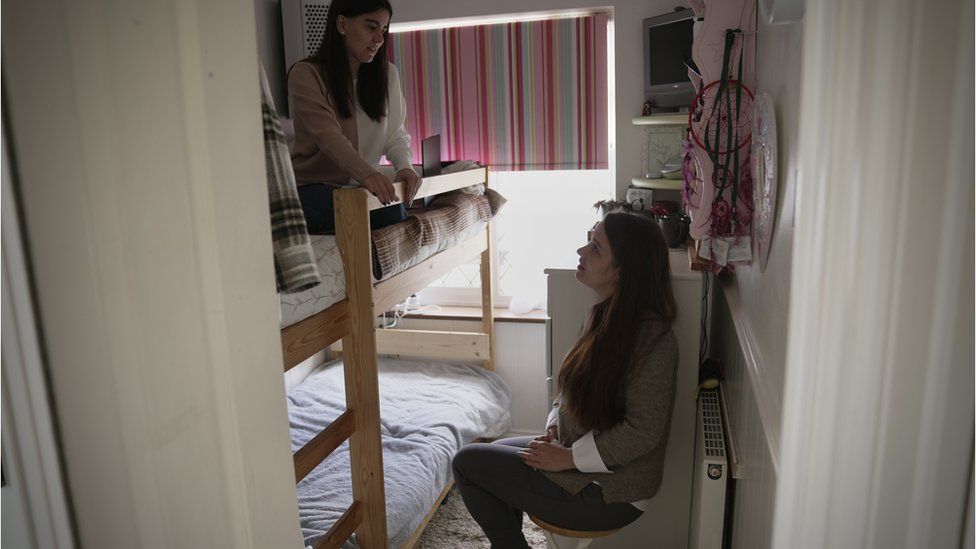 Olena and Diana's sponsorship period has officially ended. But none of them know what will happen next.
"It's really stressing me out," sighs Clare. "I'm not going to chuck them out. But at the same time my job is done." Like many hosts, she is grappling with ways to help her Ukrainian refugees find alternative accommodation.
And sometimes the burden is too much to bear. "My guests are hoping I will magic somewhere out of thin air. They think I'll help them find somewhere, they are relying on me," says Clare.
She is clear her disappointment lies with the government, not her guests. "The government was saying, people of UK open your doors; we'll be supportive of you. And they haven't been," she adds.
She has contacted her MP and local councils, but says she has met a "wishy-washy" response. "When I offered to host, I hadn't really appreciated how much I'd have to do," Clare says. "Looking after them is not so intense now as it was at the beginning.
"I used to drive them around to open bank accounts, to job centre appointments, to the Ukrainian group meetings," she says. "They are extremely reliant on me. Their English is just not good enough to do anything by themselves. I can't blame them for that."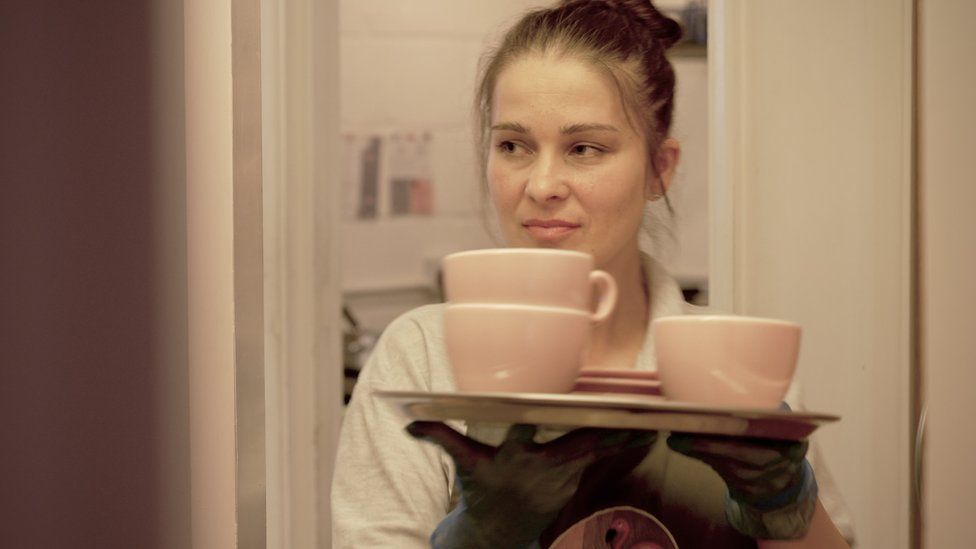 "Nobody in the councils has been given any guidelines about what to do with these people," Clare says. "The onus is on the host to find accommodation for them."
Clare's guests are also feeling the strain. "I understand Clare very well, because the house is very small. There is one bathroom between the five of us," says Olena. She says she and Diana are living in a small room – just two metres by two metres. "We'd also like to leave," she adds.
Some Ukrainians have returned home. But for Olena and Diana there is no possible way back. "We were dropped into open water by the war, and Clare is our safety buoy," Olena says. "Clare has a heart of gold."
Olena had her own fashion shop in Ukraine, but she now works up to 45 hours a week in a cafe, which is a 45-minute walk away. She is resigned to the move. "Clare has her own family, and we are not part of her family," Olena says.
Clare says Basildon Council told her they could register Olena and her daughter as homeless. If registered homeless, Olena and Diana would be likely to be offered accommodation in a hotel, but it probably wouldn't be in Billericay, where Olena works and where they've built up a support network of local Ukrainians.
"I'm still waiting in limbo for a response from the government. They don't know what on earth they are going to do with Ukrainians," says Clare.
Essex County Council said housing issues are the responsibility of the local city, borough or district council but Ukrainians will be re-matched with new sponsors as close to their current location as possible.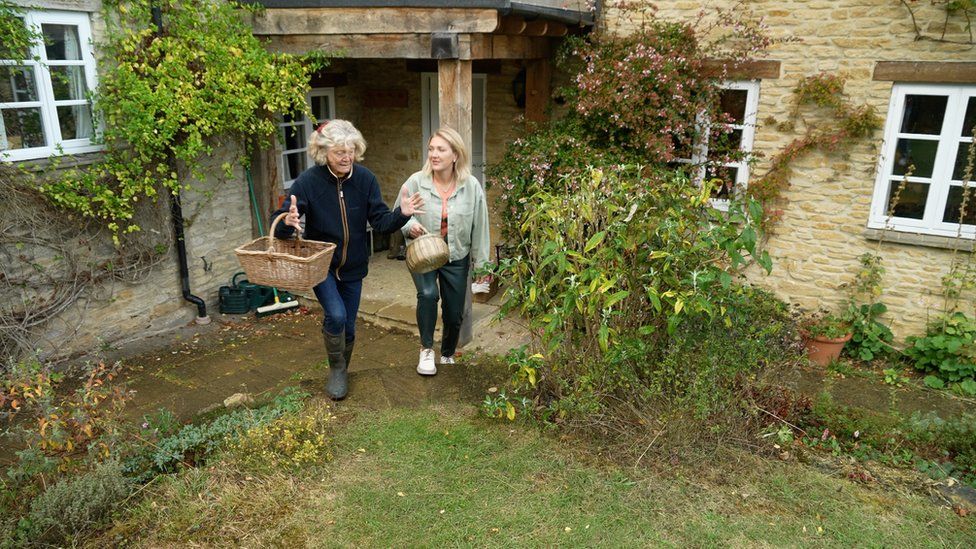 Jane, Nick, and Anna
Jane, 67, and her husband Nick, both retired lawyers from Oxfordshire, have been hosting Anna Semenenko, 40, and her two children, aged three and 13, at their home. Anna's family is from Donetsk, in eastern Ukraine, and they are facing a similar situation.
"I feel very guilty talking about the end of hosting because the heart wants to help," says Jane.
She talks of the many joys of hosting, but says there are stresses also. "They live here like a big family, but they are not family. It's quite a different relationship to understand and establish – one that we've not done before," Jane says.
She says it would have been helpful to recognise "from the beginning" that host families were not there to provide accommodation for the entirety of the war.
Jane says she was told Ukrainians would be prioritised for council accommodation at meetings run by Cherwell Council, but so far, none has been found.
Anna says she understands Jane's position as the initial arrangement was for six months.
"We were hoping that the war would come to an end by this time, and I didn't expect that we would need to stay in the UK for much longer," she says.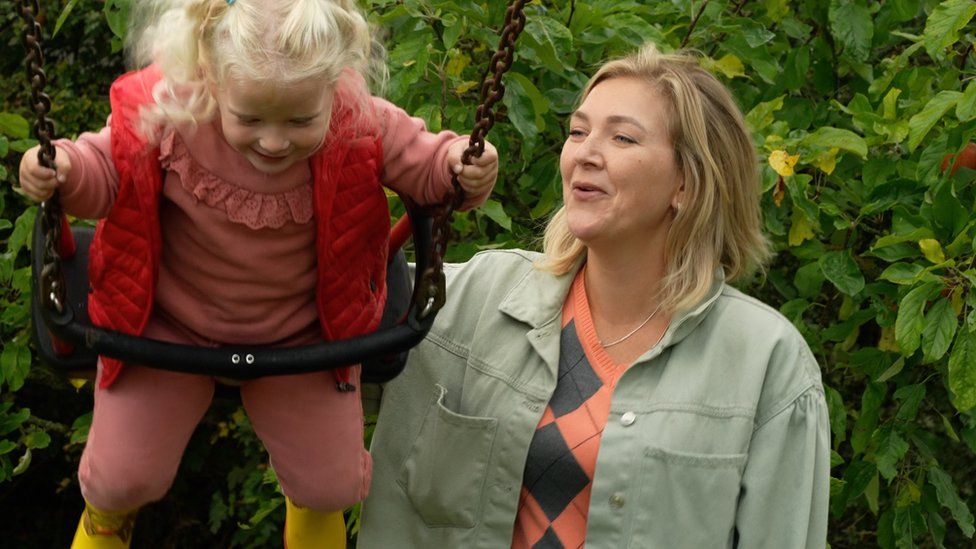 Like Olena and Diana, Anna is resigned to having to move, but she is worried.
"I'm worried that if we don't find accommodation, I'll be forced to impose change on my children again. There is a difficult journey ahead of them, they don't have roots. And another change would be a blow for them," she says.
Anna is a mathematician, specialising in relativity theory. She re-trained as a hairdresser and later worked as an accountant in Kyiv. She is ready to cut hair "non-stop" and is considering renting privately. But if she remains on benefits, many landlords would not agree to her renting accommodation.
"I'd need to prove to the landlord that I earn enough to continue paying my rent. I need a deposit and a guarantor," Anna says. Her teenage son has also settled in the local secondary school, and her daughter has just started at a local nursery.
She doesn't know what to do next. "I can spend two hours on the government site and not understand anything," she says.
In the meantime Anna and Jane are looking for an alternative host nearby, so that Anna's children don't have to move schools again. "We've tried to find new local sponsors for Anna and her family but so far no-one has come forward," says Jane.
With no clear guidance from the government, both sides feel helpless.
Cherwell District Council said it was working to rematch Ukrainian refugees to new hosts and investigating "moving on" options to find independent accommodation.
Oxford City Council said it was asking hosts and guests to continue with their arrangements because there was no spare social housing capacity available in Oxfordshire, while the private rented sector has limited capacity and is very expensive.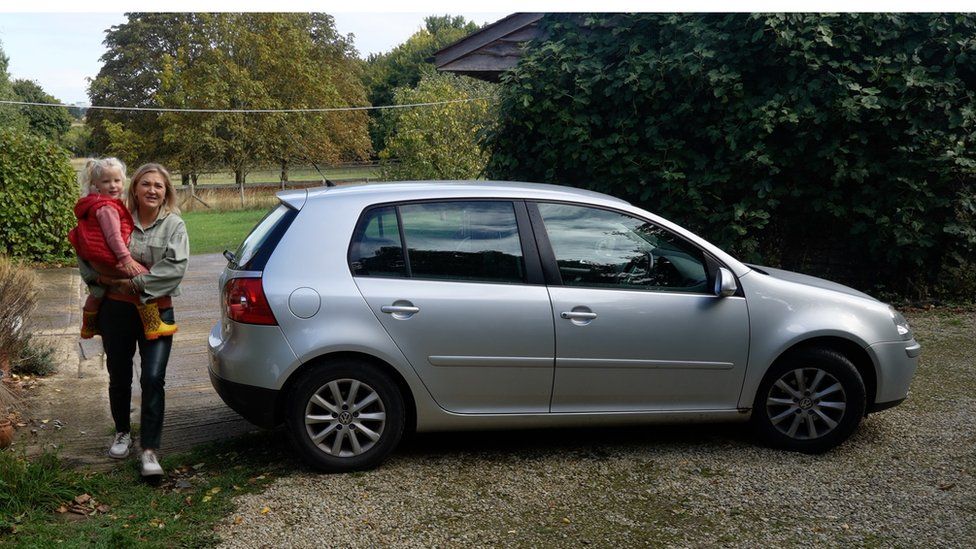 Nearly a 100,000 Ukrainians are in the UK on the scheme, with many looking for new sponsors at a time when there are few.
Meanwhile, sponsors are calling MPs to ask for help, and MPs are seeking guidance from the government and local councils, which are being told they have been given funding to help.
Some families are agreeing to extend their sponsorship. The former refugees minister, Lord Harrington, has urged the government to double the payment sponsors currently receive – to £700 a month – to encourage more to help.
In a statement, the government said "the majority of sponsors want to continue hosting for longer than six months".
"Where guests do move on they have a number of options, including to enter private rental or find a new host to sponsor them. Councils have a duty to ensure families are not left without a roof over their heads," the spokesman added.
But a coalition of civil society organisations and charities has written to the prime minister calling for more help for Ukrainian families looking for homes to rent and buy, extra winter payments for hosts, and the appointment of a new refugees minister.
Kate Daniels, from the Association for Family Therapy (AFT), has set up a network of therapists providing support for hosts, across England, Scotland and Northern Ireland.
She says there is "nothing worse than to feel in an impossible position and feel helpless". "Hosts experience guilt and a sense of shame, and all this despite often having been extremely generous and helpful," she says.
Related Internet Links
The BBC is not responsible for the content of external sites.