The chef says he is "up for the fight" if the government does not seek to improve children's health.
Celebrity chef Jamie Oliver has called for all children in households on universal credit to be given free school meals.
He said he was "up for the fight" after Prime Minister Liz Truss suggested she would scrap plans for a ban on multi-buy deals for junk food.
The government says 1.9 million children receive free school meals in England.
It says it will keep the rules on who is eligible under review.
In England, all infant state school pupils up to Year Two can get free school meals during term time.
Children in Year Three and above living in households on income-related benefits (such as universal credit) are also eligible, as long as their annual household income does not exceed £7,400 after tax. That figure does not include welfare payments.
Mr Oliver, who has long campaigned for children to have better access to healthy food, is backing the Feed the Future campaign for free school meals to be extended to around 800,000 more children who are "the most vulnerable in society".
"If you earn over £7,400 then you won't get that free school lunch, but I think we'd all agree there's a massive gap between the means test for free school lunches as it stands and universal credit," Mr Oliver told BBC Radio 4's Today programme.
Mr Oliver said he had "no faith" the PM would change her views but that he was "up for the fight" to improve children's health.
The chef said he believed that investing in free school meals for children would help the economy.
"The reality is, if you speak to the best minds in economics, in the country, in the world, they will tell you that if you output healthier kids, you're going to have a more productive, more profitable country.
"We know in every way, shape and form that kids who have a decent lunch and breakfast learn better, their educational attainment is better… but no-one's taken it seriously yet."
Health and Social Care Secretary Therese Coffey told Today it was important that support for struggling families was "targeted".
She said if all children from families on universal credit were allowed to have free school meals, "taxpayers may be surprised to learn that somebody on £35,000 or £40,000 would all of a sudden be eligible".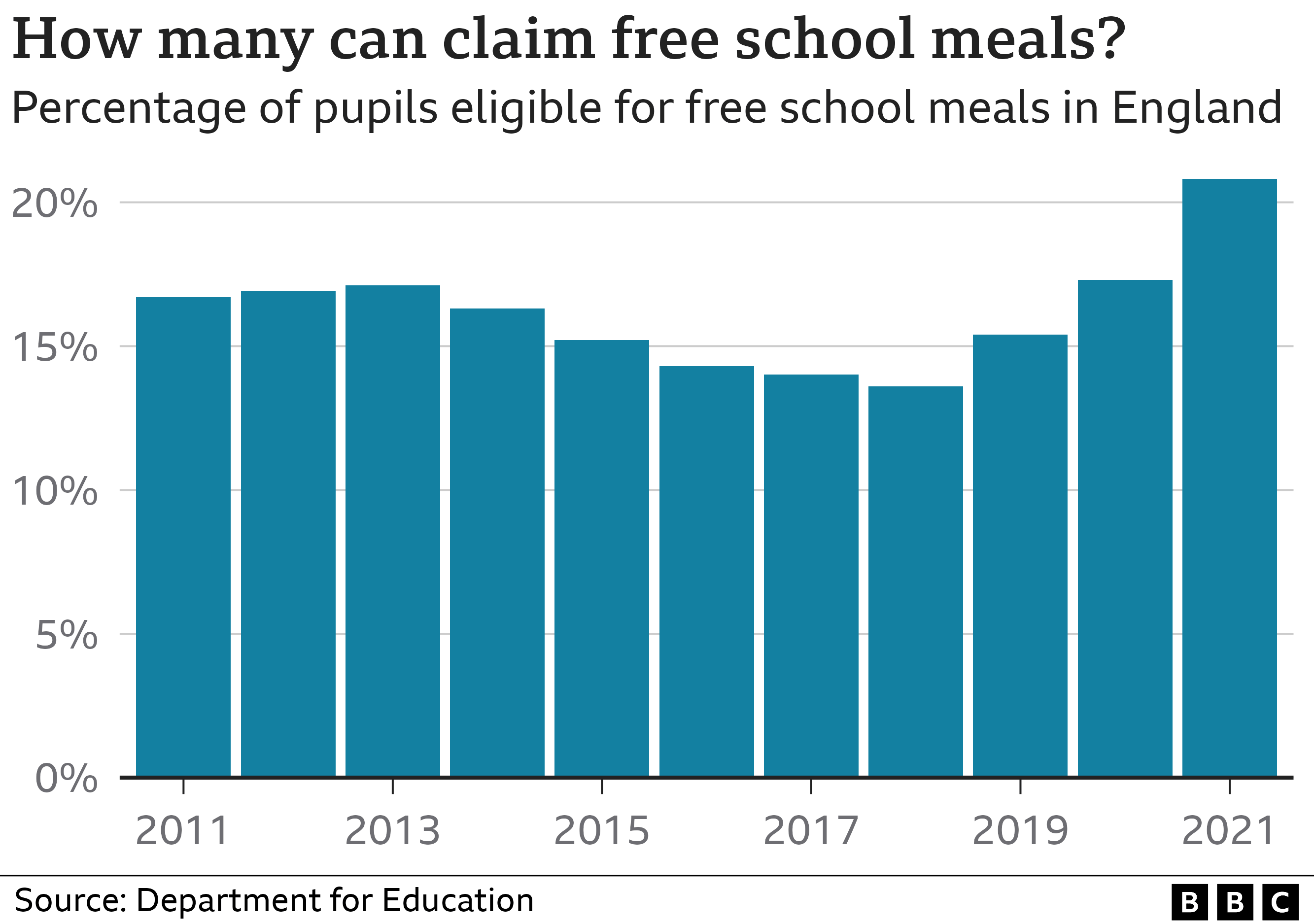 Mr Oliver also said England had the "meanest" policy on free school meals in the UK.


Health Secretary Therese Coffey made two points about free school meals to the Today programme.
One was that the limit on how much you can earn and still get free school meals if you are claiming universal credit in England is similar to Scotland: "In fact I think the threshold in England may be even higher", she said.
She is wrong. The threshold in England is £7,400 a year while in Scotland it is £7,920.
Her second point was "people could be earning over £40,000 and still be on universal credit".
Eligibility for universal credit depends on various factors, but it is certainly possible that a single parent with two children paying about £200 a week in rent could be eligible for some universal credit.
We've asked the government how many people earning over £40,000 are claiming universal credit.

Chief executive of charity The Food Foundation, Anna Taylor, is backing the Feed the Future campaign.
She said families who fell just outside the criteria to get free school meals were experiencing "devastating" effects of trying to make ends meet amid rising costs.
She told the BBC her charity had heard from teachers that some children have been "stealing from the canteen" to save money, and that children had told the charity they are "sharing their meals with their fellow classmates" as they do not have enough to eat.

Are you affected by issues covered in this story? Please get in touch by emailing: haveyoursay@bbc.co.uk.
Please include a contact number if you are willing to speak to a BBC journalist. You can also get in touch in the following ways:
If you are reading this page and can't see the form you can email us at HaveYourSay@bbc.co.uk. Please include your name, age and location with any submission.