With cases on the up, people who feel unwell are advised to avoid vulnerable relatives as a precaution.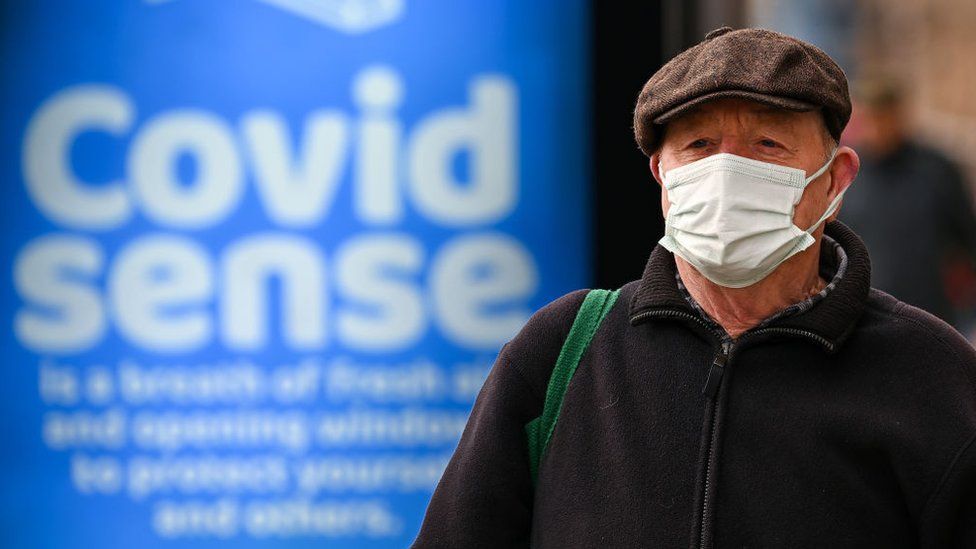 Covid is on the rise again in the UK and people who feel unwell should avoid vulnerable friends, colleagues and relatives as a precaution, say experts.
Latest figures suggest 1.3 million or one in 50 has Covid, with a "marked increase" in infections among over-70s.
There are no new restrictions, but people are being reminded to take extra care and protect the elderly.
There are fears of a flu and Covid "twindemic" this winter, and those who qualify for free jabs should get them.
one in 50 people in England (up from one in 65)
one in 50 people in Wales (the same as before)
one in 40 in Northern Ireland (from one in 80)
one in 45 in Scotland (the same as before)
The estimates are based on thousands of random tests on people in private households across the UK, whether or not they have symptoms.
Meanwhile, the rate of Covid hospital admissions stood at 10.8 per 100,000 people in the week to 2 October, up from 7.5 the previous week.
Rates are highest among people aged 85 and over, at 132.3 per 100,000.
This is up from 80.1 and is the highest rate for this age group since late July.
About two-thirds of patients in hospital who test positive for Covid are being treated primarily for something else, however.
Dr Susan Hopkins, chief medical adviser at the UK Health Security Agency, said the latest increases were "concerning", and that cases and hospitalisation rates were at their "highest level in months".
With outbreaks on the rise, she asked people to help protect the most vulnerable.
"If you are unwell, it is particularly important to avoid contact with elderly people or those who are more likely to have severe disease because of their ongoing health conditions.
"If you have symptoms of a respiratory infection, wearing a face covering will also help stop infections spreading," she said.
Related Internet Links
The BBC is not responsible for the content of external sites.