Criminal Bar Association members are being asked if they want to ramp up their industrial action over pay.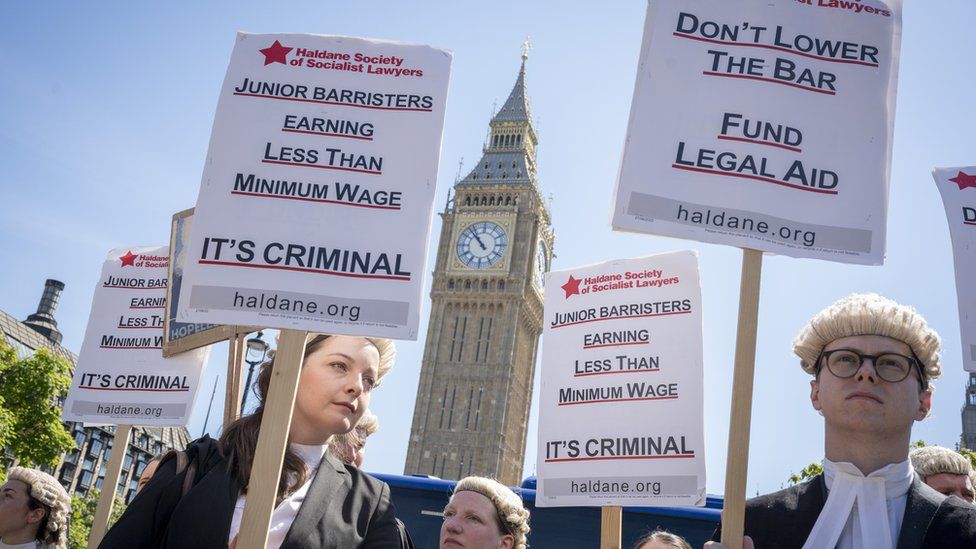 Results are due in a barristers' vote on whether they should go on an all-out strike in England and Wales next month.
Courts have seen several days of disruption over lawyer walkouts in recent weeks, but members of the Criminal Bar Association (CBA) have been voting on whether to stage an indefinite, uninterrupted strike.
It is part of an ongoing row with the government over pay and legal aid cuts.
Proposed strike action would begin on 5 September.
The ballot closed at midnight on Sunday, with results expected on Monday morning.
The CBA is asking for a 25% rise in pay for legal aid work, when they represent defendants who could not otherwise afford lawyers.
Criminal barristers are due to receive a 15% fee rise from the end of September, with the Ministry of Justice (MoJ) saying the increase would see the average barrister earn about £7,000 more annually.
But members of the CBA have rejected the government's pay offer, saying it would not kick in immediately or apply to existing cases.
Some 6,235 court cases were disrupted during the first 19 days of industrial action between 27 June and 5 August – including 1,415 trials – according to Ministry of Justice (MoJ) data.
Criminal barrister and former Conservative MP Anna Soubry said more than 500 trials could not go ahead last year due to a shortage of criminal barristers.
She posted on Twitter that since 2006 their fees have been cut by 28%, adding: "We can't recruit or retain."
The former minister urged the government to settle the dispute. "We want to get back to work and shift the backlog," she said.
The CBA said the walkouts have had a "devastating impact on the ability of our crown courts to function with any semblance of normality".
Every barrister who has taken part in the walkouts "has made the decision to withdraw their labour with a heavy heart", the CBA said.
They added: "It is a decision to which we have been driven after years and years of abject neglect of the criminal justice system and the cynical exploitation of our time, effort and goodwill by successive governments determined to deliver justice on the cheap."
The CBA said the "continuing refusal of the justice secretary to negotiate a fair settlement with criminal barristers comes at a very heavy price".
This price can be measured by the financial waste of courtrooms sitting idle and the impact on complainants, defendants and witnesses, the CBA added.
An MoJ spokesman said: "The only outcome of escalating strike action is further distress for victims forced to wait longer for justice."
The MoJ added that backdating pay would require a "fundamental change" in how fees are paid.
"That reform would cost a disproportionate amount of taxpayers' money and would take longer to implement, meaning barristers would have to wait longer for payment," a spokesperson said.