Several brigades declared major incidents after wildfires broke out as temperatures soared.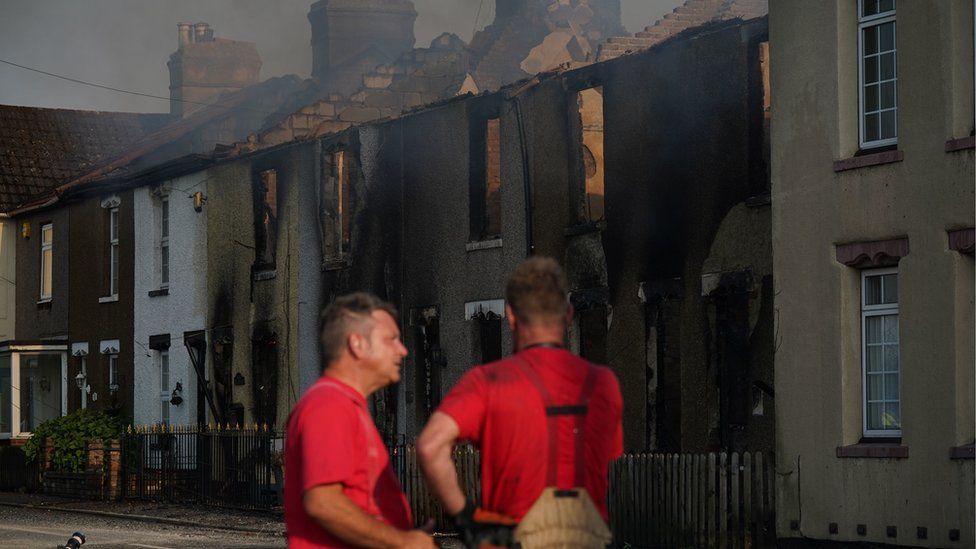 Fire crews have worked through the night tackling wildfires which broke out following Tuesday's record-breaking temperatures in the UK.
In Wennington, east London, around 100 firefighters tackled a blaze which began in grassland before spreading to nearby homes.
Several brigades declared major incidents due to the number of 999 calls they were receiving.
Tuesday saw a record temperature of 40.3C in Coningsby, Lincolnshire.
Thirty-three other locations saw highs that surpassed the previous record of 38.7C.
Residents who had to be evacuated from homes near the Wennington fire told the BBC that around eight houses and possibly a local church had been destroyed, while one firefighter at the scene described it as "absolute hell".
Dramatic images from the scene showed smoke billowing from a number of buildings, some with their roofs collapsed, and extensive damage to the surrounding land.
Tim Stark, who alerted the fire brigade and whose own house was destroyed in the blaze, told BBC Radio 5 Live he and his son had spotted the fire in his neighbour's garden but, despite their best efforts with a hose and watering can, had been unable to stop it spreading.
"I reckon about 15-20 houses might be gone or uninhabitable," he said.
"My house is completely gone, as is the next door neighbour's and three or four other houses along that bit."
The London Fire Brigade declared a major incident after being called to fires in all corners of the capital.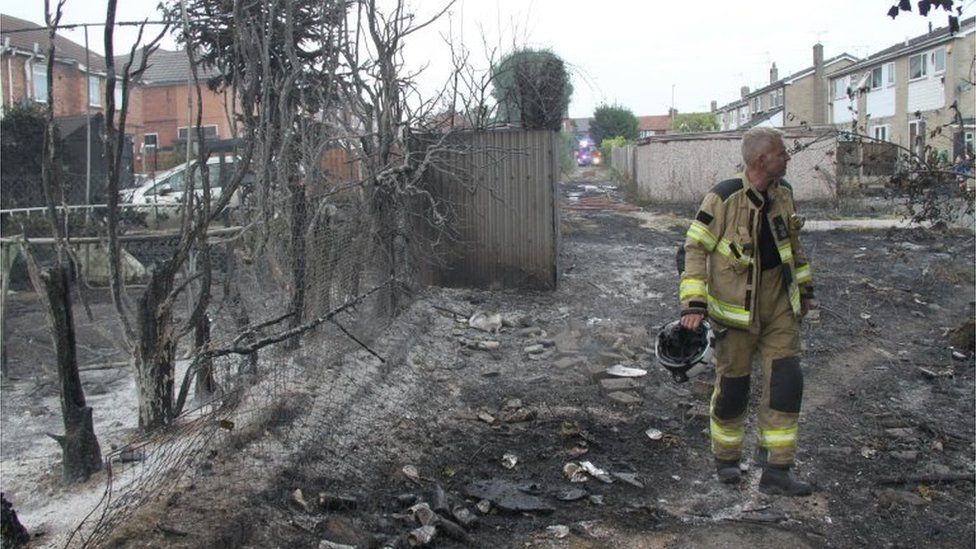 Speaking to BBC Radio 4's The World Tonight, Paul Hedley, wildfire lead at the National Fire Chiefs Council, described them as a "wicked problem to solve" and warned they are becoming more common.
"We're seeing [the wildfire] season extending right through the year," he said.
"We're getting warmer, wetter winters, which are great for vegetation growth. The dead growth… is getting dried out much more easily and quickly because we've got warmer weather starting a lot earlier in the year.
"If what we're seeing, and have seen for the last two days, is going to become the norm, I think we really are in for a very difficult time."
Heatwaves have become more frequent, more intense, and last longer because of human-induced climate change, and that hot, dry weather is likely to fuel wildfires.
The world has already warmed by about 1.1C since the industrial era began and temperatures will keep rising unless governments around the world make steep cuts to emissions.
The high temperatures brought disruption to a number of public services on Tuesday.
Miriam Deakin, interim deputy chief executive of NHS Providers, said the heatwave had forced hospitals to scale back planned surgeries, while a spokesperson for the East of England Ambulance Service said the service had seen above-average calls and was expecting to see the impact of heat-related illness into the weekend.
On the rail network, there was no service on the East Coast Main Line or into and out of London King's Cross, while numerous operators ran only a limited service.
Rail disruption is expected to continue into Wednesday, with a number of operators including Avanti West Coast, South Western Railway, Great Northern, and Southeastern, cancelling some services or telling customers to expect delays.
Around 8,000 properties in Yorkshire, Lincolnshire and north-east England were left without power after the extreme temperatures caused equipment to overheat.
At least nine people are also known to have died since Saturday while swimming in lakes and rivers.