Sky News has cancelled the event on Tuesday, saying Rishi Sunak and Liz Truss declined to take part.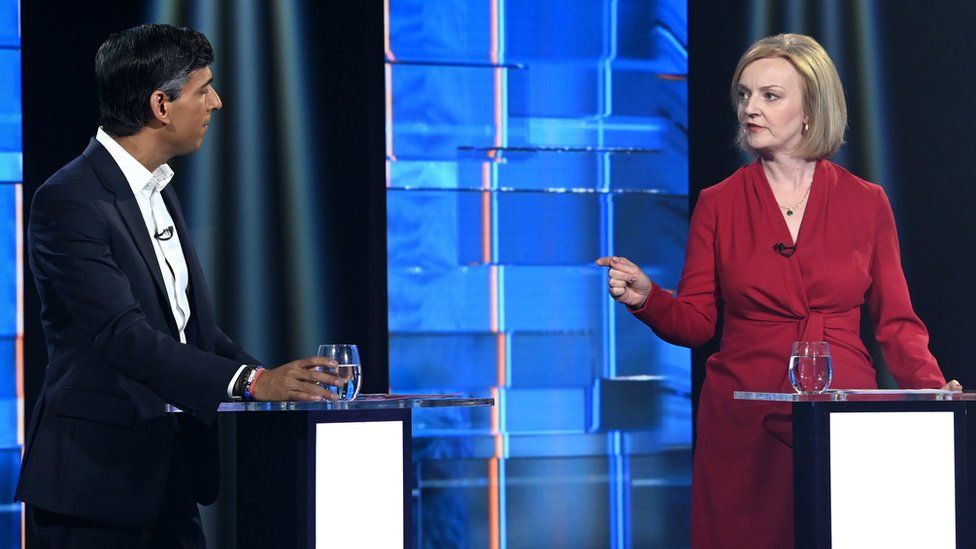 The next live TV Tory leadership debate has been cancelled, after host Sky News said Rishi Sunak and Liz Truss declined to take part.
The two contenders clashed repeatedly during a debate on Sunday over each other's economic plans and record in office.
It comes amid concerns in the Tory party about infighting in the contest.
The five remaining candidates face another round of voting among Tory MPs later to stay in the race.
It is understood that Foreign Secretary Liz Truss wants to focus on hustings sessions between fellow Conservative MPs.
A source close to frontrunner and ex-chancellor Mr Sunak said: "We are very happy to do more debates if we are lucky enough to get to the next stage."
The announcement follows Sunday's heated debate on ITV, which laid bare divisions between Mr Sunak, Ms Truss and Trade Minister Penny Mordaunt over how to run the economy.
Ms Truss attacked tax rises introduced by Mr Sunak when he was chancellor, whilst he accused her of peddling "something-for-nothing economics".
Along with fellow contenders Kemi Badenoch and Tom Tugendhat, the trio had been invited to take part in a live debate on Sky News on Tuesday.
It is understood that neither Mr Sunak nor Ms Truss had confirmed they would take part in the event, which was due to be hosted by presenter Kay Burley.
Mr Sunak is in pole position to secure a place in the final two places after MPs finish their voting rounds his week, after which around 160,00 party members will pick the winner in a postal ballot.
Ms Mordaunt, who finished second last time, is locked an an increasingly bitter battle with third-placed Ms Truss to secure a place in the run-off.