More talks between management and unions are expected on Monday – the day before strikes begin.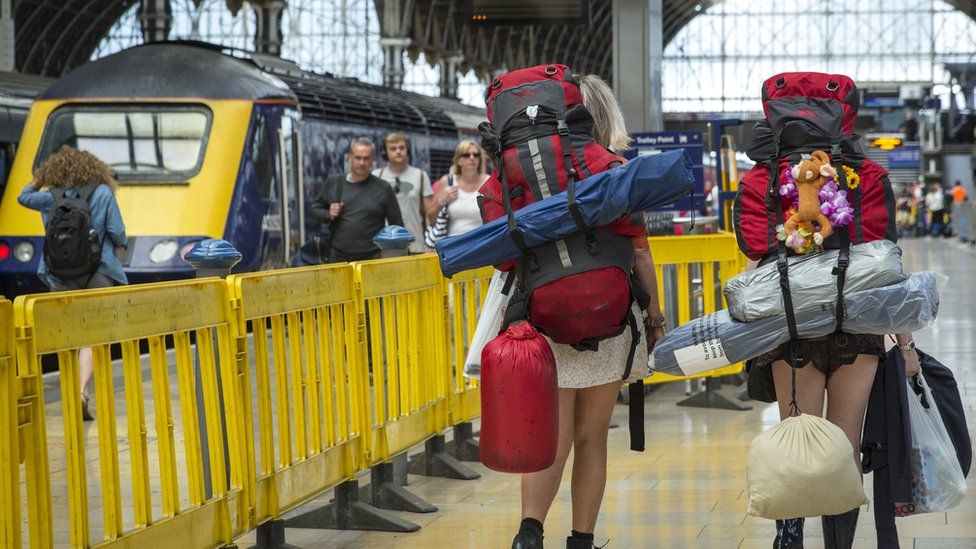 The dispute at the heart of strikes set to hit Britain's railways this week is resolvable, an industry boss says.
Steve Montgomery, chair of the Rail Delivery Group, said more talks were planned for Monday – and that management wanted to work with unions on pay increases and reform.
This weekend, the RMT union confirmed three days of strikes would go ahead on Tuesday, Thursday and Saturday.
Just 20% of usual services are expected to run – with knock-on disruption.
A strike will also take place across the London Underground on Tuesday, with Transport for London advising passengers to walk and cycle instead.
Mr Montgomery – who is also the managing director of First Rail, which runs a number of rail services in Britain – told BBC News that rail bosses were trying to work with trade unions "on how to carry out modernisation and reform of the industry" amid falling passenger numbers.
"Ultimately we do want to give our people a pay increase… but we have to get on with reform, and that helps us deliver the next phase of giving people a pay rise."
Challenged over the apparent lack of a pay offer from many train operators, Mr Montgomery said talks, both informal and formal, had been ongoing and discussions would continue on Monday.
"We need both parties around the table and we really require details and an acceptance that reform can go ahead," he said.
The RMT said on Saturday the strike would go ahead, after talks between the union and Network Rail – which maintains the track and runs bigger stations – failed.
The union – which has 40,000 members across the rail network – has said it is unhappy about stagnated pay and proposed job losses.
RMT leader Mick Lynch denied the union was demanding a pay rise in line with RPI inflation – which was 11.1% in April – but said any proposed rise must reflect the higher cost of living.
He pointed out to Sky News that RPI in December, when he said a deal with Network Rail should have been struck, was 7.1%.
Mr Lynch earlier said the union had rejected a Network Rail offer of a 2% rise with a further 1% increase linked to job cuts. The RMT recently won an 8.4% pay rise on the London Underground, it said.
Meanwhile, Transport Secretary Grant Shapps dismissed a call from the RMT for ministerial intervention as a "stunt" – and claimed union bosses were "gunning for" industrial action.

Rail strike basics
When? There will be rail strikes on Tuesday, Thursday and Saturday and a London Underground Strike on Tuesday
Where? Many lines will face disruption including: Avanti West Coast; C2C; Chiltern Railways; Cross Country Trains; Croydon Tramlink; Greater Anglia; LNER; East Midlands Railway; Elizabeth Line; Great Western Railway; Hull Trains; London Underground; Northern Trains; South Eastern Railway; South Western Railway; TransPennine Express; West Midlands Trains.
Who? The RMT union's members include everyone from guards and catering staff to signallers and track maintenance workers. Train driver members of the Aslef union will be striking on Thursday and 2 July on Greater Anglia and 28, 29 June and 13, 14 July on Croydon Tramlink.

Labour's shadow levelling-up secretary Lisa Nandy told BBC One's Sunday Morning show the government should "get round the table" with rail workers.
And Tory MP Jake Berry also called on ministers to try to resolve the dispute.
"By training I'm a lawyer – and I can tell you that the only way out of a dispute is via negotiation," he told Times Radio.
A Department for Transport spokesperson said the government had given the railways £16bn of support and it was "still on life support" with passenger numbers down 25% after Covid.
They said train travel was now a choice – not a necessity – and strikes could risk losing customers in the future.