Tuesday's flight for asylum seekers was cancelled minutes before take-off after a late legal challenge.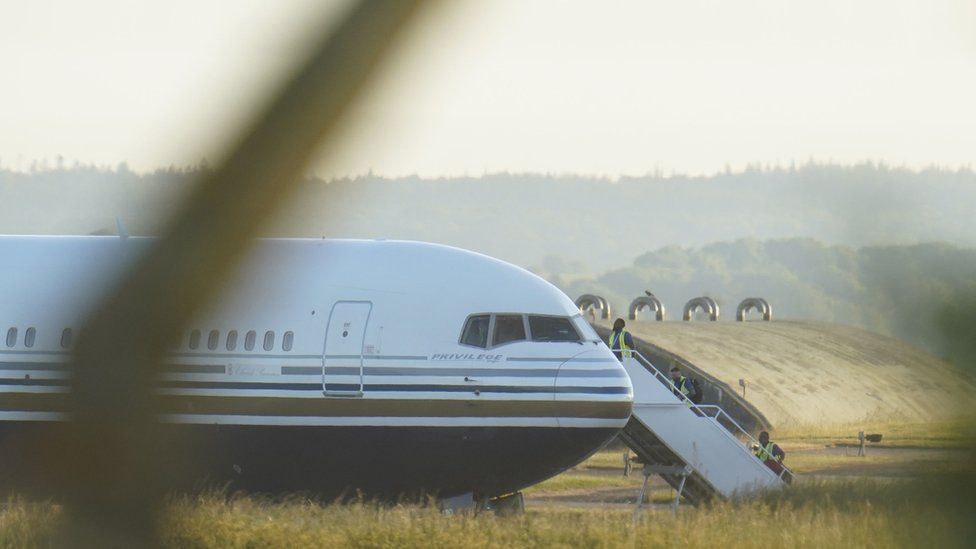 Preparations are under way for the next flight to take asylum seekers from the UK to Rwanda, the government has said.
A late intervention from the European Court of Human Rights (ECtHR) led to fresh challenges in the UK courts.
Work and Pensions Secretary Therese Coffey said the government was "surprised and disappointed" with the ruling but "lawyers in the Home Office are already working on the next steps".
"I know officials will already be preparing for the next flight", she said, explaining the government's aim was to create "safe legal routes for people to get asylum".
Geoffrey Robertson QC, founder and head of Doughty Street Chambers which represented the lead case before the ECtHR on Rwanda, said "One of the things that makes Britain great… is that we will abide by international courts and international law."
The Rwanda asylum plan, announced by the government in April, intends to take some asylum seekers who cross the Channel to the UK on a one-way ticket to Rwanda to claim asylum there instead. The government said the scheme would discourage others from crossing the Channel.
Up to seven people had been expected to be removed to Rwanda on the Boeing 767, chartered at an estimate cost of £500,000, on Tuesday evening.
Home Secretary Priti Patel said she was "disappointed" with the ruling but added: "Preparation for the next flight begins now."
The flight had been due to take off at 22:30 BST from a military airport in Wiltshire on Tuesday, but a judgement from the ECtHR in Strasbourg halting the deportation of one of the men arrived just after 19:30.
The Strasbourg human rights court – which is not a European Union body but is part of the Council of Europe, which still counts the UK as a member – said an Iraqi man known as KN faced "a real risk of irreversible harm" if he remained on the flight.
Whereas the High Court in London had found that KN could be returned to the UK if his bid to overturn the Rwanda transportation policy succeeded, the ECtHR said there was no legally enforceable mechanism to ensure he could come back from east Africa.
Ms Coffey said it was "important" the government considered the ruling which prevented the first flight of asylum seekers being flown to Rwanda.