It comes after the Afghan veterans won a legal battle to allow the interpreter to settle in the UK.
A group of former soldiers have been reunited with their Afghan interpreter after winning a legal battle to allow him to settle in the UK.
The interpreter – who the BBC is calling Abdul – went into hiding after being turned away from evacuation flights following the Taliban takeover.
Seeing him again "brought back the brotherhood", one said.
Josh Roberts, Paul Standen, Sam Knight and Vance Bacon-Sharratt – from Nottinghamshire and Derbyshire – said they spent months under fire together with Abdul in Helmand Province.
After international forces withdrew last year, the Taliban quickly regained control of the country.
Many Afghans who worked for British forces were resettled in the UK via the Afghan Relocations and Assistance Policy (ARAP) scheme.
However, Abdul failed to get national security clearance after being rejected for a job with the US armed forces.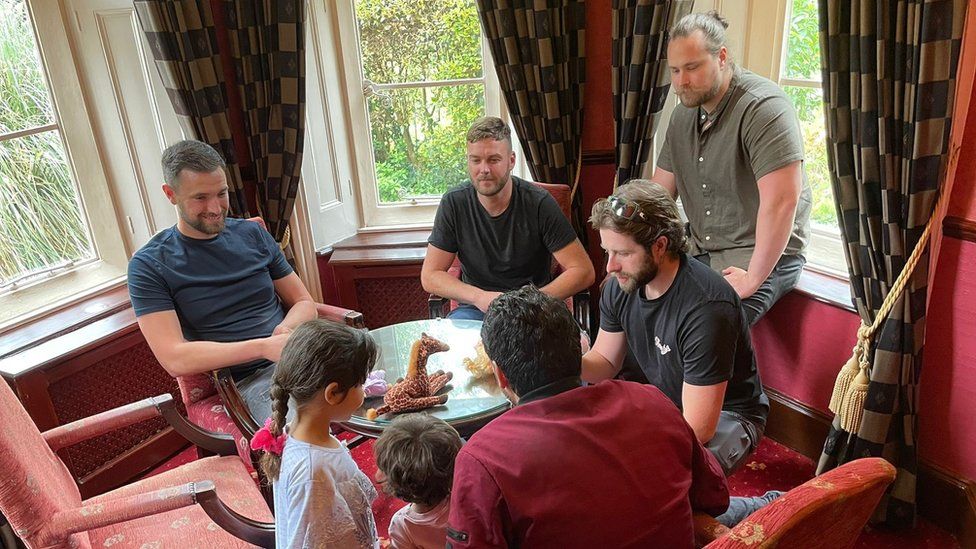 They engaged a lawyer specialising in national security and prepared a case for judicial review.
Before it reached court, the Home Office agreed to review Abdul's situation, and ultimately decided he was not a security risk.
At the reunion on Sunday, Mr Bacon-Sharratt said: "It's just been amazing… the fact that we've managed to help a family that was thousands of miles away, and we've been able to work together to get this done. It's unreal."
"The minute I saw him it brought back the brotherhood of what we had when we there," he added.
'He's a brother'
"We'd have done it for each other. We've all been through hard times and we all help each other – he's a brother, he's one of us."
Mr Knight said he was "speechless really… lost for words. Just happy that it's all come together because there were a lot of doubts and moments when we though it wasn't going well, but we're here now with our friend.
"His family is safe – that's exactly what we wanted."
"I've got tears in my eyes now talking about it, if I'm honest. It's emotional, really emotional."
A Home Office spokesperson said: "During Operation Pitting we evacuated 15,000 people from Kabul and we continue to do all we can to secure safe passage and enable British nationals and eligible Afghans to leave the country.
"While we cannot comment on individual ARAP applications, we have relocated 2,900 eligible Afghans since the fall of Kabul, which means over 9,400 individuals and their dependants have been relocated to the UK since the scheme began.
"We continue to progress applications as quickly as possible."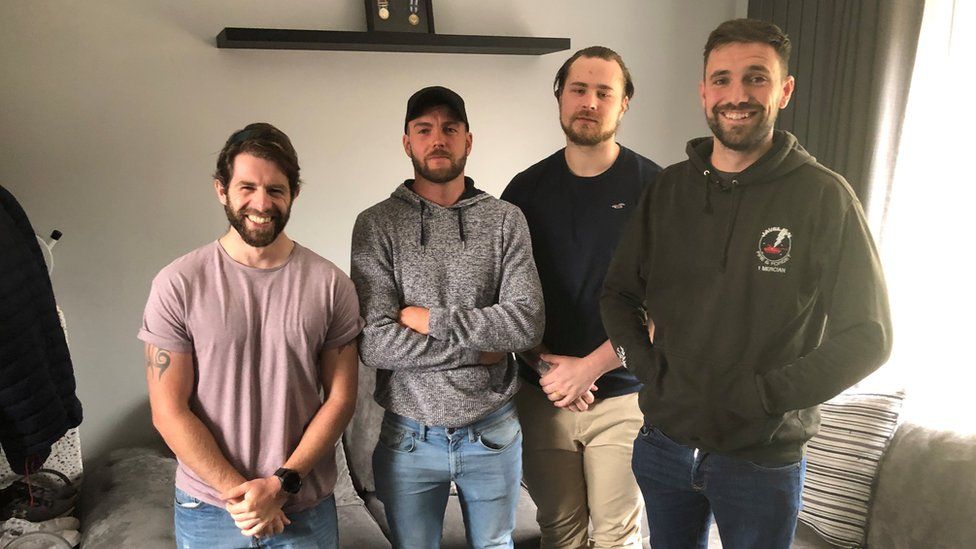 Related Internet Links
The BBC is not responsible for the content of external sites.