Mr Billinge, 96, was a D-Day veteran who raised more than £50,000 for a Normandy memorial.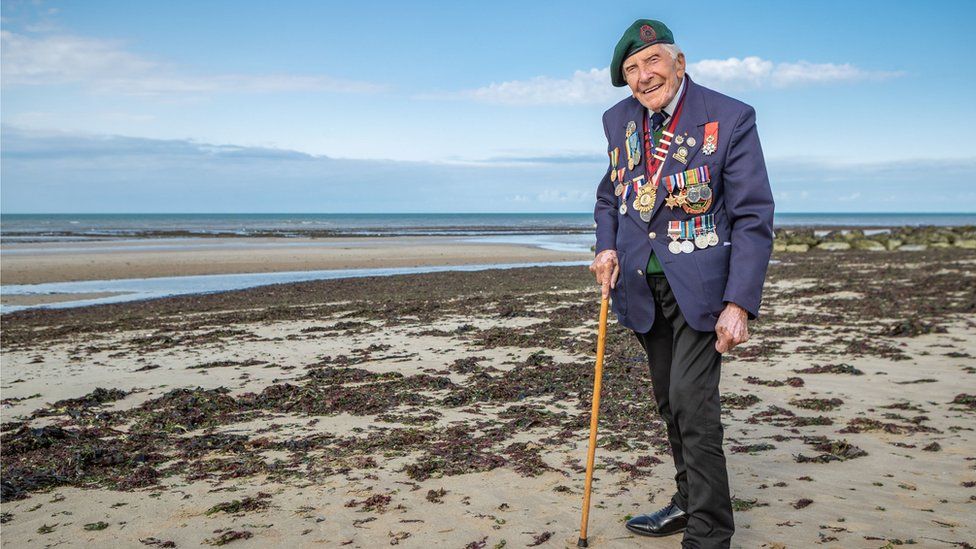 The funeral of Harry Billinge, one of the first British soldiers to storm Gold Beach during the Normandy landings in 1944, is taking place later.
Mr Billinge, from St Austell, Cornwall was 96 when he died earlier this month after a short illness.
The D-Day veteran spent more than 60 years collecting for the Royal British Legion's Poppy Appeal.
His coffin will be taken through his hometown before a service at St Paul's Church in Charlestown at 11:00 BST.
Margot Billinge, one of his daughters, said on behalf of the family: "Harry was a very loving husband who always looked after mum. He was steadfast in his love for her.
"As a dad, he taught us great values: honesty, kindness, generosity and not to judge."
Mr Billinge helped raise more than £50,000 for the British Normandy Memorial and would make annual pilgrimages to the cemeteries of northern France.
He was appointed an MBE in 2020 for his fundraising work, and dedicated it to the 22,442 service personnel killed on D-Day and during the Battle for Normandy.
His daughter Ms Billinge said: "Harry wanted future generations to never forget his comrades who fell in Normandy. If members of the public would like to pay their respects to Harry, we ask that they become guardians of the British Normandy Memorial."
Rodney Cairns, 9, met Mr Billinge in Normandy at the 75th anniversary of D-Day in 2019.
They stayed in regular contact and became very close, with Mr Billinge making Rodney an honorary member of the Normandy Veterans Association.
Rodney said: "We were like best friends. We would chat over the phone so many times and we would chat for about an hour.
"He served in the war and fought for our country. I like listening to his stories because he told me all about when he was young, when he was fighting, when he got on to the beach… just amazing."
Andy Duff, a friend who used to drive Mr Billinge around, said: "He was one of my best mates even though he was a lot older than me.
"There are not many people in life you will miss for a long time, but I will miss him alright."