Liam Spencer and Stephanie Stitt were metres away from the explosion outside Liverpool Women's Hospital.
A couple who were metres away from a bomb that exploded outside Liverpool Women's Hospital on Sunday say they have been left in "shock" and "numb".
Liam Spencer and Stephanie Stitt, who were in their car at the time, told the BBC they felt a "big impact" and first thought there had been a crash.
Emad Al Swealmeen was killed when his homemade device exploded inside a taxi.
Mr Spencer said he tried to pull Al Swealmeen from the burning wreckage of the taxi but the flames stopped him.
The 21-year-old, who used to work at the hospital, had been visiting with Ms Stitt to collect some of his possessions when the explosion happened just before 11:00 GMT.
After grabbing Ms Stitt, 20, and taking her to the hospital's reception, Mr Spencer returned to the burning car.
Realising that taxi driver David Perry was safe, and not knowing what had caused the explosion, Mr Spencer went to see if there were any passengers.
Seeing a man in the back of the cab, Mr Spencer said: "I went to go grab him but he became engulfed in flames very quickly and I couldn't reach hold of them without setting myself on fire."
He and Ms Stitt returned to get help and a fire extinguisher but the flames went up "so, so quickly".
It was only later the couple were told what had actually happened.
Ms Stitt said: "At the time, I just couldn't stop shaking. I think it was just the adrenaline and the whole shock of everything.
"I haven't stopped crying because… I thought the car had been hit and then all this stuff had gone flying over the car and I'm just thinking that things could have been different, like my life could have been lost more than anything or I could be in a worse situation than I am now."
Taxi driver David Perry escaped seconds before his car fully caught light and has since been discharged from hospital.
His wife has said he was lucky to be alive.
In the days after the explosion it emerged that 32-year-old Al Swealmeen, whose claims for asylum in the UK had been turned down, began making purchases for his attack in April.
Mr Spencer and Ms Stitt said they remained in shock at what they had witnessed.
"As much as I'm laughing and joking with everyone, like I would normally, there's just always that feeling in the back of my head," Mr Spencer said.
"Just what if things had gone different and I'm just constantly worried about 'what if?'."
Ms Stitt said: "I think I'm the same really. I think at the minute I'm an emotional wreck.
"There's a lot of anger in a sense at times. Why did that have to happen to me, why did I have to be in that wrong place, wrong time?"
Mr Spencer said Al Swealmeen was a "coward".
"I just think it's a selfish and cowardly thing to do."
Ms Stitt added that the couple wanted to thank the doctors and nurses at the hospital for "helping us on that day and doing whatever they could to help".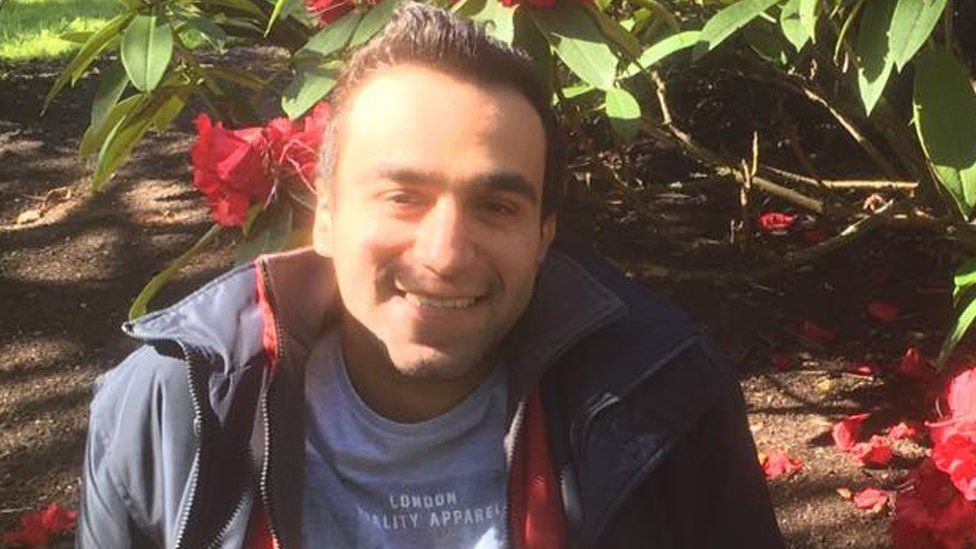 Details of Al-Swealmeen's immigration legal history provided to the BBC by court officials show he had a long and complicated series of applications and appeals to remain in the UK.
It remains unclear whether the Home Office tried to remove him after his first failed application to stay, more than six years ago, and why his final appeal was unresolved.
According to court records provided by officials, Al Swealmeen was first refused asylum in 2014 and lost further appeals in 2015.
The records show in August 2015 he began seeking to convert to Christianity and adopted a new name, Enzo Almeni.
They also document that he renewed his immigration appeal under this alternative name in January this year.
His submissions were under review at the time of his death and the Home Office has refused to discuss the case with BBC News.
Sheikh Salem Al-Suwailmieen, one of Al Swealmeen's extended family, said in a statement the suspected bomber's mother was from Iraq and confirmed he was born there.
Al Swealmeen had suffered from periods of mental illness, which will "form part of the investigation", police said.
On Monday, the UK terror threat level was raised to severe after the Liverpool explosion – the second terrorist incident in a month following the death of Conservative MP Sir David Amess, who was stabbed multiple times during a meeting with his constituents in Essex on 15 October.
Assistant Commissioner Matt Jukes, the most senior counter-terrorism policing officer in the UK, has urged the public to be vigilant in the run up to Christmas.
Additional reporting by Phil Kemp
The BBC is not responsible for the content of external sites.