South Western Railway says a driver involved in the Salisbury crash has an "excellent track record".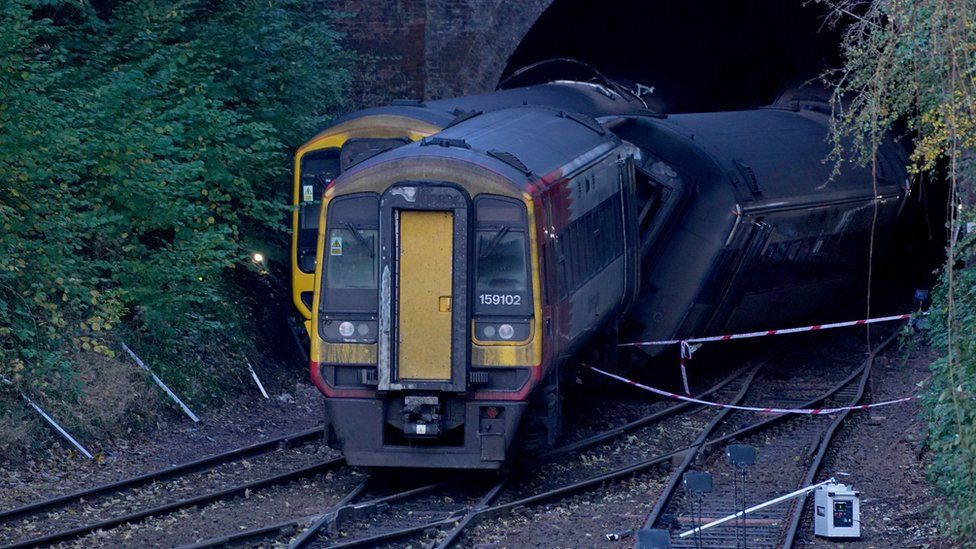 The driver of a train involved in a serious crash acted in an "impeccable way in a valiant attempt to keep passengers safe", the operator said.
South Western Railway (SWR) said the 75-year-old driver, who was seriously injured in the collision in Salisbury, was a "deeply-respected colleague".
The SWR train went through a red light before striking a Great Western Railway (GWR) service on Sunday evening.
Investigators said "wheel slide" meant the train did not stop as it should.
A preliminary investigation said the GWR service should have been protected by a red light at the junction before Fisherton Tunnel. But the SWR train went through the red after "low adhesion" caused it to slip through.
The SWR driver, who has been driving services in the area for around 50 years, did apply the brakes, investigators said. He suffered "life-changing" injuries in the crash.
SWR said in a statement that he has an "excellent professional track record" and "stayed at the controls throughout".
"We thank him for his actions and we wish him a speedy recovery as he continues to be treated in hospital," the operator added.
SWR said that it hoped the early assessment by the Rail Accident Investigation Branch (RAIB), showing the driver reacted correctly to the signals, would help "stop speculation".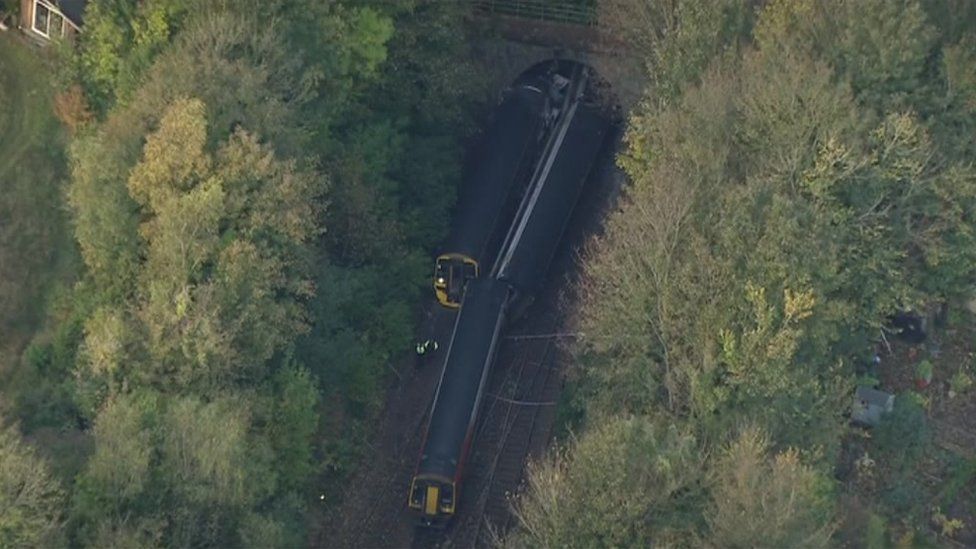 Meanwhile, work to remove wreckage at the scene of the crash is due to begin later.
Network Rail said it would bring in cranes to lift the wreckage, BBC South Transport Correspondent Paul Clifton said.
The SWR train was running from London to Honiton, in Devon, while the GWR service was travelling from Southampton to Cardiff when they collided at the tunnel.
Both trains had passed a Y-shaped junction, close to the entrance of the tunnel, before the collision.
Investigators said further results would be made public later in the week.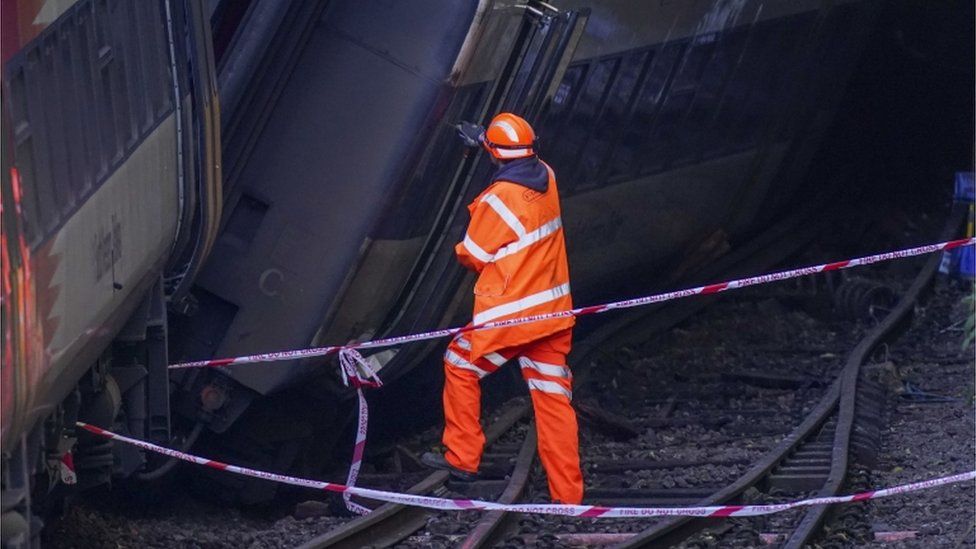 The crash has caused major disruption, with lines through the city expected to remain closed until at least the end of Monday.
Of the 92 passengers on board the two trains, 14 required hospital treatment, with most suffering minor injuries.
The Rail Delivery Group said low adhesion can be caused by "moisture on the rail mixing with the film produced by 'leaves on the line' or other contaminants, such as rust or grease."
They add the problem can be worse in autumn and that "it can also cause safety risks, such as signals passed at danger and station overruns".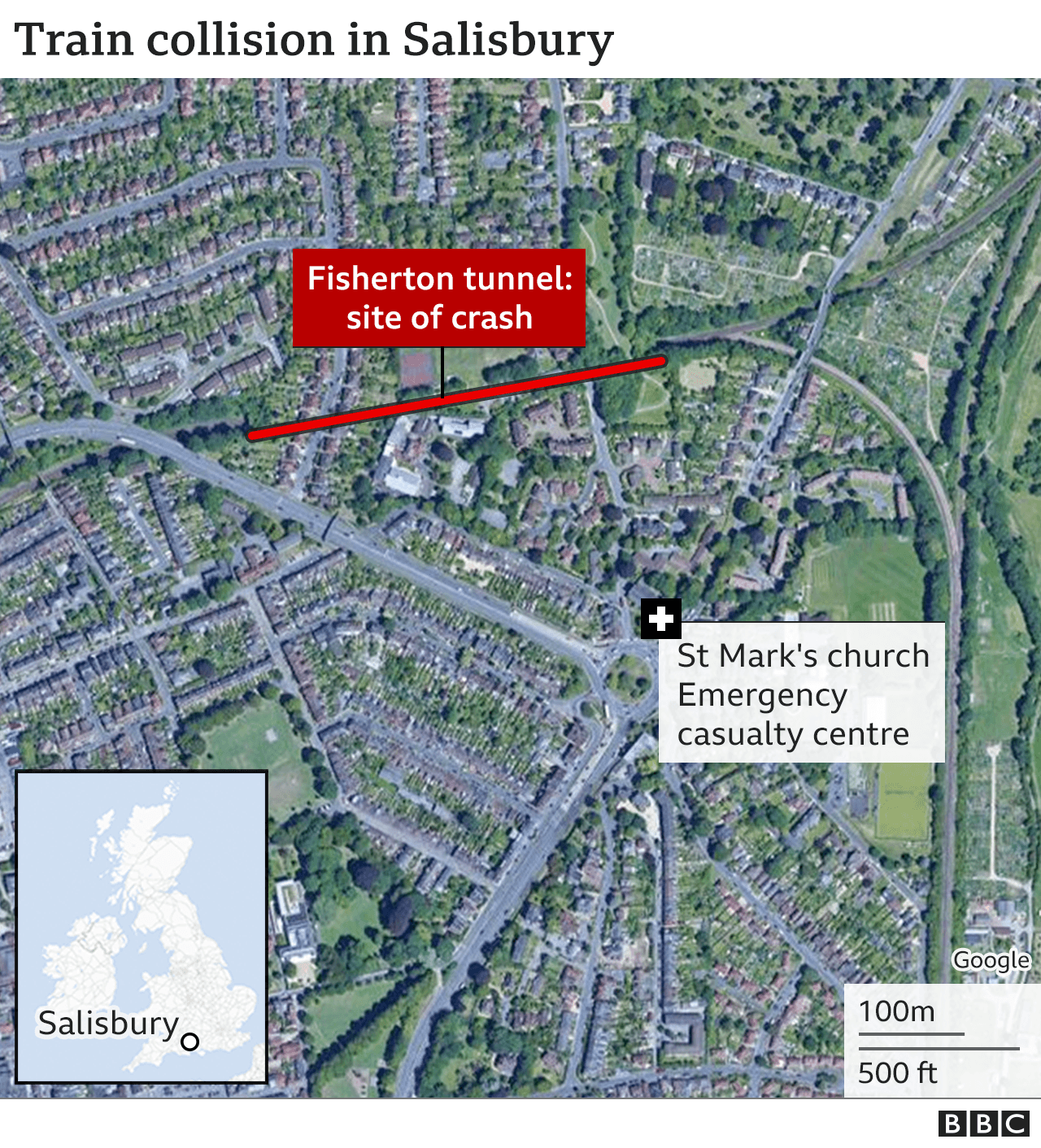 The BBC is not responsible for the content of external sites.