Boris Johnson says the Queen is "on good form" but it's important she follows doctors' advice to rest.
The whole country wishes the Queen well, Prime Minister Boris Johnson has said, after she was advised by doctors to rest for two more weeks.
On Friday, Buckingham Palace announced the monarch, 95, would not undertake official visits for a fortnight.
It said she would continue with some light, desk-based duties and it was her "firm intention" to attend Remembrance Sunday at the Cenotaph on 14 November.
The prime minister said "the important thing" was the Queen getting some rest.
"I spoke to her Majesty, as I do every week, this week and she's on very good form," Mr Johnson said.
"She's just got to follow the advice of her doctors and get some rest and I think that's the important thing.
"The whole country wishes her well."
The Queen underwent preliminary medical checks in hospital on 20 October after cancelling a visit to Northern Ireland, having "reluctantly" accepted medical advice to rest for a few days.
Her stay at London's King Edward VII's Hospital was her first overnight hospital stay in eight years.
Although she resumed public engagements earlier this week, it was announced on Wednesday the Queen would not attend the COP26 climate change summit in Glasgow as previously planned.
Her planned address to delegates attending COP26 was recorded on Friday afternoon and will be played via video at the event. Other royals will still attend the summit.
Friday's statement from Buckingham Palace said the Queen would continue to hold "virtual audiences" during the fortnight of rest, but said the monarch would not attend any official visits, including the Festival of Remembrance, held at the Royal Albert Hall on the evening before the Remembrance Sunday service.
The Queen's absolute determination to attend the Remembrance Sunday service in Whitehall was "notable", he added.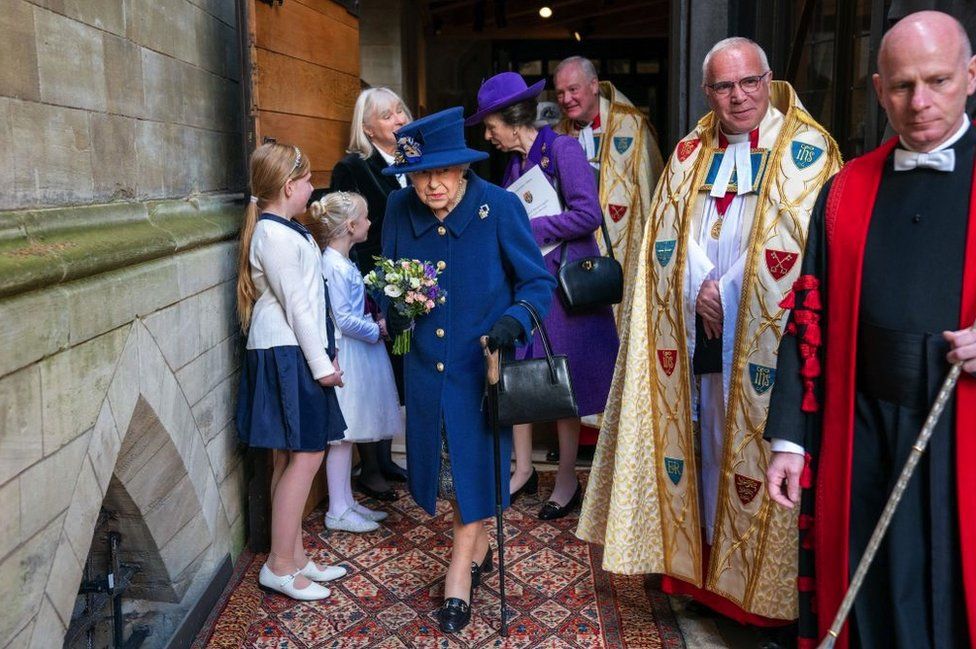 The sovereign had maintained a typically busy schedule this month, including hosting a Global Investment Summit at Windsor Castle on 19 October – but was recently seen using a walking stick at a Westminster Abbey service, the first time she has done so at a major event.
Robert Hardman, author of Queen of the World, described the recent cancellations as a "wake-up call that the Queen is 95".
"She has been so dependable over the years, there has been this tendency just to assume she will keep turning up… and when she's not there it comes as a bit of a jolt," Mr Hardman told Radio 4's Today programme,
He added the Remembrance service "was one of the absolute central days in the Queen's calendar", having attended the Cenotaph more than anybody in its history.
"It's absolutely sacred to her. We all fervently hope that we are going to see her on her balcony," he added.