Police at the industrial blaze say one person is unaccounted for as emergency crews work to locate them.
Firefighters are tackling a blaze at an industrial premises where explosions and a strong chemical smell have been reported.
A huge plume of black smoke began billowing from the site on Juno Drive, Leamington Spa, on Friday morning.
Nearby properties were evacuated and people living within 70m were urged to shut doors and windows.
Police said one person was unaccounted for and emergency services were working to locate them.
Leeson Polyurethanes Ltd was the scene of the blaze, according to the Warwickshire force.
One member of the public reported his family being given masks to wear when neighbouring premises were evacuated, with additional reports of debris in the air and on the ground.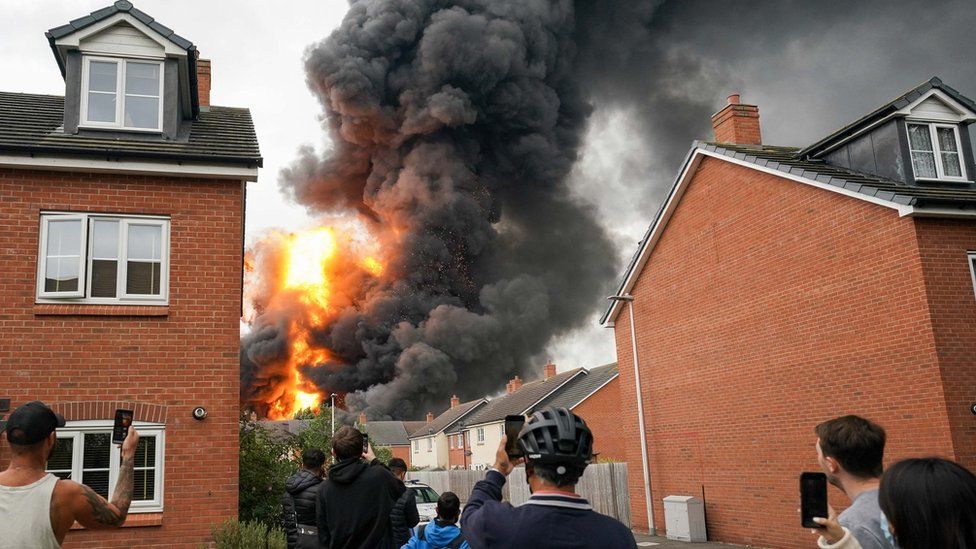 One resident said she kept hearing "small explosions".
Anna Harrington-Ridley was walking to work in nearby Whitnash when she first saw smoke at about 10:30 BST.
She said: "I saw a little plume of smoke and thought it might be the allotments but it quickly got a lot darker and a lot bigger in the space of about two minutes and I realised it was definitely something a bit more serious.
"I was stood down there at the end of the road that has been blocked off and you could see the massive plume of smoke, there was fire, explosions, all sorts of things."
She added there was a "strong chemical smell".
Resident Ben Coleman also reported an odour and explosive sounds.
"There's a bit of a smell," he said. "I heard small explosions – nothing too big, it was a few, like, pops."
He spotted the smoke from his window while working at home.
"I could see a big dark cloud, and I thought it was a thunderstorm, then I looked to my right and saw a big plume of smoke coming up from the building.
"Police had closed off the road leading to it, because it is in an industrial estate. [A] Lot of other places had got their staff out of the buildings."
From the scene, BBC Midlands Today correspondent Giles Latcham tweeted to say there appeared to be polystyrene falling from the sky.

Carl Brown, from Rugby, was with his family at a trampoline park near the site when fire broke out.
"The trampoline park staff were really good, they got everybody out, the kids out, gave us all masks and everything.
"We all put the masks on and as soon as we went outside we could see this huge black smoke and fire and stuff, and there was debris all over the car park."
Mr Brown added he could still see the smoke when he arrived home – approximately a 30-minute drive away.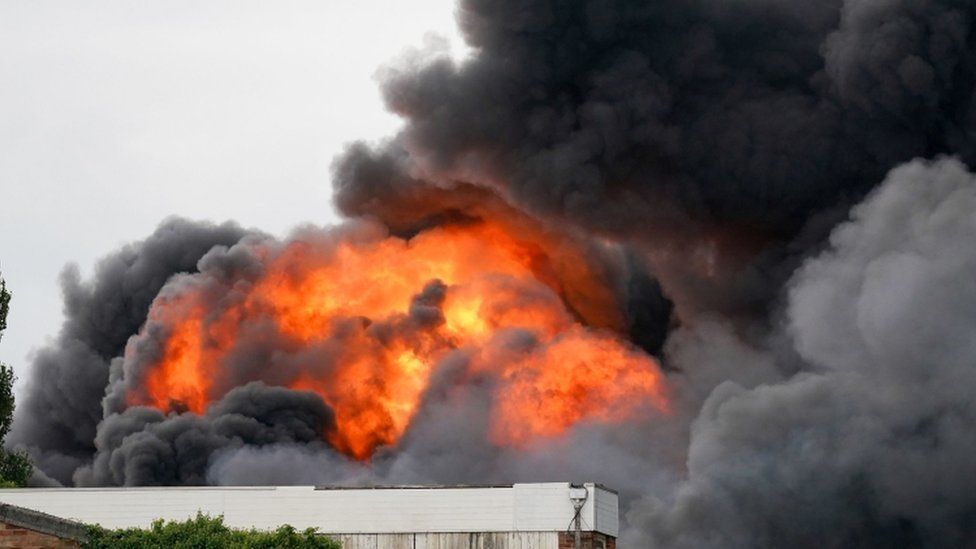 Kevin Hughes said he too was working from home when he noticed the sky had turned grey.
"I saw some post in the local Facebook group… and when I walked to the back [of my property] I could see this massive plume of grey smoke floating over."
He was able to see the fire from about 11:00 BST, when, he said, it did not look like abating.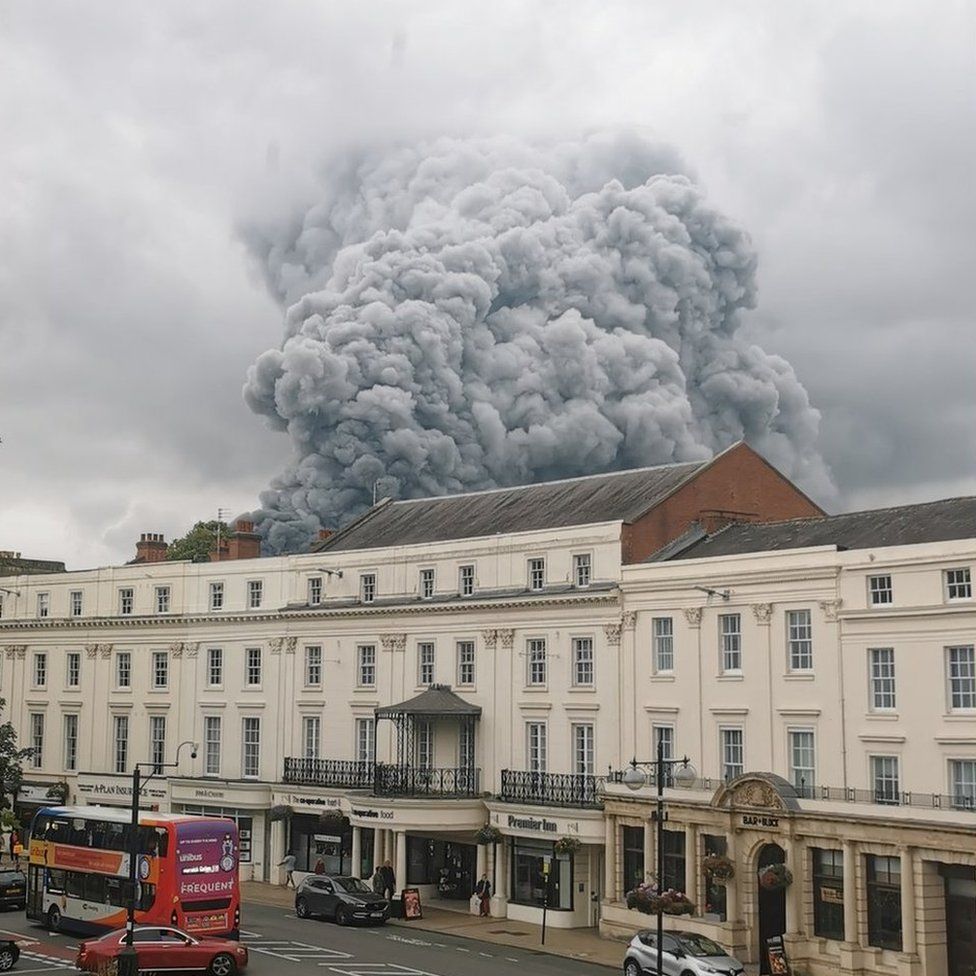 West Midlands Ambulance Service said it was called at 10:38 BST, and one ambulance, a paramedic officer and a Hazardous Area Response Team (HART) attended.
It said it currently had no patients.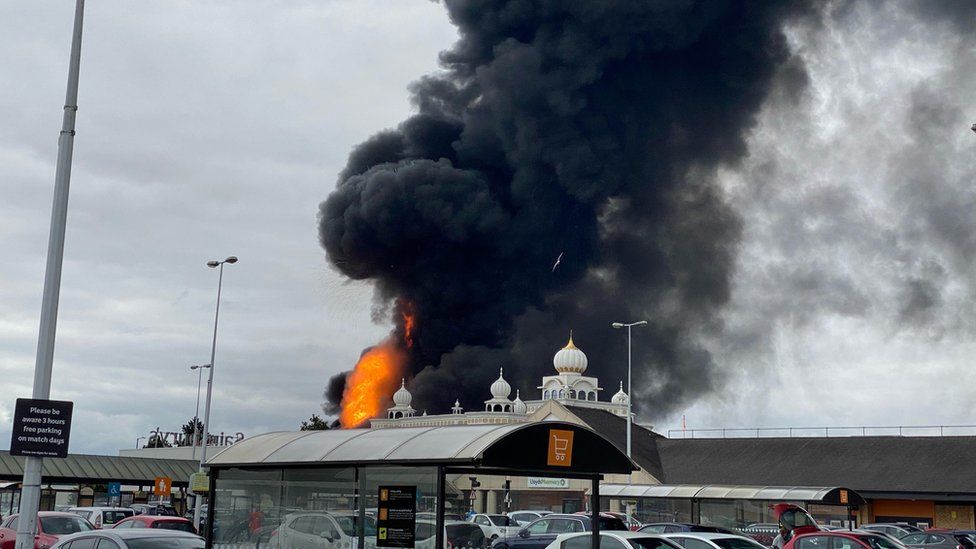 The BBC is not responsible for the content of external sites.