Parts of Wales and southern and central England could be hotter than Tenerife and Marbella later.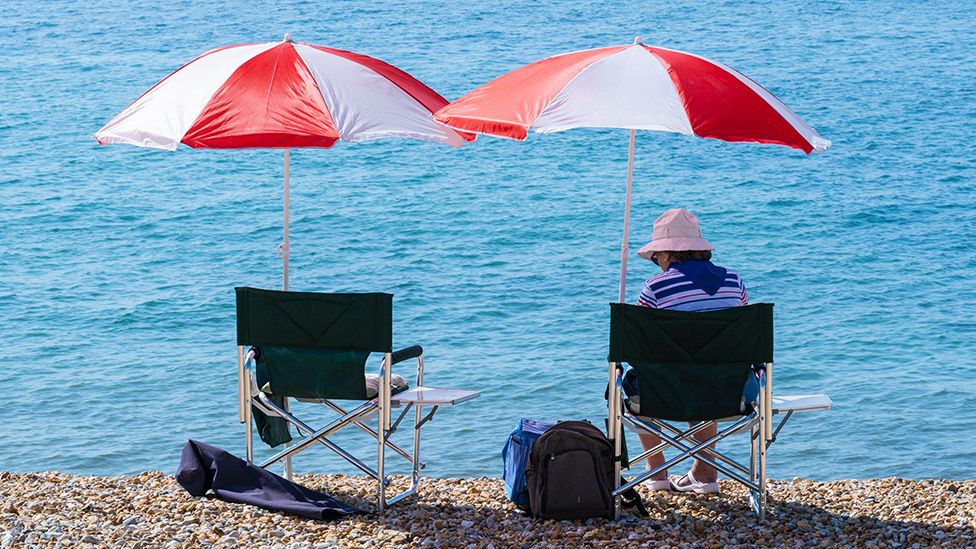 Parts of the UK could reach a sweltering 33C (91.4F) later, hotter than some of Europe's top holiday destinations including Tenerife.
It comes after the Met Office issued two new-style extreme heat weather warnings and told people to watch out for sunburn and heat exhaustion.
It will be in place until Thursday, when temperatures are expected to peak.
The second amber warning, which is for Northern Ireland, is in place from 08:00 BST on Wednesday to 23:59 on Friday.
Public Health England has also issued a heat-health alert, which will remain in place until Friday.
It advises staying out of the sun between 11:00 and 15:00, drinking plenty of fluids and avoiding excess alcohol and physical exertion during the hottest parts of the day.
The Met Office is warning that over the next few days many people could be at risk of sunburn or heat exhaustion, including dehydration, nausea and fatigue.
The more vulnerable are being warned of more adverse health effects.
It has also issued a yellow weather warning for isolated thunderstorms across south-east England on Tuesday, lasting from 13:00 to midnight, saying there could be torrential rain, lightning, large hail and gusty winds.
And it has warned that, as temperatures soar, some heat-sensitive systems and equipment may fail, leading to power cuts. There could also be delays to road, rail and air travel, meaning people experiencing long delays might suffer.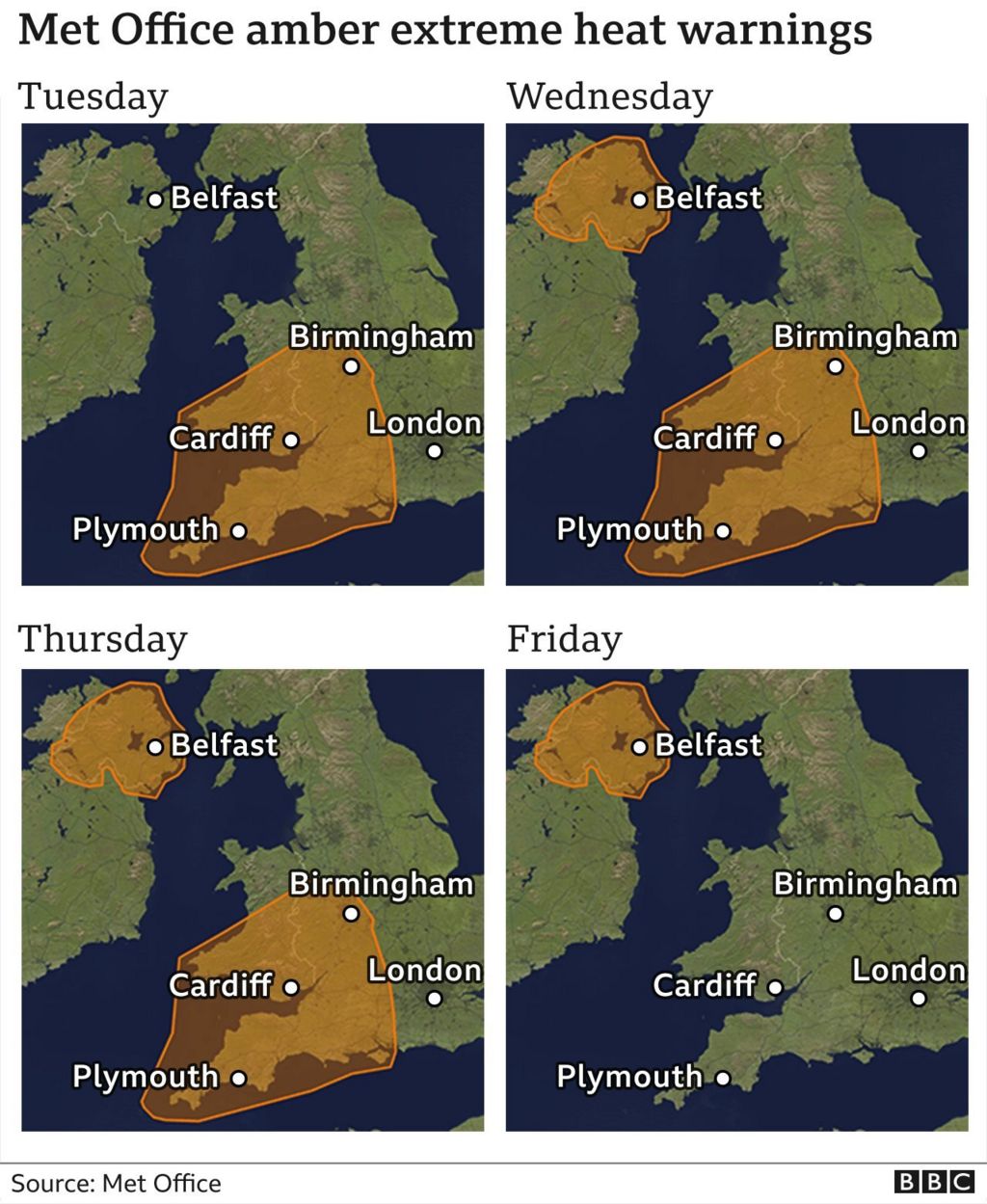 The Met Office said the high temperatures were expected in the day and at night, meaning disrupted sleep for many.
It also warned that as more people visited coastal areas, lakes and rivers, there was an "increased risk of water safety incidents".
In Scotland, people watering plants and filling paddling pools increased the demand for water by 200 million litres a day last week, Scottish Water said.
Kes Juskowiak, operations general manager at Scottish Water, said the company had "struggled" to meet demand in places, with tankers used to ensure supply.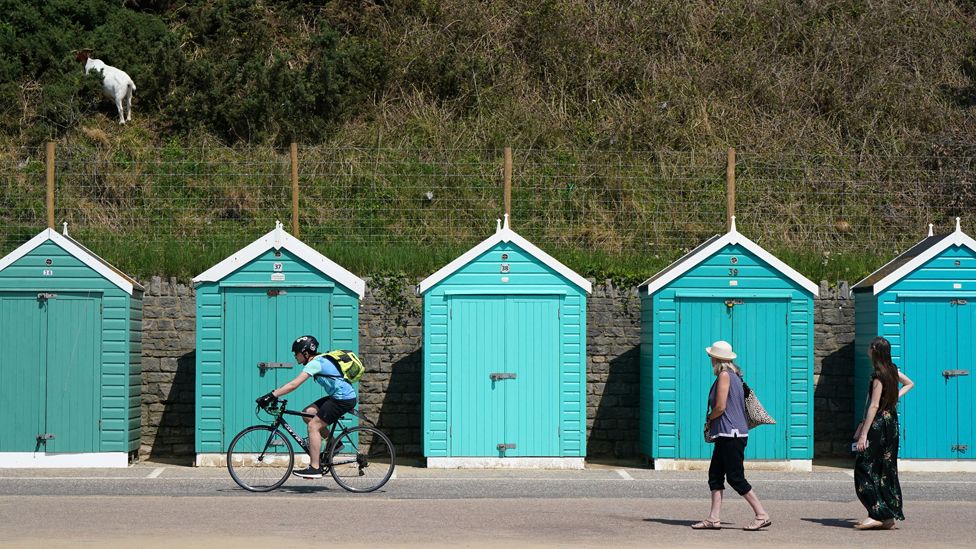 BBC Weather forecaster Matt Taylor said it would be "another hot summer day" on Tuesday for many not in the area affected by the weather warning – but that north-east England and north and east Scotland would be slightly cooler.
For the next few days, the high day-time and high night-time temperatures are set to continue, he added.
Northern Ireland, in particular, is going to see further increases in temperature on Wednesday and Thursday and could get close to breaking the record – set only last weekend – for its hottest day.
Thing will start to cool down again over the weekend, with temperatures returning to those expected at this time of year of between 20C and 25C (68-77F).
The forecaster said there could be isolated – but severe – thunderstorms over the coming days.
While not many will experience them, where they do hit, the rain could be torrential. Central and south-eastern England are the areas that could see the storms.
He said hot spells like this one do happen every summer – but that extreme heat episodes in the UK are becoming more frequent, prolonged and hotter.
According to the Met Office, warm spells have more than doubled in length, from 5.3 days in 1960-1991 to more than 13 days between 2008 and 2017.
But we are some way off the UK's hottest day recorded – which was 38.7C (101.7F) in Cambridge two years ago.
This temperature comparison tool uses three hourly forecast figures. For more detailed hourly UK forecasts go to BBC Weather.
If you can't see the calculator, tap here.

It comes after a record-breaking number of heatwave deaths were recorded in England last summer.
Heatwaves are becoming more likely and more extreme because of human-induced climate change.
The world has already warmed by about 1.2C since the industrial era began, and temperatures will keep rising unless governments around the world take steep cuts to emissions.

If they can be cooled down within half an hour, then heat exhaustion is not normally serious.
Move them to a cool place.
Get them to lie down and raise their feet slightly
Get them to drink plenty of water – sports or rehydration drinks are also OK
Cool their skin – spray or sponge them with cool water and fan them. Cold packs around the armpits or neck are good too
However, if they do not recover within 30 minutes, then what follows is heat stroke.
It is a medical emergency and you should call 999.
People with heat stroke may stop sweating even though they are too hot, their temperature could have passed 40C and they may have seizures or lose consciousness.