The artwork was vandalised following England's defeat by Italy in the Euro 2020 final.
People are continuing to leave messages of support and solidarity at the vandalised mural of Marcus Rashford.
The artwork in Withington, Manchester, was defaced following England's defeat by Italy in the Euro 2020 final.
Rashford said he was "on the verge of tears" when he saw the mural had been covered in supportive messages.
The street artist Akse, who created the portrait, has now repaired the damage but it has yet to be decided what will happen to the messages of support.
The mural was defaced with several swear words shortly after Rashford missed a penalty in the 3-2 shootout loss, along with Jadon Sancho and Bukayo Saka.
Rashford said he was sorry for missing his penalty, adding that he "wished it had gone differently" but then paid tribute to those who added messages on the mural.
"I'm Marcus Rashford, 23 years old, black man from Withington and Wythenshawe, South Manchester."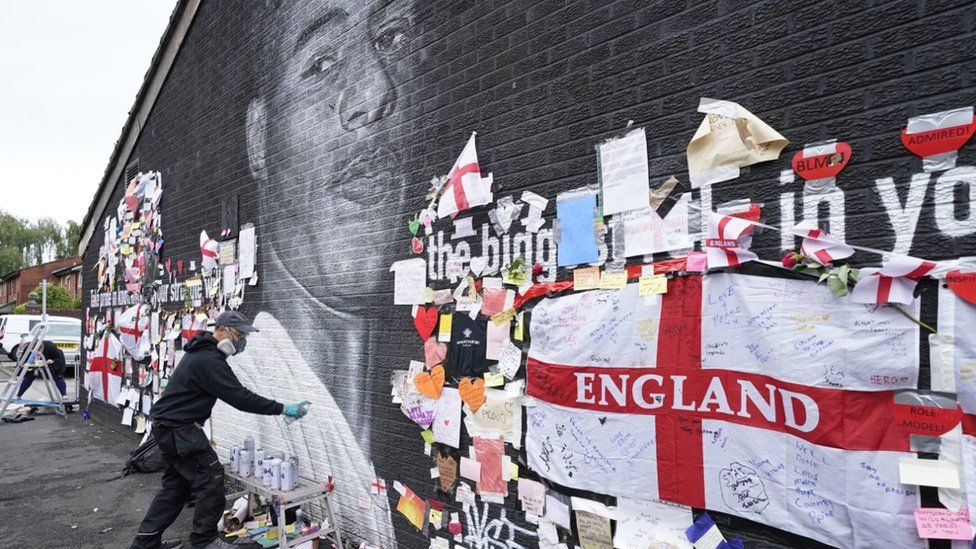 Greater Manchester Police said an investigation had begun after it received a report of racially aggravated damage at the site at 02:50 BST on Monday.
Withington Walls co-founder Ed Wellard, who commissioned the artwork, said those responsible for the vandalism should be educated not punished.
He said he hoped that "something positive might come of it" as people were now "talking about the issue of racism in this country".
"There's a lot of solidarity to these players, they've been fine role models on and off the pitch," he said.
An online crowdfunder for the mural has now raised more than £30,000, which Mr Wellard said would be used to fund further artwork.
The artwork, based on a photograph by Daniel Cheetham, is painted on the side of the Coffee House Cafe on Copson Street.
Peter Doherty, 46, who has owned the cafe for 12 years, said: "It's not right. It's not the first time this has happened either.
"It takes such guts to get up and take a penalty. We need to take a look at ourselves as England fans.
"You'd think after the year we've had we'd be hugging each other, not hating each other."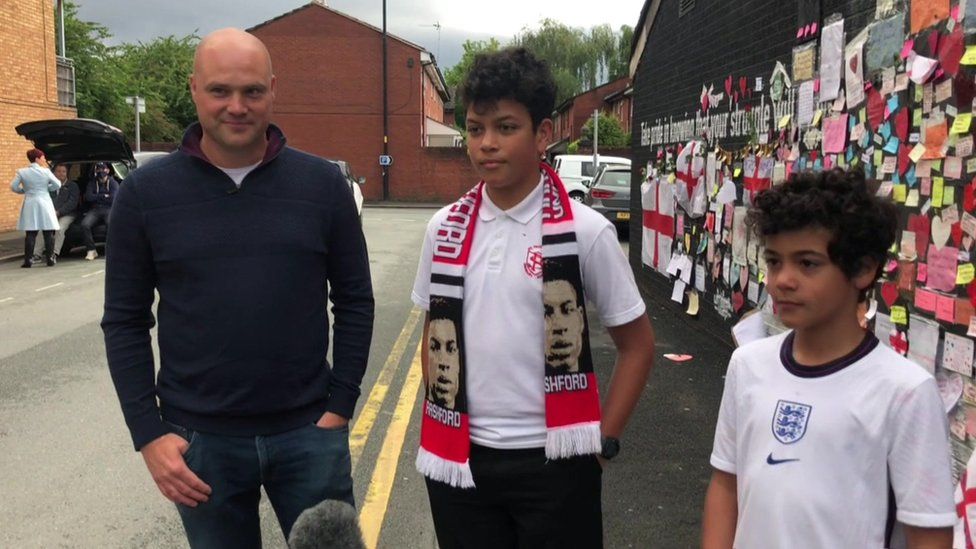 Brothers Ezra and Dylan are among those who added a message of support after being "disgusted" by the vandalism.
"He stood up for kids and he stood up for what he believes in and he has been a role model for my two boys and for a lot of people around the country," said their father Tom.
"It's a brave thing to do to step up and take a penalty under all that pressure and it's very easy to criticise someone from the sidelines.
"We felt awful about what happened. And if you can come and show your support then that's a little thing that you can do to make a difference."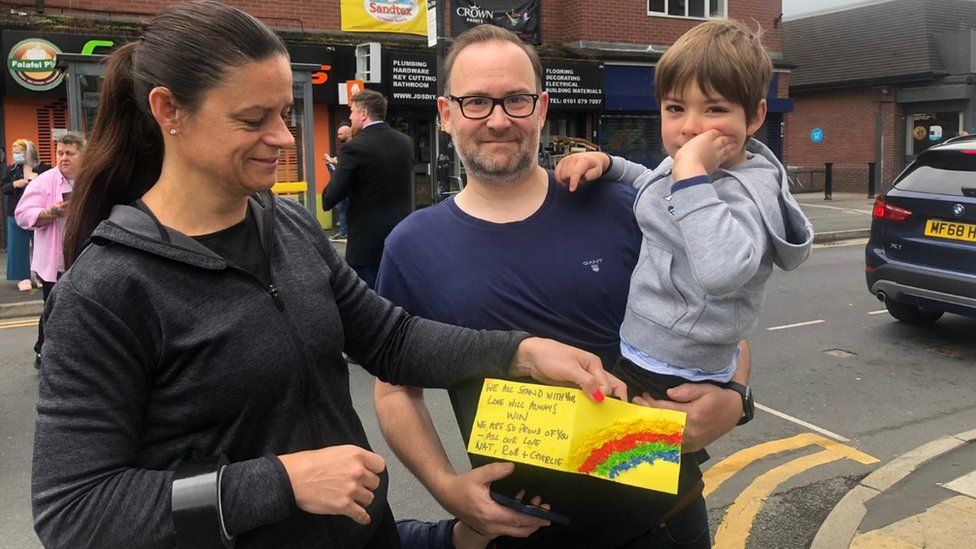 Nathalie, 45, from Manchester, brought her four-year-old son Charlie to the mural to "show their love".
"Racism won't win. No 23-year-old deserves this," she said.
Their handwritten note read: "We stand with you. Love will always win. We are so proud of you."
Nine-year-old Jacob, from St Helens in Merseyside, also travelled to the mural to add a note which read: "Thanks for everything. Keep up the good work. You are a hero and legend. Rate not hate."