First minister says Wales' rates may be a few weeks behind England as he delays easing lockdown.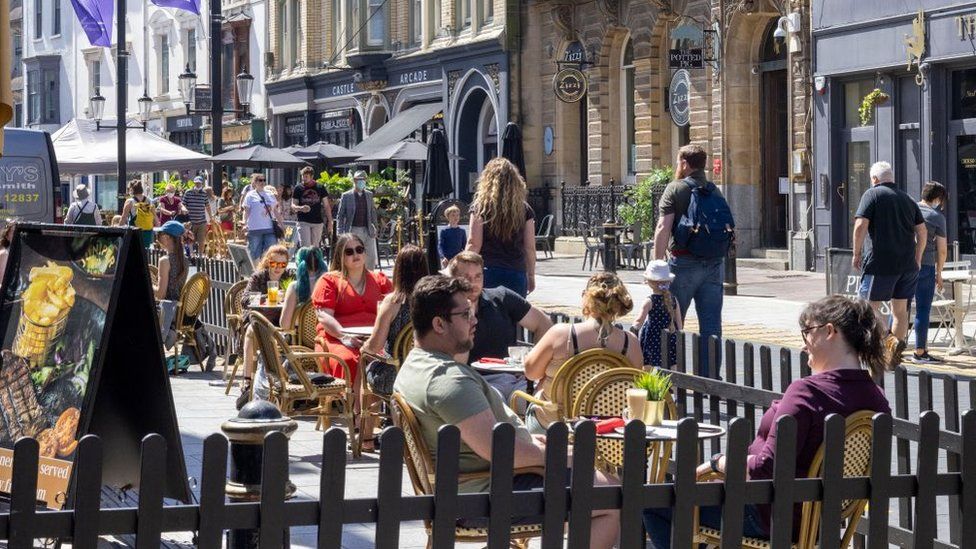 A third wave of the Covid-19 pandemic is already under way leaving Wales facing a "serious public health situation", the first minister said.
Mark Drakeford said Wales may be two or three weeks behind England and Scotland in rising case numbers.
Officials plan to offer a further 500,000 jabs during that time, which will largely be second doses.
Ministers were considering allowing more to meet indoors in private homes, before deciding to delay the plans because of the rise in cases.
The first minister said the Delta variant – originally found in India – is "taking hold" in Wales.
He said the "job" of the next few weeks will be "to do everything we can to prevent" having to impose lockdown rules again.
The Conservatives called for "light at the end of the tunnel" from the first minister, while Plaid Cymru said more was needed on support measures for businesses and those self-isolating.
There had been a "sustained, week-on-week increase" in the rate of Covid-19 across the country due to the Delta variant, Mr Drakeford told a press conference, with a "particularly sharp rise" in people aged under 25.
Wales' Covid infection rate on Friday is 23.6 per 100,000 of the population, compared to 10 a fortnight ago – the first minister said the pattern was being driven by the more transmissible Delta variant.
Meanwhile, the rate of tests coming back positive has more than doubled to 2.4%.
"Our scientific advisers believe the UK is now in the pre-peak stage of a third wave of the pandemic," he said.
"Wales may be two to three weeks behind what is happening in England and in Scotland, where tens of thousands of cases have been confirmed, there is widespread transmission and reports of increased hospital admissions as well."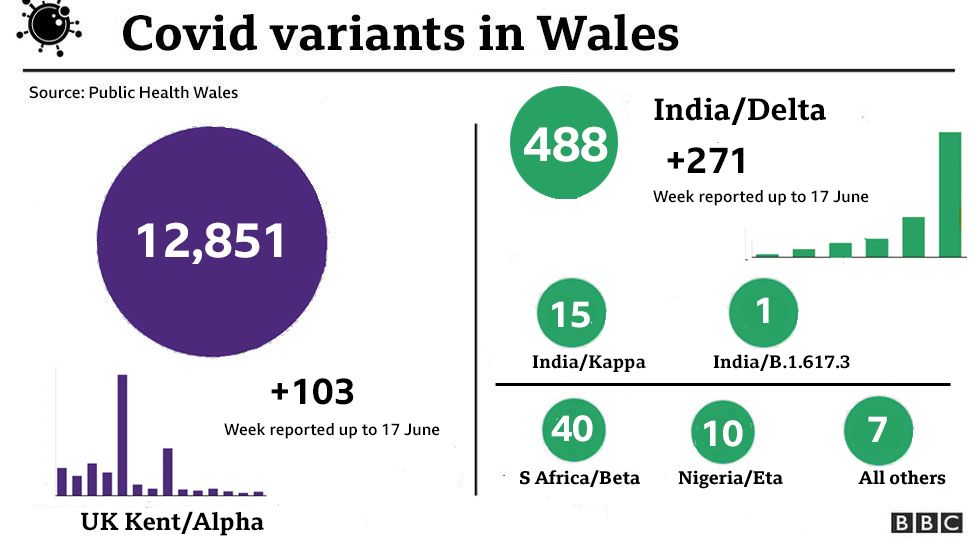 Mr Drakeford's decision to delay moving to Wales' lowest levels of coronavirus rules follows decisions taken in Scotland and England to hold off their own plans to ease restrictions – both in response to rising cases driven by the Delta variant.
He said that Wales was currently "nowhere near" needing to impose stricter Covid lockdown rules again in response to concerns about rising transmission.
The first minister said the Welsh government was "pausing" the relaxation of restrictions "because we don't want to add fresh risk in to what has become a more risky context".
He said officials were "not clear" about "the full extent to which vaccination has altered the link between falling ill with coronavirus and needing hospital treatment".
"The more people we can vaccinate the stronger the defence will be, and the more certain we will become that we don't need to put anything in reverse", added Mr Drakeford.
Meanwhile Wales' vaccination programme will "switch into a new emphasis on double doses" over the next four weeks.
Mr Drakeford said the focus would "move down the age ranges" as full vaccination rates were high for older members of the population, 88% for the over 60s, for example.
He added the Welsh government will be getting advice "shortly" from the Joint Committee on Vaccination and Immunisation on an "autumn booster campaign" of Covid jabs.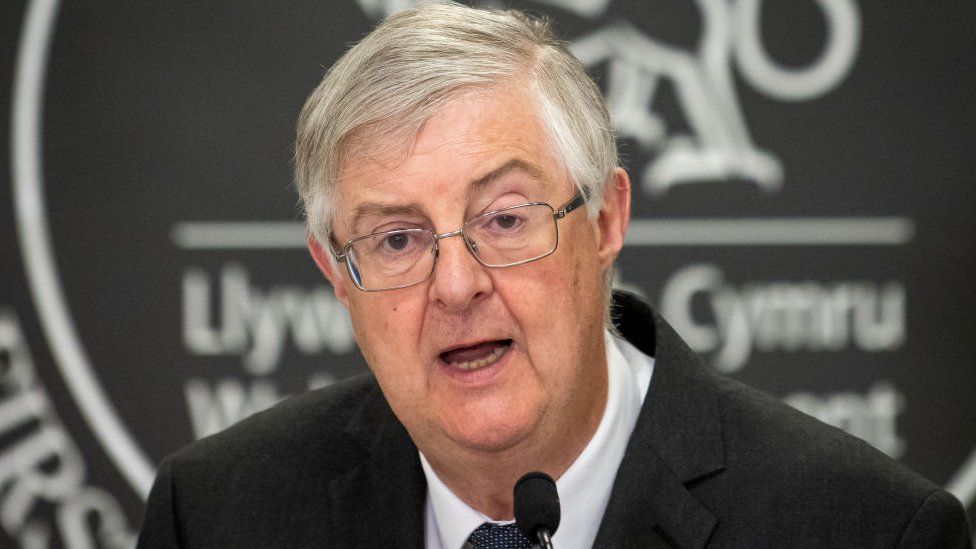 Despite the rise in coronavirus rates, the first minister announced a series of small measures he said were designed "to make those regulations easier to understand and to apply to everyday life".
Numbers who can attend a wedding or civil partnership reception or wake, organised by a business in an indoors regulated premise, such as a hotel, will be determined by the size of the venue and a risk assessment
Small grassroots music and comedy venues will be able to operate on the same basis as hospitality venues, like pubs and cafes
Primary school children in the same school contact group or bubble will be able to stay overnight in a residential outdoor education centre
Pilot events in theatre, sport and other sectors will also continue throughout June and July
Rules in Wales will be reviewed again on 15 July.
The Welsh Government is also looking at whether rules on face masks in schools could be relaxed.
The current rule in Wales is that face coverings should be worn in all areas, including the classroom.
First Minister Mark Drakeford said there will be no immediate change, "but we will work with schools, local authorities and teaching unions to find ways for the future that they do not need to be worn in every classroom, every day".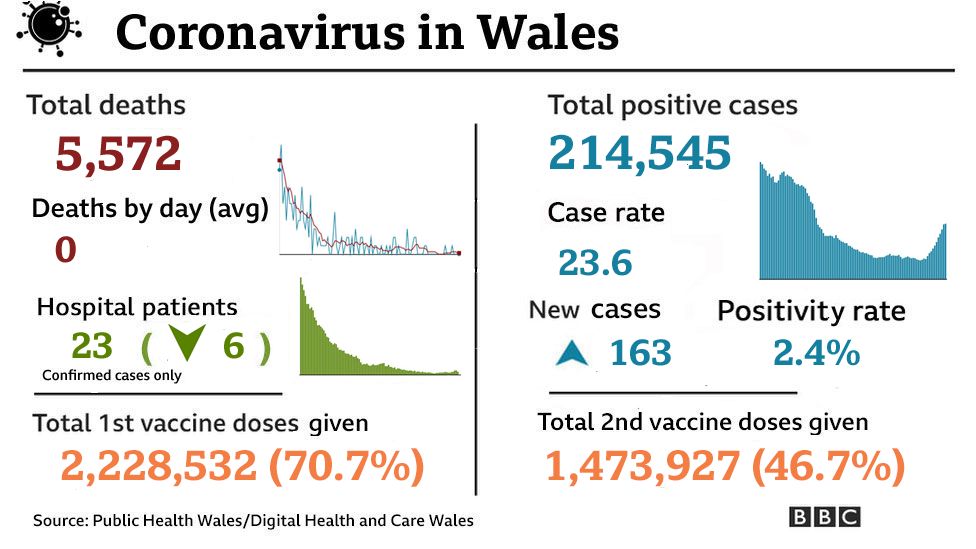 The Welsh Conservatives called for Mr Drakeford to give more clarity on when restrictions would be eased further.
James Evans, the party's shadow minister for mental health and well-being, said: "We do have to be cautious with the Delta variant spreading across Wales and the UK. However I would like some light at the end of the tunnel from the first minister.
"Hospitalisations are 95% lower than their previous peak, deaths are 99% lower then their previous peak. 80% have antibodies, 96% of those of the over-65s and in the vulnerable groups have antibodies, and I think in Wales we do need to have some idea of Freedom Day – the vaccine programme is working, we just need a bit of light at the end of the tunnel."
Plaid Cymru said the pause of easing restrictions "made sense", but called for greater support for those directly affected.
Sian Gwenllian, the party's deputy leader in the Senedd, said: "We don't know how much pressure this will put on our hospitals, so keeping the status quo for a further four weeks does make complete sense, as does the focus on vaccination to maximise protection.
"But I do think we need clarity from Welsh Government on support measures, for businesses, for those needing to self-isolate, and for the track and trace work of local authorities."