It would be the first country in the world to formally adopt the digital currency.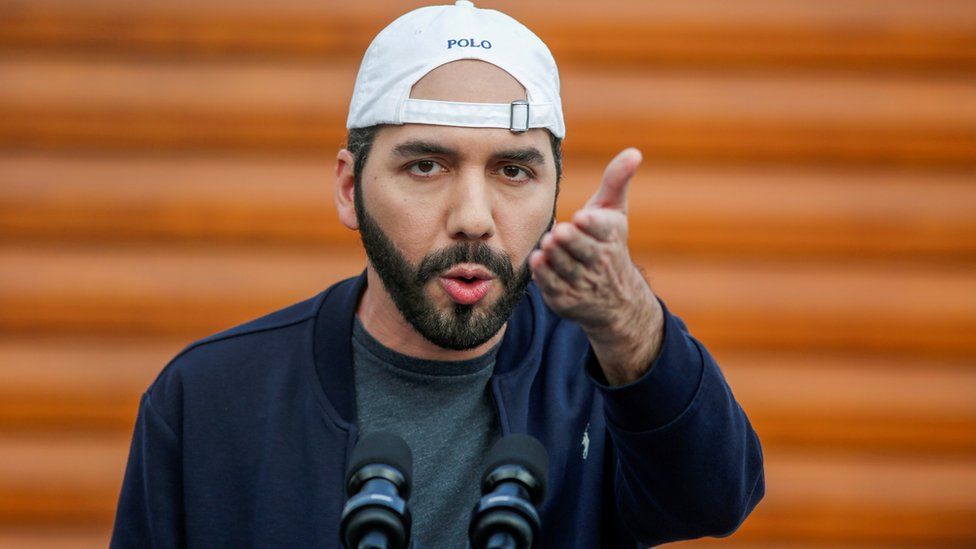 El Salvador's president says he will make the Bitcoin crypto-currency legal tender in the country.
If his plan is backed by congress, the Central American country would be first in the world to formally adopt the digital currency.
It would be used alongside the US dollar, El Salvador's official currency.
President Nayib Bukele says Bitcoin will make it easier for Salvadorans living abroad to send payments home.
"In the short term, this will generate jobs and help provide financial inclusion to thousands outside the formal economy," Mr Bukele told a Bitcoin conference in Florida, adding that it could also boost investment to the country.
He said he would send the legislation to congress next week.
Should it pass, the move would open up financial services to the 70% of Salvadorans who do not have bank accounts, the president said.
El Salvador's economy relies heavily on remittances, or money sent home from abroad, which make up around 20% of the country's gross domestic product (GDP).
More than two million Salvadorans live outside the country, but they continue to keep close ties to their place of birth, sending back more than $4bn (£2.9bn) each year.
Current services can charge fees for such transfers, which can take days to arrive and sometimes need to be picked up in person, according to the announcement.
"This will improve lives and the future of millions," Mr Bukele said.
He did not give more details about how the policy would work.
Bitcoin, a virtual asset with no direct connection to the real economy, has seen large fluctuations in value over the years.


The plan announced by President Nayib Bukele would make the small Central American nation the first in the world to adopt the digital currency, Bitcoin, as legal tender alongside the dollar.
It would be a unique and bold step, the first by a sovereign country, and that may well be part of the attraction for Mr Bukele, a young, media-savvy and very popular leader who worries Washington over his increasingly autocratic tendencies.
There are still many questions over how the digital currency would become the country's legal tender – a major overhaul of El Salvador's financial infrastructure would be needed with Bitcoin at its heart.
But, in essence, it appears that is what Mr Bukele is proposing.
Much of El Salvador's developing economy is based on remittances from abroad and the move to a digital currency may allow family members to avoid the costly fees involved in sending money home each month.
Either way, it is a move which is likely to bolster Bitcoin's image as the "currency of the future" and President Bukele's standing among his supporters as an innovator.

Roger Ver, from the website Bitcoin.com, told BBC News that other crypto-currencies would do a better job than Bitcoin.
"This is fantastic news for all crypto-currencies in general, but what most of the world doesn't realise is that Bitcoin doesn't work as a currency anymore.
"Now other currencies, like Bitcoin Cash, or Monero or ZCash do a far, far better job of working as a currency.
"Bitcoin can only process around three transactions per second – there is no way a network that can handle three transactions per second can ever be money for the entire world."
Other cryptocurrencies were better when it came to transferring remittances, too, as they charged much less than Bitcoin, Mr Ver said.