A boy aged 16 and two men aged 20 were stabbed in the Formby beach area on Sunday evening.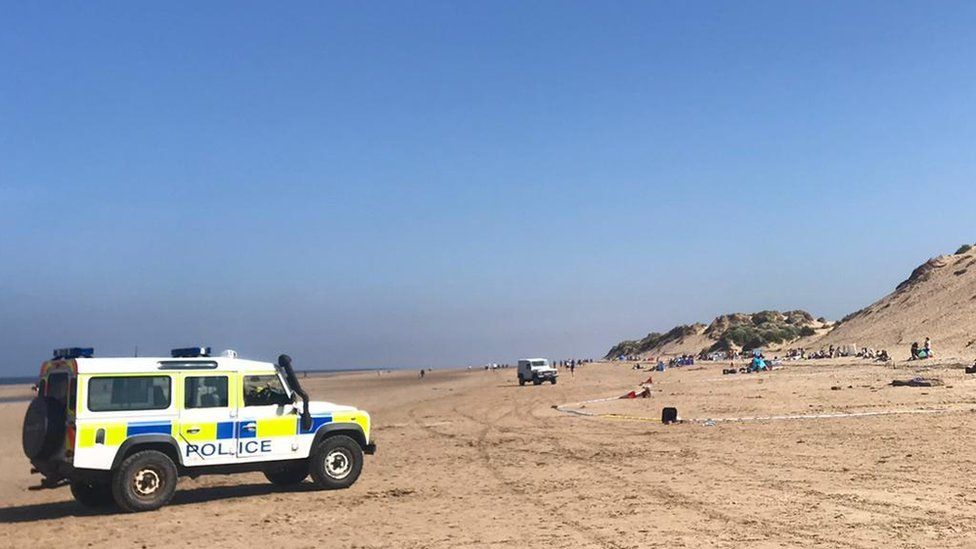 A police dispersal zone has been put in place on a beach and nearby area after a teenager and two men were stabbed.
The attacks took place on Formby beach, Merseyside, and a street close to the beach, at 19:10 BST on Sunday, and left one man, 20, in a critical condition.
The injuries to the 16-year-old boy and the other man, 20, were described as serious but not life-threatening.
The dispersal zone was put in place on Monday afternoon and will stay in force until 16:00 on Wednesday, police said.
Officers had earlier said they believed the "horrific" and "appalling" stabbings were linked.
The Merseyside force said the dispersal zone would give police officers the power to order people to leave the beach area and not return for up to 48 hours if they suspect they are causing, or likely to cause, crime, nuisance or anti-social behaviour.
Officers also have the power to seize any item, including vehicles, used to cause anti-social behaviour.
Insp Graham Fisher said: "We will be out on high visibility patrols from this evening enforcing it. We will take action against anyone seen acting recklessly or inappropriately.
"We are well aware of the significant impacts of knife-related crime and the worry this will cause for the vast majority of people in the area who are law-abiding members of the community looking to enjoy the beach and surrounding areas."
Anyone with information about anti-social behaviour or violent crime on the beach and dunes, which are managed by the National Trust, has been asked to get in touch with Merseyside Police.

The BBC is not responsible for the content of external sites.