The health secretary says restrictions in the city could ease if intensive care numbers do not go up.
Covid restrictions in Glasgow could be eased if the number of people in intensive care does not go up, Scotland's health secretary has said.
Glasgow is the only part of Scotland still in level three, and some businesses have criticised the decision to keep it under stricter measures.
Humza Yousaf said ministers wanted to ease restrictions as soon as possible.
He said he hoped after this week it would become clear whether case numbers had led to a rise in ICU patients.
Speaking to BBC Scotland's Sunday Show, Mr Yousaf said it was a difficult balance to strike and he could understand why people in Glasgow were "feeling somewhat despondent" about the situation.
On Friday, business bosses said they were stuck in an "excruciating" position.
Andrew McRae, of the Federation of Small Business Scotland, said there was "intense" frustration, and called for the Scottish government to investigate whether a new approach was required for Glasgow.
He said: "If the virus has not been brought under control while Glasgow businesses have faced almost nine months of restrictions, then surely the problem lies elsewhere."
And Glasgow Chamber of Commerce chief executive Stuart Patrick said businesses had been hit with "hefty financial losses in staff and perishable food costs" after level three restrictions were extended.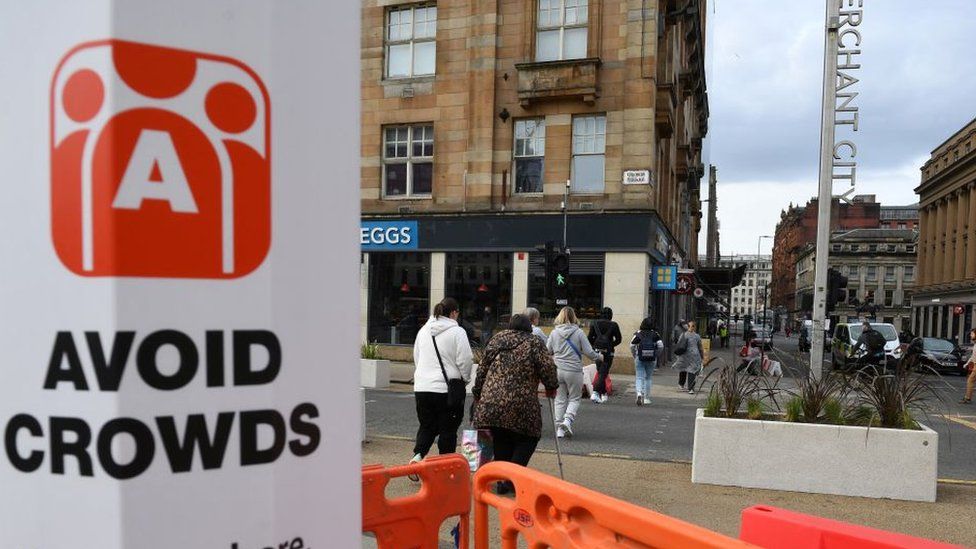 Mr Yousaf insisted ministers felt it was "absolutely necessary" to control the so-called Indian variant, which public health experts believe is driving increasing infection rates in the city.
"If we control it now then hopefully we will avoid future lockdowns in the months to come," he said.
He added that another reason why ministers had decided to keep Glasgow in level three for a further week was because they were trying to understand more about the variant.
"The really critical question is… does the new variant lead to more hospitalisations and more severe disease which then requires admissions into ICU?" he said.
"If the answer to that which I hope is no, then we can look at what we can do in terms of easing restrictions into the future."
He continued: "We have seen an increase in the number of hospital admissions.
"What this week will hopefully allow us to do is to see whether we continue to see a rise in hospital cases but also whether that translates into more severe disease which would need admission to ICU."
Glasgow is the only area in Scotland to remain in level three of Scotland's coronavirus restrictions, with the highest coronavirus rates in the country at 126.7 per 100,000 people in the seven days to 19 May.
Public health expert, Prof Linda Bauld, said she was starting to see signs in the data that cases were declining in the city.
If this trajectory continued, she had optimism the city would in the future go to level two.
People aged 18 to 39 who live in postcodes G41, G42, G5, G51 or G52 in the southside of Glasgow are also being offered jabs early to tackle surging cases.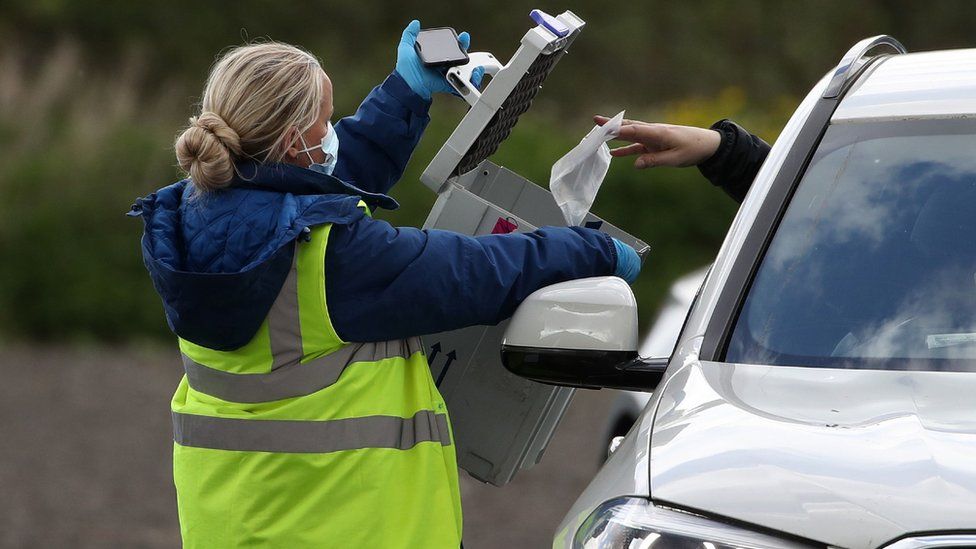 Mr Yousaf said there was the possibility to increase the number of injections given daily – particularly administering second doses amongst those priority groups.
He said: "Although we are doing extremely well with the vaccine rollout I think there is room to increase the number of vaccines that we are administering per day and per week."
He added that rolling out the vaccine to more people in Covid hotspots should not mean people in other parts of the country having to wait longer.
Breakdowns of vaccinations by area showed "no slowing down", and a recent call on social media for those in Glasgow to come forward for vaccination due to additional supplies had been successful, and said he thought being more "pro-active" was a good idea.
Opposition politicians have previously criticised the Scottish government for its handling of the pandemic.
On Friday Scottish Conservatives leader Douglas Ross said a "more targeted approach" was needed, and that resources should be diverted to areas where the virus was spreading.
Scottish Labour leader Anas Sarwar called for "a mass rollout of PCR testing and rapidly accessible vaccinations so that we can bring the case load down and have a consistency across the country."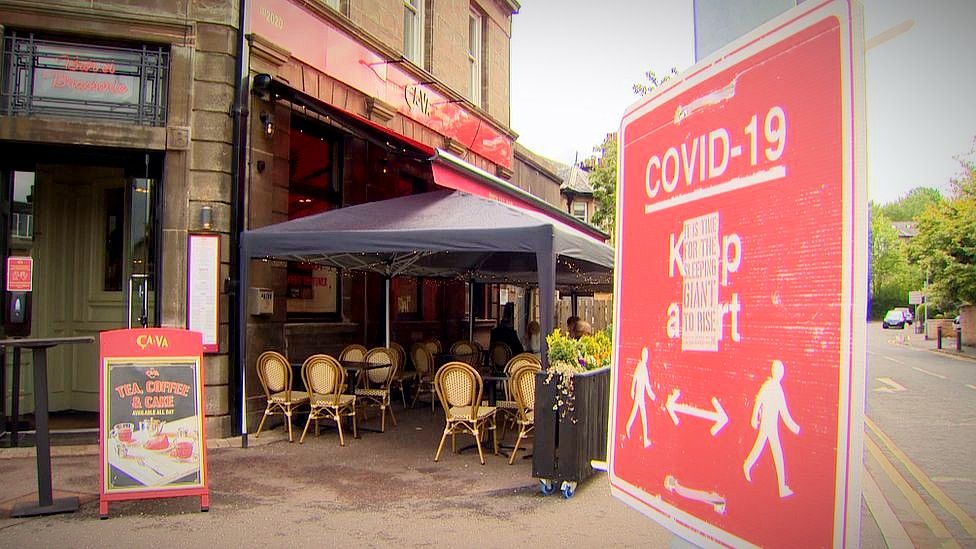 Mr Yousaf also spoke about East Renfrewshire, which has the second highest rate in the country.
With 108.9 cases per 100,000 in the week to 19 May, it is well in excess of the target of 50 cases for level two set by the Scottish government.
However, the health secretary said there was not significant community transmission of the new variant as seen in the outbreak on Glasgow's southside.
"That is really key, as the public health officials tell us they can contain those relatively small number of cases within those domestic settings," he said.
He said another factor was that the number of cases was also relatively small, and could be contained with appropriate health measures – including enhanced testing, contact tracing and maximising the vaccine rollout.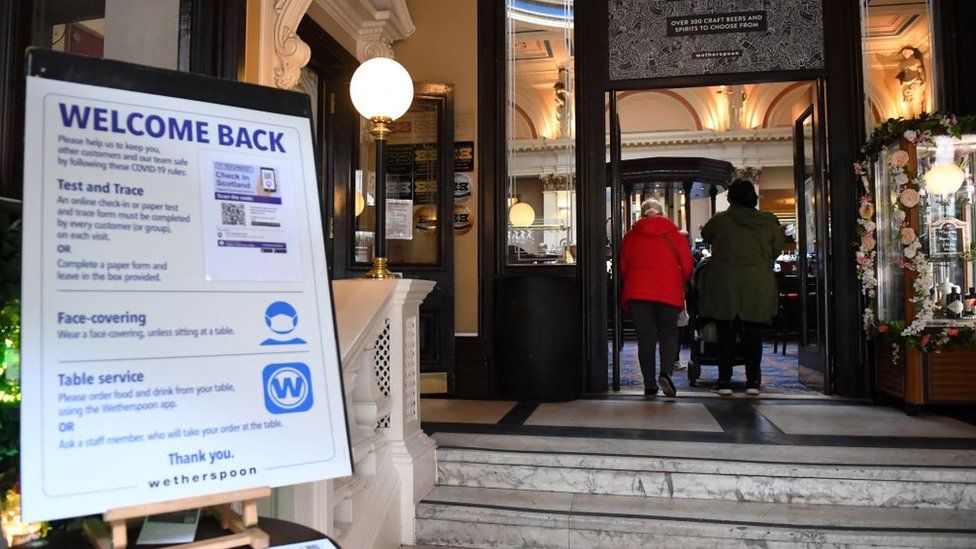 Under level three restrictions, groups of six people from two households can meet in cafés, pubs and restaurants. However, alcohol can only be served outdoors.
And six people from six households can meet outside. But, you cannot visit people in their homes.
Under level two restrictions, which East Renfrewshire is currently in, pubs and restaurants are allowed to serve alcohol inside until 22:30, and limited numbers of people can socialise indoors.
Social distancing during meetings indoors or in private gardens is no longer required in levels one and two.
Cinemas, theatres, concert halls, music venues, comedy clubs and bingo halls can reopen with restrictions.