Campaigners are challenging the government over directly awarding contracts during the pandemic.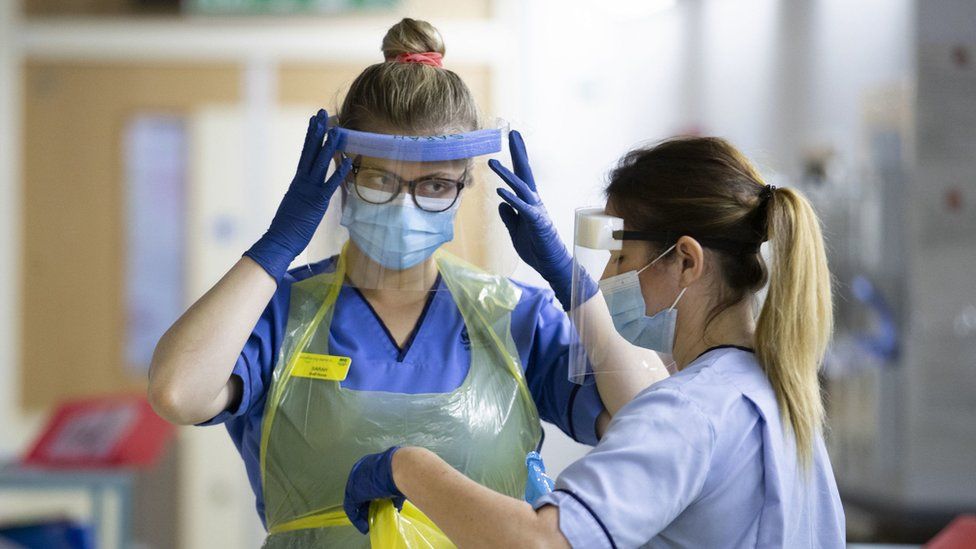 More details about a controversial "VIP" fast-track route for PPE firms with connections to government have emerged in the High Court.
One official complained the procurement team was "drowning" in high priority requests without the correct certification or due diligence.
Campaigners are challenging the government over directly awarding contracts during the pandemic.
The government said it worked tirelessly on PPE to protect NHS staff.
During the Covid crisis, the government directly awarded contracts worth billions of pounds to companies offering to supply personal protective equipment, which would usually be opened to competing bids.
Campaign group The Good Law Project is challenging the government in the courts over the decisions it made in signing several of these deals, which were handled as part of a so-called VIP lane, reserved for leads endorsed by Whitehall officials or politicians.
During an urgent hearing before the High Court, the group's lawyers presented an email from an official working in the PPE sourcing team, which reveal concerns about this "high priority" route.
"We are currently drowning in VIP requests and 'high priority' contacts that despite all of our work and best efforts do not either hold the correct certification or do not pass due diligence," the unnamed official wrote.
The email says that an offer that jumped "to the front of the queue" had a "knock on effect to the remaining offers of help".
The BBC has been investigating problems with PPE purchased for NHS staff since last summer.
The court heard the company was routed through the VIP lane because its representative, Andrew Mills, who had been chasing senior officials for a decision, was an advisor to the government's Board of Trade.
Ayanda Capital told the BBC the firm was not aware of the high priority lane and the allegations of "cronyism" around Mr Mills were "unsustainable".
The BBC has been told that his position played no part in the award of the contract.
The Good Law Project is also challenging the government over its decision to award contracts to a small Sussex-based pest control firm, Pestfix.
In February, the BBC revealed that 17 million high grade FFP3 face masks the company had supplied would not be used as intended because they failed testing.
Lawyers for The Good Law Project argued that information about the company's links with government was being kept from them because important details in emails had been blacked out by officials.
The government's spending watchdog has previously reported that the firm was put on the VIP lane by mistake. But emails disclosed in court show the company was "known" to a senior official in the Department of Health and Social Care via a relative.
Pestfix has previously told the BBC it is proud of its role sourcing PPE to meet the shortages in the NHS during the pandemic.