Three sets of twins reflect on the past year, with research suggesting only 5.5% live together.
"I didn't spend seven-and-a-half months trapped in a womb with her only to be prevented from seeing her for probably the same length of time 28 years later."
For Anwen Hayward, of Cardiff, the pandemic and successive lockdowns have meant prolonged separation from her twin sister Aneira, who lives in Gateshead.
A questionnaire of more than 3,800 UK twins found only 5.5% were living with each other at the start of the pandemic.
As many prepare to renew their special bond in person when different restrictions begin to ease across the UK, Swansea University psychologist Kim Dienes said the impact of separation for many twins would have been "huge".
"It's hard to explain to someone who isn't a twin," said Aneira. "We call it the twin-ection.
"I think people don't realise how close you are because you do go through everything in life at the same time together."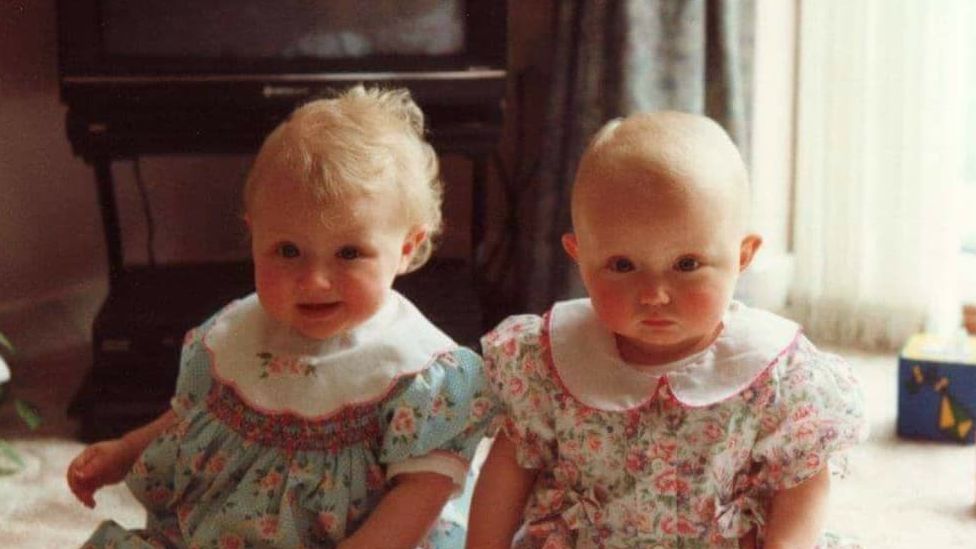 Aneira, an environmental health officer who is 12 minutes older than Anwen, said she had found it especially tough living alone.
"A lot of people I work with don't understand quite how lonely that can feel because they're like, 'I don't care that I'm not seeing my brother or my sister'.
"But it's different having a twin, because you've shared everything. It's very strange not having that person around, especially when it's quite hard mentally."
The 28-year-olds, originally from Cardiff, have been separated by 300 miles (482km) – and a border.
With travel between Wales and England banned for much of the time since Covid-19 hit last February, they have since spent just a handful of days together.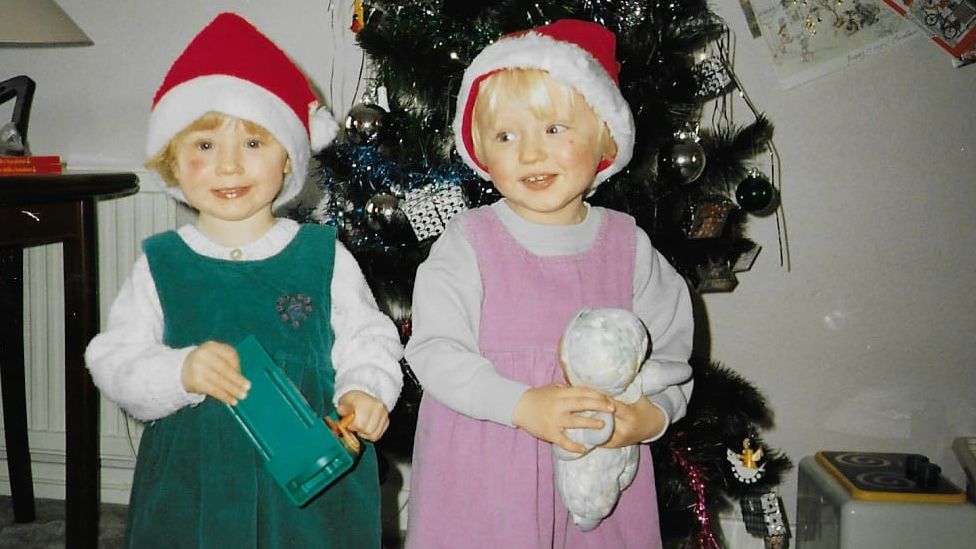 With their birthday and Christmas Day spent separately, they have had to adapt – opening presents over video calls and shifting their constant exchange of in-jokes to online chats and games.
Anwen, an assistant accountant in TV and film, said: "What I'm looking forward to most is just sitting on the sofa and watching rubbish stuff on YouTube and just having a nice time."
The stay-local rule previously in place in Wales was lifted on 27 March, and a similar bar was in place in England until Monday.
"The second I can get down to Cardiff, I'm off, I'm not hanging around," said Aneira.
Dr Dienes, a lecturer in clinical and health psychology at Swansea University, said twins had a "unique relationship" and, combined with a "unique pandemic", that made for a "unique experience".
"These are people so used to this high degree and high intensity of emotional and psychological closeness. If they are deprived of that, it could have a huge impact on their overall well-being," she said.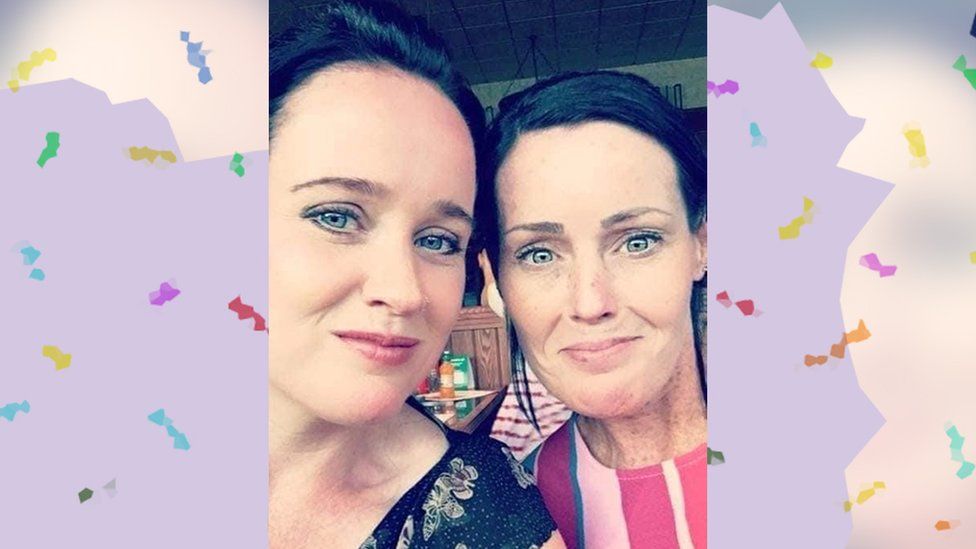 For Sally Ashdown and her twin sister Sarah-Jane – both 44 – the idea of being separated for more than a few days was simply too much to bear. With Sarah living alone, they were able to form a support bubble.
"We're really close, always have been very close, and we consider each other to be each other's half," said Sally.
"Therefore, we could not be separated during this pandemic, at all."
The sisters, who both live in St Nicholas, Vale of Glamorgan, have spent most evenings and weekends together and say they have never spent so much time together.
Sarah-Jane, a mortgage broker who is two minutes younger than her sister, has worked from her home before heading over to see Sally – an NHS counsellor – at her place most days.
She said: "Seeing other people and communicating to people face-to-face is quite difficult when you're not allowed to see anyone outside of your household.
"So for me to be able to bubble up with my closest person on the planet was a godsend."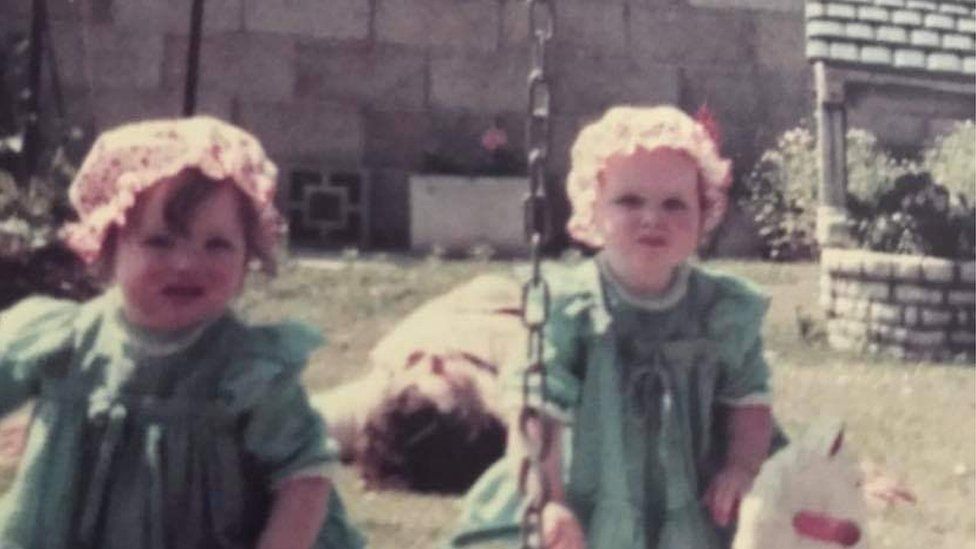 The department of twin research and genetic epidemiology at King's College London is running a study aiming to understand the physical and mental health implications of self-isolation.
In a questionnaire sent out during the peak of the epidemic in the UK, it found that of the 3,840 respondents, 82% lived with other people and of these 7% lived with their co-twin.
Of those 213 respondents who lived with their co-twin, 99 lived solely with their twins.
Sally said her differences to Sarah-Jane were what made them "best mates from the crib".
"We're like chalk and cheese really. Sarah is right-handed, I'm left-handed; Sarah is quiet and I wish I was more quiet; she's straight and I'm gay. So actually, we're very kind of polar opposites in many ways."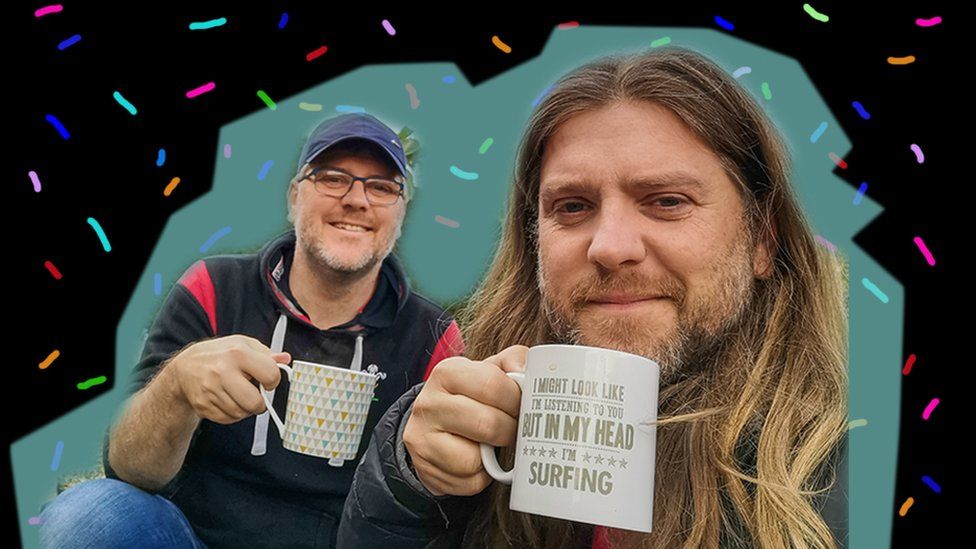 Twins Craig and Scott Colville – both 39 – live about 25 miles (40km) apart, with Craig in Buckley, Flintshire, and Scott in Prestatyn, Denbighshire.
It has meant they have been unable to meet for much of the pandemic, especially when the stay-local rule has been in force. They said they have especially missed paddleboarding together.
Craig, a council worker, said: "More often than not, because Scott's at the seaside, I go and see him.
"Because we've got that county border, I couldn't really do it. It's just part of what people have had to do, I suppose."
Scott, who is eight minutes Craig's senior and a father of two, said: "We're expecting another kid now in June, and instead of being able to go there and tell Craig face-to-face it was over the phone, and it's just not the same."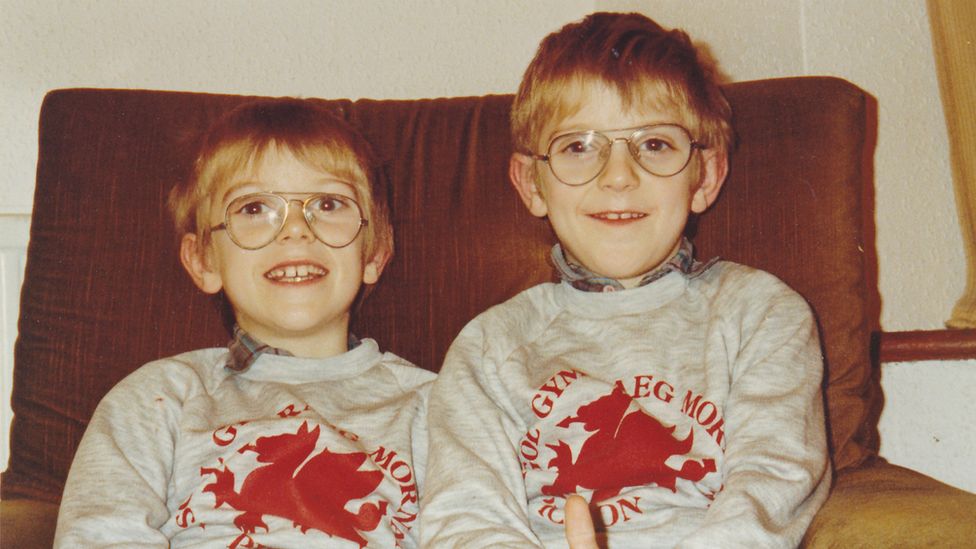 Lucas Calais Ferreira said those who reported having a closer bond with their co-twin in the survey were also the ones who "appeared to be more resilient and have better mental health outcomes during the pandemic".
"While such a close bond appears to have been protective, it is also likely that twins were more severely affected than non-twins due to imposed lockdown restrictions," he added.
Having missed Christmas Day together, Craig and Scott are hoping for a fun-filled family get-together come the summer.
Craig said: "If circumstances allow, we're going to have a half-Christmas on June 26th where, weather permitting, we're going to go down the beach, put a tree up and have a barbecue."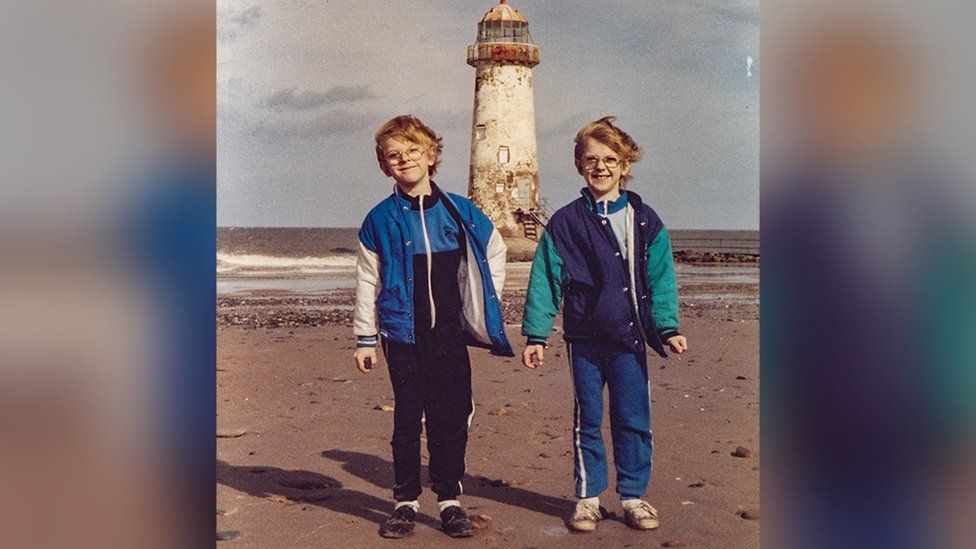 The BBC is not responsible for the content of external sites.