It is due to come into force in England next week as some other lockdown restrictions are eased.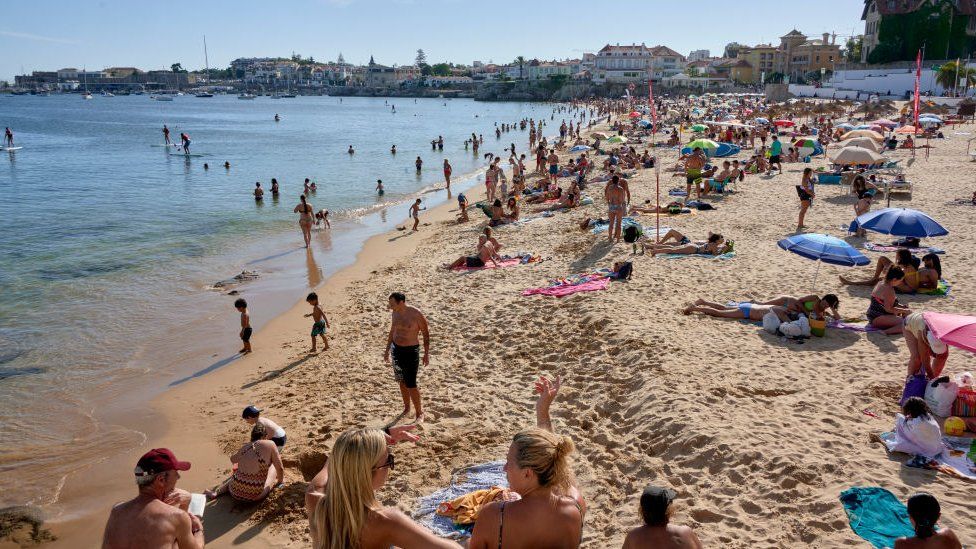 A £5,000 fine for anyone in England trying to travel abroad without good reason is due to come into force next week as part of new coronavirus laws.
The penalty is included in legislation that will be voted on by MPs on Thursday.
From next week the ban on leaving the UK will become a specific law, backed up by the threat of the fine.
Under the current plan for easing restrictions, the earliest date people in England could go abroad for a holiday would be 17 May.
However, another surge in Covid cases in continental Europe, as well as the slow rollout of vaccines across Europe, has cast doubt on the resumption of foreign travel.
Government adviser Prof Neil Ferguson, of Imperial College London, told BBC Radio 4's World at One border measures should be relaxed more slowly than domestic restrictions.
He said: "I think conservatively, and being risk averse at the moment, I think we should be planning on summer holidays in the UK not overseas."
Prof Ferguson also criticised the exemptions that currently permit foreign travel and suggested everybody should be subject to mandatory testing when arriving into the UK.
Legally-permitted reasons for foreign travel currently include work, volunteering, education, medical needs, and to attend weddings or funerals.
Health Secretary Matt Hancock said restrictions on travelling abroad for leisure were necessary to guard against the importation of large numbers of cases and new variants which might put the vaccine rollout at risk.
Shadow Cabinet Office minister Rachel Reeves told BBC Breakfast that Labour supported measures to keep the UK's borders secure and avoid the importation of new variants but said the government's "slowness to react" had contributed to the country's high death rate.
Airlines UK, which represents big carriers, said "nothing has changed" with the new legislation and that airlines are continuing to work with government to restart international travel safely from 17 May.
Chief executive Tim Alderslade said: "A tiered system, based on risk and adaptable to changing circumstances with the virus, means travel can resume this summer, and all our focus will remain on agreeing the structure that can make this a reality."
Prime Minister Boris Johnson warned on Monday the UK should be "under no illusion" that it will feel the effects of a rising number of cases on the continent.
One of his ministers, Lord Bethell, said England might put "all our European neighbours" on the "red list" of countries.
However, Mr Hancock told BBC Radio 4's Today programme there were no plans to do this.
People from those countries are currently not allowed to travel to the UK, with the exception of British nationals and people who are normally resident in the UK – but those two groups must pay to quarantine in a hotel if they do choose to come at the moment.
The "red list" was introduced as part of travel regulations aimed at stopping Covid variants entering the country and is regularly reviewed, meaning countries are added or removed depending on their Covid situation.
The government's global travel taskforce is considering a tiered or traffic light system for international travel when the ban on leaving the country is lifted.
The discussion is focusing on what restrictions would apply to travellers returning from destinations in the lowest level.
The intention is to publish the framework on 12 April, with decisions about which countries are in which tier to be taken later.
Testing for children who travel is being considered because coronavirus vaccines are not currently approved for under-18s.


The new coronavirus laws, due to be introduced on Monday, suggest anyone who leaves England for a destination outside the UK without a reasonable excuse, such as for work, education or medical treatment, could face a £5,000 fine.
Anyone travelling abroad has to fill in a "Declaration to Travel" form, stating a valid reason for leaving the country, such as education, work or childcare.
England's travel ban does not apply to those going to or from the common travel area of the Channel Islands, Isle of Man and the Republic of Ireland unless that is not the final destination.
The UK's devolved nations have the power to set their own coronavirus restrictions.
The earliest date people from Scotland and Wales will be able to go on holiday abroad is, like England, 17 May, while Northern Ireland has not yet announced its own plans.