A US police officer is accused of killing a black man last year. Here's why the world is watching.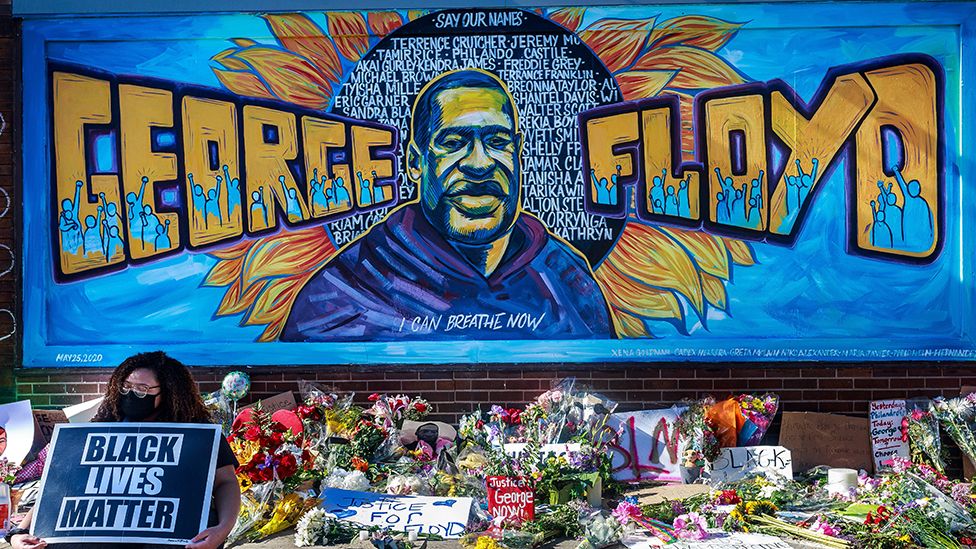 Jury selection is about to start in the trial of Derek Chauvin, the police officer accused of killing George Floyd.
Onlookers in the US city of Minneapolis recorded Chauvin – who's white – kneeling on the neck of Floyd, who was black. The incident sparked protests in the US and across the world against police brutality and racism.
The 46-year-old bought a pack of cigarettes at a convenience store in South Minneapolis on the evening of 25 May 2020.
A shop assistant believed he used a counterfeit $20 bill and called the police after Mr Floyd refused to give the cigarettes back.
Officers arrived and handcuffed him, but when they tried to put him into the squad car he resisted, and a struggle ended with Mr Floyd face-down on the street.
That's when onlookers began filming.
Mr Chauvin, 44, placed his left knee between Mr Floyd's head and neck, and kept it there for seven minutes and 46 seconds, according to prosecutors. Two other officers helped pin him down, while another prevented witnesses from intervening.
More than 20 times Mr Floyd said he could not breathe. The video shows him go limp and get carried away by police.
He was pronounced dead in hospital an hour later.
The weeks-long process will begin on Monday 8 March with jury selection. Arguments are due to start on 29 March and are expected to take at least one month.
The contentious process will see lawyers for both sides question dozens – or possibly hundreds of candidates – and eventually choose 16 people.
Twelve jurors will be seated to decide the case, with four other alternates chosen as backups.
Potential jurors have already submitted questionnaires, describing their existing knowledge of the case, any previous contact with police and their media habits.
Each side can remove a potential juror from the panel, but if either side believes a juror has been relieved due to discrimination based on race, ethnicity or sex, opposing lawyers can issue a "Batson challenge".
The judge then decides whether the juror stays or goes.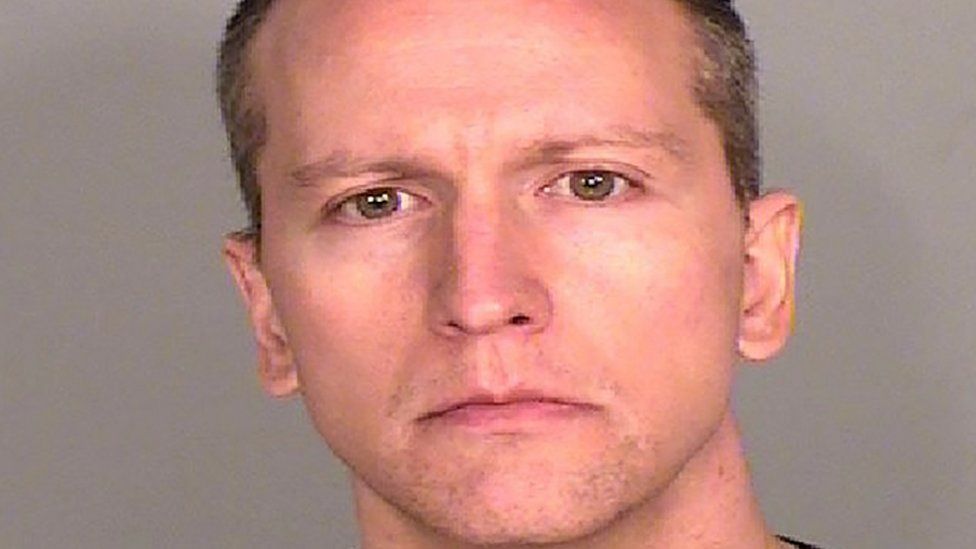 The four police officers at the scene were fired the following day as crowds took to the streets of Minneapolis to protest. The station where they worked was set ablaze and protests quickly spread to other cities.
By the sixth night, there were protests in 75 cities across the US – some violent – and a national debate about police brutality against African-Americans was reignited.
An anti-racism movement created in 2013 after the killing of teenager Trayvon Martin, Black Lives Matter, was re-energised by the protests.
Even very white, small towns in rural parts of the US held protests to remember Mr Floyd and take a stand against racial injustice.
Reforms were introduced by lawmakers to change the way some police forces make arrests and detain suspects.
But the conversation soon widened from policing to issues such as workplace equality, unconscious bias and the legacy of slavery.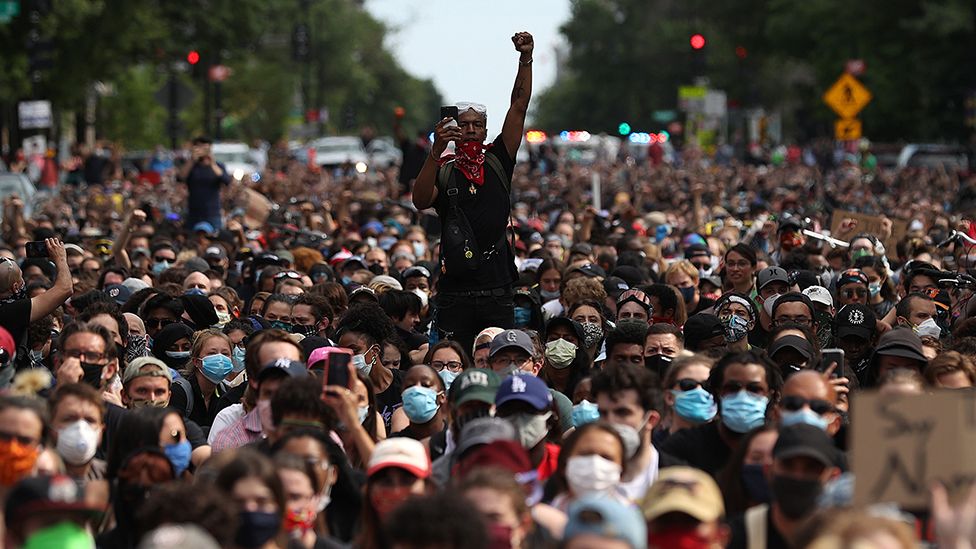 Anti-racism protests were held in countries across the world in response to the death.
Many focused on their own victims of alleged police violence.
In Australia, the focus was on the indigenous community, while in the UK, a statue of a 17th Century slave trader was torn down and thrown into Bristol harbour.
Many corporate brands also expressed support for Black Lives Matter, while many athletes now "take the knee" in solidarity before events.
Mr Chauvin is charged with second-degree murder, which means causing death without intent. The maximum sentence is 40 years.
It is rare that police officers in the US are charged, let alone convicted, for use of lethal force. This is partly because they can often successfully argue that they feared for their lives.
Mr Chauvin is standing trial separately from the other three police officers, due to Covid restrictions on space.
The others are charged with aiding and abetting second-degree murder and will come before the courts in August.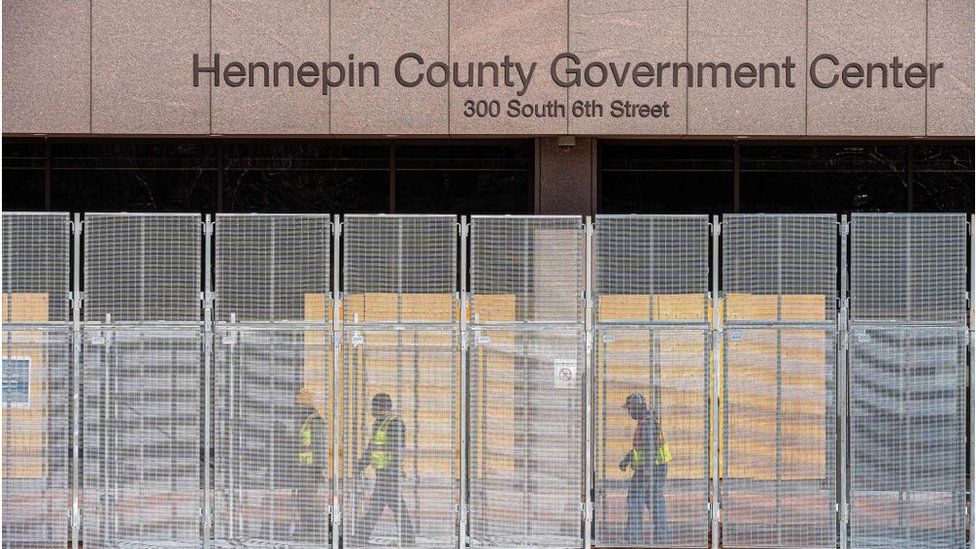 The entire trial will be streamed online – unusually for a US murder case.
The judge has ruled that only one member of the Chauvin and Floyd families can be in court at any one time.
Face masks with slogans are banned in the courtroom.