Matt Hancock says the 8 March rule change is a "first step to getting back to where we want to be".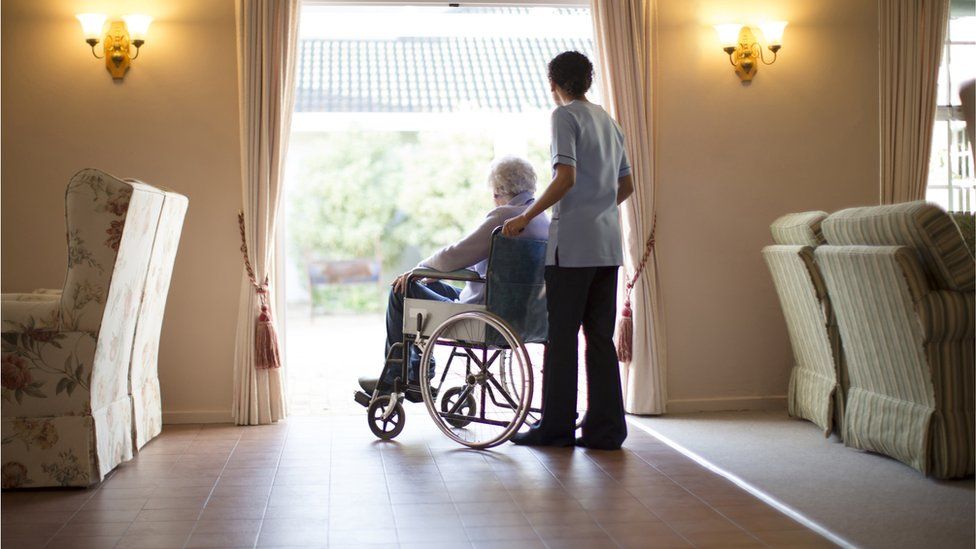 Care home residents in England will be allowed to pick one person to visit them regularly from 8 March, in the first confirmed easing of lockdown since its reintroduction last month.
They will be able to meet indoors and hold hands – but visitors must wear PPE and be tested before entering the home.
Health Secretary Matt Hancock said the rule change was a "first step to getting back to where we want to be".
PM Boris Johnson will reveal his roadmap for easing lockdown on Monday.
Mr Johnson is spending the weekend finalising those plans. New data is expected to suggest vaccines have cut transmission rates.
But the latest NHS England data shows that three in 10 care home staff have not received their first coronavirus vaccine, despite being in the top four priority groups for a jab.
Every care home resident in the UK has now been offered their first vaccination.
In addition to the new rule for care homes, outdoor visits – as well as those inside pods or behind screens – will be able to continue.
The government said the new measure, decided on following advice from the deputy chief medical officers and Public Health England, is the next step towards normal indoor visits resuming.
Mr Hancock said he was pleased people would soon be "carefully and safely reunited with loved ones".
"This is just the first step to getting back to where we want to be," he said. "We need to make sure we keep the infection rate down, to allow greater visiting in a step-by-step way in the future."
Liz Kendall, shadow minister for health and social care, said families had been calling for the resumption of care home visits – made safe with access to personal protective equipment and testing – for seven months.
"Over this period, ministers have repeatedly failed to grasp how important families are for the physical and mental health of care home residents, and the appalling impact preventing visits has caused," she said.


After months where visits to many care home residents have been at closed windows or behind screens, if they've happened at all, this announcement marks a cautious step forward.
From 8 March, a single named family member or friend will be able to visit someone living in a care home.
With almost all care home residents now having had a first dose of the vaccine, the government says this represents a balance between the risks posed by Covid and the importance of families spending time together.
It follows increasing pressure from organisations representing older and disabled people and their relatives.
However, those groups wanted restrictions eased by 1 March, saying that meaningful visits are fundamental to the wellbeing of both residents and families.

Minister for care Helen Whately said the government had "done all we can to enable visits to continue in some form", including the use of screens and PPE.
"As we begin to open up we will move step-by-step to increase visits while remembering we are still in the grip of a global pandemic," she added.
Close contact will be restricted to those who give help with things such as dressing, eating or washing.
Chief nurse for adult social care Prof Deborah Study said while she knew people wanted to "hug and kiss their loved ones", that could put lives at risk so they had to follow the rules.
She added: "We all hope to be able to take further steps in the future."
While only one named person will be able to make the visits, care homes will have the discretion to allow more than one visitor in exceptional circumstances. Full details on the plans will be given before 8 March.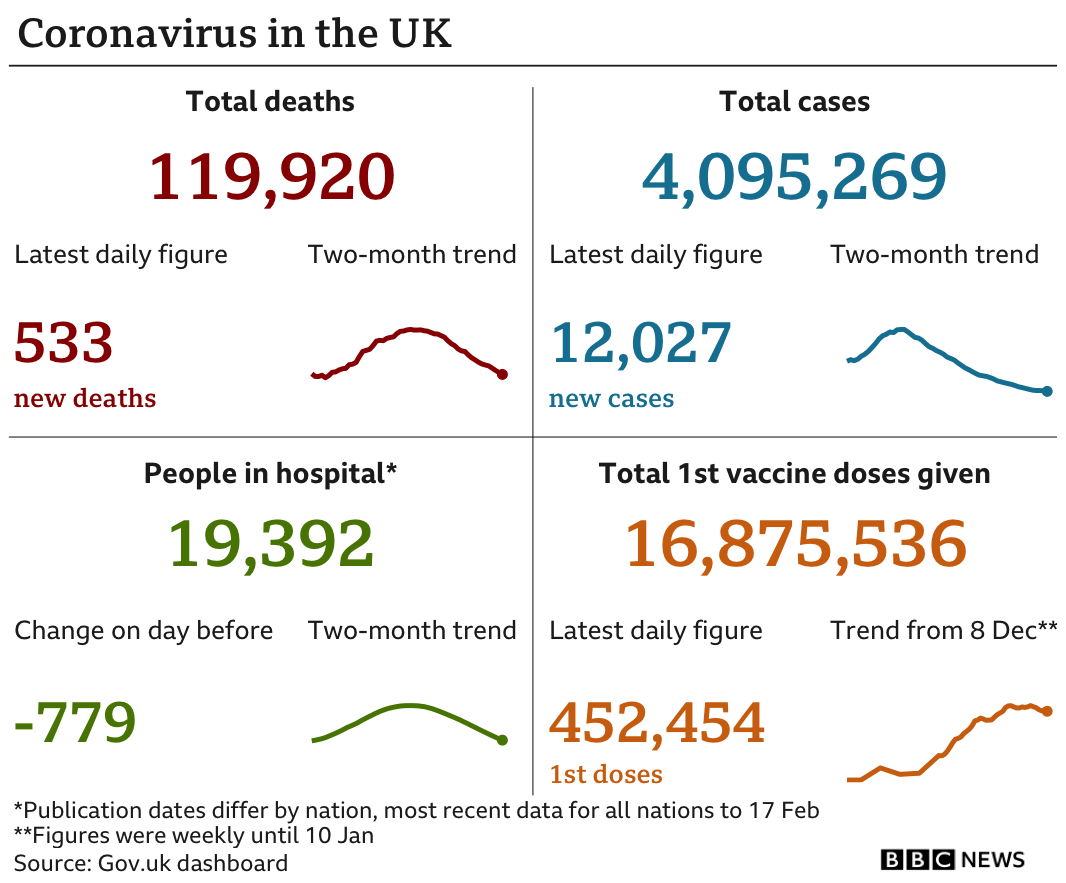 Other details being announced on Monday include those on the reopening of schools, which Mr Johnson has said is his top priority.
The devolved nations of the UK have the power to set their own restrictions, and have been moving at different speeds:
In Scotland, the government hopes to publish a route out of lockdown next week, but First Minister Nicola Sturgeon has urged people not to book Easter holidays
In Wales, First Minister Mark Drakeford has announced up to four people from two different households can exercise outdoors together from Saturday; he said he hoped the "stay-at-home" requirement could end within three weeks, with some non-essential shops and hairdressers possibly reopening at the same time
Northern Ireland's health minister has played down the prospect of restrictions being eased in time for Easter – a review of current measures will take place on 18 March
Office for National Statistics data shows that coronavirus infections are continuing to decrease around the UK – but experts have warned that infection levels remain high, with about 553,000 people identified as having the virus.
On Friday, it was announced that another 533 people had died within 28 days of a positive test, bringing the UK's total by that measure to 119,920.


Although the full details of the roadmap out of lockdown in England are still being finalised, the likely first steps are becoming clearer.
Schools are number one on the priority list – and Downing Street still hopes they can reopen on 8 March.
After that, more outdoor socialising is likely to be the next step.
After a tough period, in which many have been separated, Downing Street is said to be focusing on allowing people to reunite with family members in a safe way.
Sources would not confirm dates – and said any relaxation of the rules on socialising would be cautious.
They also stressed exact details were still being nailed down – and that the prime minister would not want to risk unravelling the progress made in recent weeks during the nationwide lockdown.
But in a couple of days' time, we will learn more about how the restrictions people have faced for the past seven weeks in England will be gradually lifted.