The government hopes to claw back money from a £1.5bn fund to promote home insulation.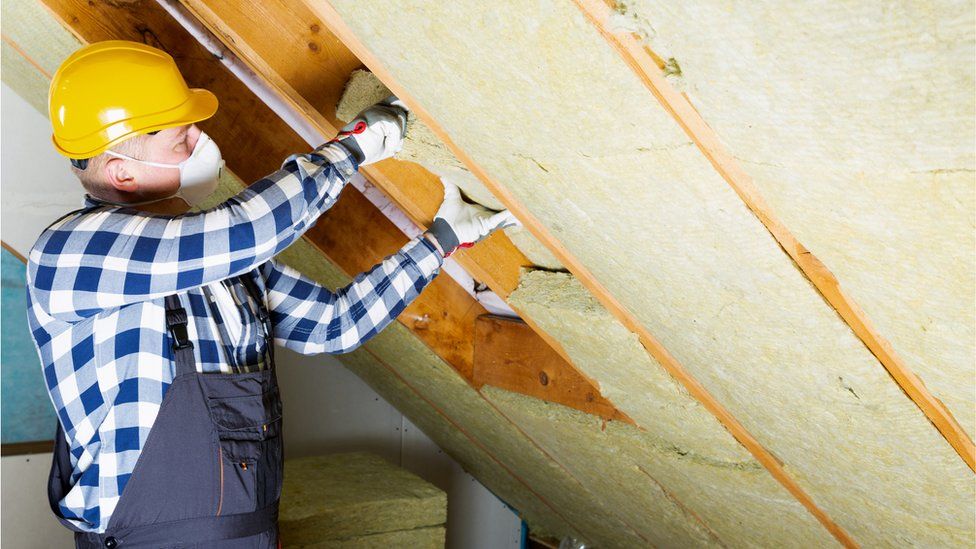 MPs are complaining that the Treasury is set to claw back money from a mismanaged government scheme to help people insulate their homes.
The Green Homes Grant scheme is in such chaos that a huge majority of its £1.5bn budget for this year is unspent.
The government has said it will pocket that money, rather than rolling it over to next year's £320m fund.
But the Environmental Audit Committee says that would be a "deeply retrograde step".
Conservative MP Philip Dunne, who chairs the committee, told the BBC: "We need a long-term commitment to helping people insulate their homes – at the very least until the end of this Parliament.
"We (Conservatives) promised £9.2bn for energy efficiency in our manifesto – and we have to deliver that or we won't reach our climate change targets."
The government's advisory Climate Change Committee says even more – £2bn of public money a year – is needed until 2030.
The current green homes programme has been heavily criticised, with householders unable to get quotes from registered contractors and the firms unable to get paid.
In a parliamentary answer on Tuesday, the government confirmed only £94.1m of the £1.5bn allocated for homes in England until April has so far been spent.
Mr Dunne said: "The Green Homes Grant scheme is a good idea but its implementation has been woeful."
He said the scheme designed to create jobs and improve energy efficiency had turned into a "job destruction" scheme because so many builders laid off their workers when government payments didn't come through.
As a result of the red tape, he said, small builders in the Federation of Master Builders were reluctant to apply for accreditation.
Mr Dunne said out of 7,400 members of the federation, only three had been accredited.
Mr Dunne's committee says the government needs to invest heavily in carbon-cutting measures as part of the its response to Covid-19.
In a report, it has urged the government to create "green" jobs by investing in areas such as energy efficiency, nature recovery and adaptation to a heating climate.
It wants the government to:
Invest more in walking and cycling
Promote electric vehicles and batteries
Prompt the Bank of England to "green" its activities
Reduce VAT on repairs and energy efficient upgrades in homes
Consider a carbon tax, with levies on high-carbon imports
Mr Dunne said: "The Covid-19 crisis must be treated as a wake-up call – it is a symptom of a growing ecological emergency.
"A tax system fit for net-zero Britain is key. It will encourage innovation, give confidence to the sector and support companies to make the low-carbon transition."
This idea is gaining traction, because it would increase the use in construction of wood products that have soaked up CO2.
Will Hurst from the Architects' Journal said: "For far too long we have ignored the carbon footprints of (constructing) buildings, worrying only about their energy efficiency once built.
"Regulations actually encourage this state of affairs. The VAT system perversely incentivises wasteful demolition and rebuild while upfront or 'embodied' carbon emissions in construction are largely ignored in planning policy."
Caterina Brandmayr from the think tank Green Alliance said: "The report rightly puts the spotlight on what the government still needs to do to deliver a green recovery.
"Front-loading investment in climate solutions, nature and the circular economy, and ensuring recovery plans are consistent with climate and environmental goals must be a priority. This will help create jobs, and benefit businesses and communities across the country."
A government spokesman said the Treasury was examining ways to fund the UK's transition to net zero emissions and ministers were "committed to building back better and greener from the pandemic".
The prime minister's recently announced 10-point climate change plan will "put the UK at the forefront of the global green industrial revolution and create hundreds of thousands of green jobs," the spokesman added.
"We continue to bring forward bold measures to cut emissions, with plans to invest £9bn in improving the energy efficiency of buildings forming part of our wider commitment to end our contribution to climate change by 2050."