Campaigners and MPs are calling on the government to bring in pay and leave for parents of neonatal babies.
Rachael Prigmore has twice faced the experience of giving birth to a baby prematurely and having to watch, with hope and fear, as her children spent weeks in neonatal care.
The 35-year-old from Bexleyheath, south-east London, said the time was "heart-breaking" for her and her partner – but they were also faced with the additional financial pressures brought on by a child coming early.
She has joined with charities and MPs calling for the government to bring in pay and leave for parents who have babies in neonatal care, to stop future parents feeling "cheated out of time" with their new arrival.
Over 100,000 babies are cared for in neonatal units in the UK every year, either because they are born prematurely – before 37 weeks – or because they are born at full term but sick.
This means around one in seven babies born in the UK are admitted to a neonatal unit each year.
Charities such as Bliss, which supports families of babies born prematurely or sick, have been campaigning for the government to provide up to 12 weeks of paid leave for parents of babies who need that neonatal care, amounting to around £160 a week.
They say the support would stop families' parental leave being eaten into when their children are in hospital and make sure they can afford to be with them when they are needed most.
But Rishi Sunak's red book doesn't allocate the annual £15m spend on the policy until 2023 at the earliest, and legislation to bring it in has not emerged.
So, almost a year after the promise was made – with new parents facing the added extra pressures of the pandemic – there is no start date in sight.
In 2016, Rachael had her first child, Jack, at 31 weeks, weighing just 3lb 14oz, and she said it was "a complete shock to the system".
She added: "I wasn't even aware of what neonatal care was, and although I got a chance to look around the unit, it was a very frightening time."
Jack was in the unit for five weeks and Rachael had to start her maternity leave early, seeing her normal pay significantly cut. Her partner carried on working while their baby boy was getting treatment.
"We knew we were having a baby so had been saving, but when my maternity pay kicked in so early, it had a massive impact financially, while at the same time as you are trying to juggle everything else that is going on," said Rachael.
"My partner was entitled to two weeks paternity leave, but we didn't want to use it straight away so we could wait until Jack came home. But that meant he was having to get the train every morning, come straight to hospital at night, and then start all over."
When their second son, Joshua, arrived in June 2020, Rachael had only reached 28 weeks, and was facing another stressful time with her tiny 2lb 10oz on the neonatal unit – and with the addition of coronavirus restrictions to contend with.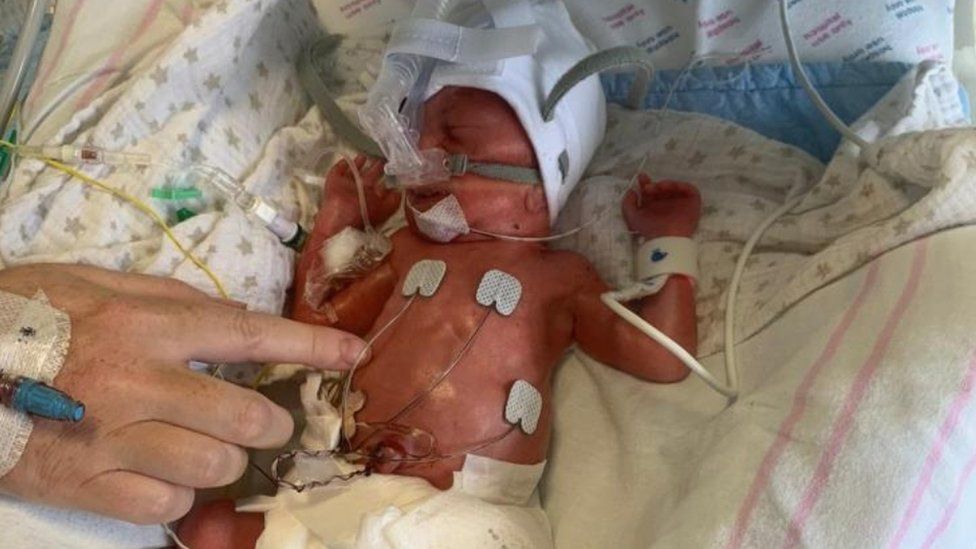 "The hospital was 45 minutes away, we couldn't have visitors, we were having to travel back and forth, and it was an absolute nightmare," said Rachael.
"Again, we were trying to keep my partner's paternity leave on hold, but he was also trying to work, look after my other son, keep the house running… it was absolutely crazy times."
The costs were adding up, from hospital parking charges upwards of £60 a week through to just being able to grab a quick coffee to keep going.
But what also worried Rachael was the knowledge she was using up maternity leave, and would have to return to work sooner than she wanted to.
Rachael said: "You are worrying about your child as it is when they are in the neonatal unit, but also at the back of your head you are thinking it is eating into your time and all these plans you had.
"You know you are going to go back to work at some point but you feel you haven't had time to enjoy your child."
Both of Rachael's boys are now at home, happy and healthy – but she still feels the effect.
"I felt rushed both times," she said. "I felt I had only just got them home when I went back to work and they still looked like new-born babies. I feel we were cheated out of our time."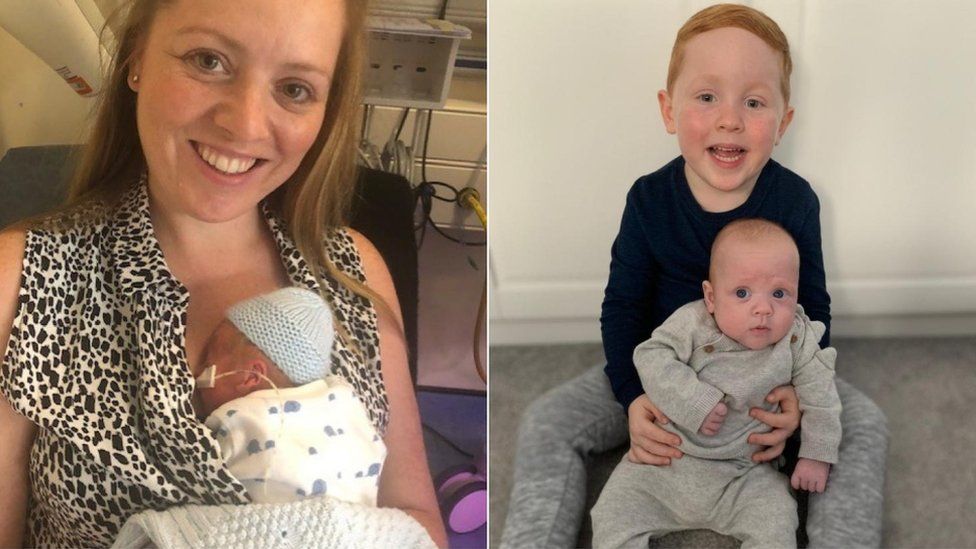 Labour MP Alex Davies-Jones has been campaigning in Parliament for the extra support of neonatal leave and pay to be brought forward.
Not only is she the vice chair of the All-Party Parliamentary Group on Premature and Sick Babies, but she went through the experience herself when her son Sullivan spent five days in neonatal care after being born in 2019.
"It was so challenging for us and for me to go through as a first time mother, but we had a really good support network and my husband's employer was really good," she said.
"Unfortunately many, many families aren't as lucky.
"I have heard from friends and others who didn't have that support, who had to go back to work immediately with all their parental leave swallowed up."
Ms Davis-Jones said she had met Health Secretary Matt Hancock to discuss the issue, as well as business ministers, but while there have been positive noises, action is not coming fast enough.
"Coronavirus has shown when there is political will, things can happen quickly," said the MP.
She made a direct appeal to Boris Johnson, who is a new father himself, adding: "This is time these families will never get back. Some babies never even make it home and this is the only time they will have with them. It is a lifeline."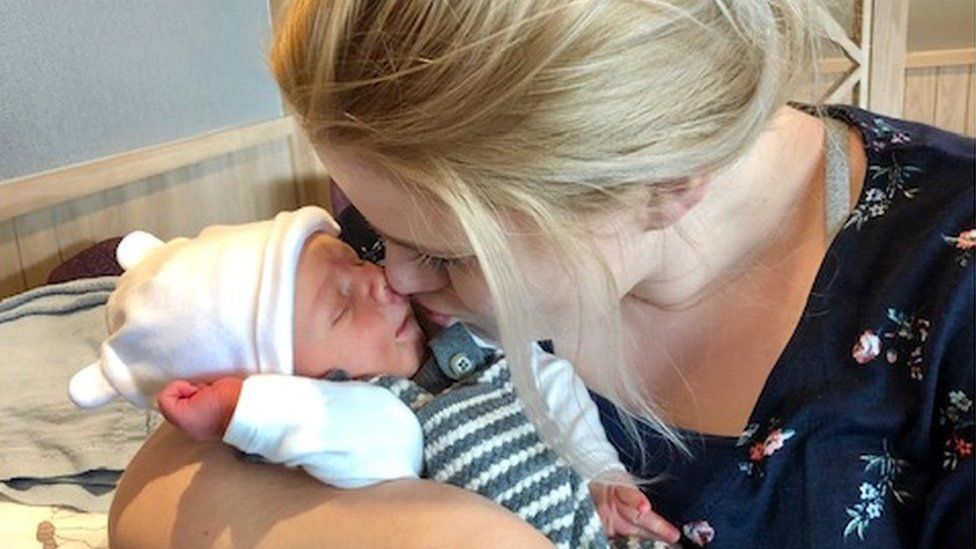 Head of policy and campaigns for Bliss, Josie Anderson, also appealed to the government "not to lose sight" of their promise and to bring in the measures as soon as possible.
Research from the charity found two-fifths of mothers wanted to take more time away from work because of neonatal care, but couldn't afford to, while two-thirds of fathers and partners had to return to work before their baby had even left hospital.
Ms Anderson said: "For families it is an enormous issue. It stops hands-on care, which leads to best outcomes for babies, and there is a financial element to that is impacting how involved families are able to be, making them lose out on valuable time bonding with their baby."
A spokeswoman from the government's business department, said: "Having a premature or sick baby can be an incredibly difficult time for parents, especially when juggling work commitments.
"As part of our manifesto commitment to make workplaces fairer, we will be legislating to introduce neonatal leave and pay as soon as parliamentary time allows."