The High Court judge rules there is no new evidence linking the tests with harm to babies.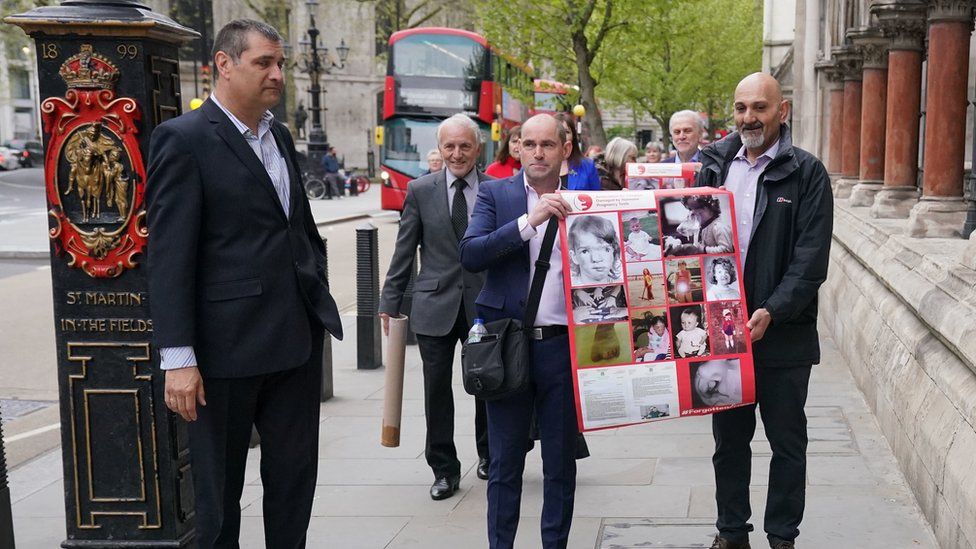 Claims for damages by more than 170 people who say they were affected by hormone-based pregnancy test drugs have been thrown out by a High Court judge.
The drugs, including Primodos, were given to women to test if they were pregnant from the 1950s to 1970s and alleged to have caused birth defects.
But the judge ruled there was no new evidence linking the tests with foetal harm and "no real prospect of success".
Campaigners say they are "profoundly disappointed" with the judgement.
Primodos was used by more than a million women in the UK in the 1960s and 1970s to detect if they were pregnant, before being removed from the market in 1978.
There was concern that it may have been responsible for birth defects in newborn babies and also some miscarriages and stillbirths.
The pregnancy test consisted of two pills that contained synthetic hormones. If a women had a bleed a few days later that meant they were not pregnant.
Legal action had been brought against three drug companies – Bayer Pharma, Schering Health Care, Aventis Pharma – as well as the government in a bid for compensation.
They argued there was no evidence of a "causal association" between the hormone pregnancy tests and the harm suffered by the claimants.
And its manufacturer, Schering, now part of Bayer, has always denied a link between the drug and deformities in babies.
In 2017, a government review said there was not enough evidence to prove a link.
'An abuse of process'
Lawyers for the drug companies and the Department of Health and Social Care brought a bid to have the claims struck out at a hearing earlier this month.
In her ruling to end the claims, Mrs Justice Yip said it was "not in the interests of the claimants to maintain the litigation in circumstances where there is no viable plan to progress the claims and no real prospect of success".
She said the proceedings were "an abuse of process" and the only appropriate response was "to strike out the claims".
Marie Lyon, chair of the Association for Children Damaged by Hormone Pregnancy Tests, said she was "profoundly disappointed" with the judgement.
"We do not accept the defendants' claim that our evidence did not provide sufficient scientific evidence and look forward to the additional scientific evidence, to support our original argument, which is due to be published shortly," she added.
She said her priority was to reassure families that the battle continued.
"I will be speaking with our legal advisers to discuss next steps to ensure we are able to expose the evidence of harm caused by these synthetic hormones," Ms Lyon said.
As part of a women's health inquiry, Baroness Julia Cumberledge and her team spent two years speaking to more than 700 women and their families who experienced complications linked to Primodos as well as the epilepsy drug sodium valproate and vaginal mesh.
Related Internet Links
The BBC is not responsible for the content of external sites.