Zelensky's visit to the frontline comes after Russian forces targeted Ukrainian cities overnight.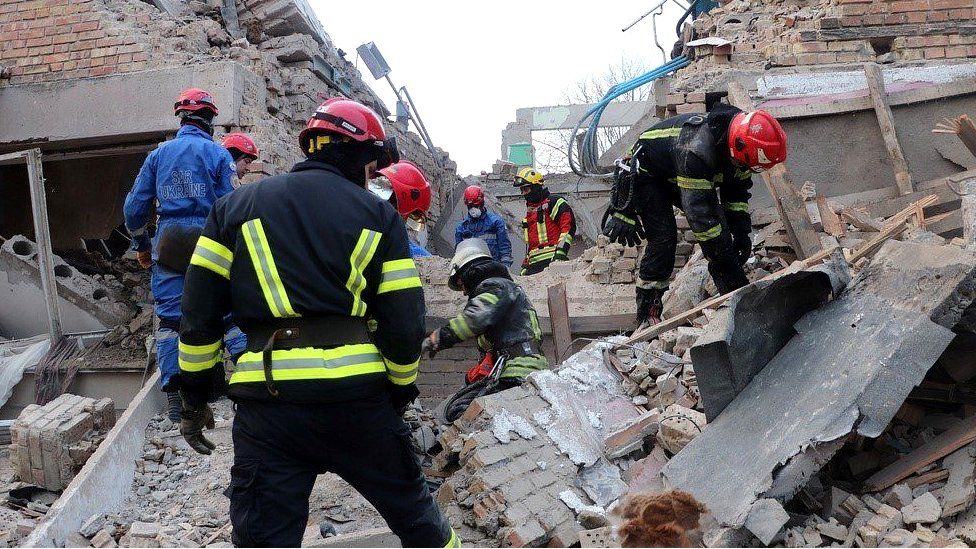 Russian forces have attacked several Ukrainian cities, killing at least four people in a drone strike on a residential area of Kyiv region.
Upper floors of two student dormitories were hit early on Wednesday in the city of Rzhyshchiv, on the outskirts of the capital.
An 11-year-old was among the wounded, rescue services said.
Separately, officials in Russian-annexed Crimea said a Ukrainian drone attack on their fleet were repulsed.
Explosions were reported by residents in the port city of Sevastopol.
The head of Russia's occupation authority Mikhail Razvozhaev said three "objects" targeting the Black Sea Fleet had been destroyed and Russian warships were not damaged.
There was no comment from Ukraine's military, which said earlier this week it had destroyed missiles destined for the fleet at a rail hub in Dzhankoi in northern Crimea.
Ukrainian President Volodymyr Zelensky said Russia had launched more than 20 "killer drones", as well as missiles and shells.
On Tuesday, President Vladimir Putin said that many provisions of a 12-point Chinese peace plan "can be taken as the basis for [the] settling of the conflict in Ukraine, whenever the West and Kyiv are ready for it".
The plan makes no specific proposals and does not call explicitly for Russian forces to leave Ukraine's sovereign territory.
Ukraine's state emergency service said at least four people were missing in the rubble of the dormitory buildings hit by Russian drones in Rzhyshchiv. A three-floor high school building was also hit.
In a separate Russian attack, three people were wounded in the southern city of Odesa, when a three-storey building was hit in the grounds of a monastery, presidential chief of staff Andriy Yermak said.
Drones were also fired at the north-western region of Zhytomyr, but no-one was reported hurt. Ukraine's military said 16 of the 21 drones launched on Wednesday from the Bryansk region of Russia north of Ukraine's border were shot down.
Air raid sirens rang out across Ukraine hours afterwards, amid reports that Russian warplanes carrying long-range missiles had taken to the air.
In another development, the UK's Ministry of Defence (MoD) says Ukrainian forces have recently launched a counter-attack to the west of the beleaguered city of Bakhmut, which Moscow has been trying to capture for months in a grinding war of attrition.
The MoD said this was likely to relieve pressure on the main Ukrainian supply route to the city.
"Fighting continues around the town centre and the Ukrainian defence remains at risk from envelopment from the north and south," the statement added.
"However, there is a realistic possibility that the Russian assault on the town is losing the limited momentum it had obtained, partially because some Russian [military] units have been reallocated to other sectors."